Manchester Christmas Markets
Ian Jones, Food and Drink Editor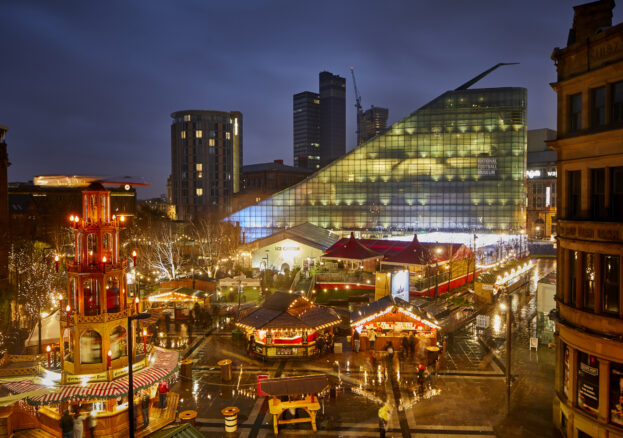 The Manchester Christmas Markets are back! And this is the first batch without any restrictions hanging over us since last decade. This festive season marks twenty-four years since the markets first came to Manchester, and excitement is at an all-time high after a couple of tricky years.
This year will see the iconic ski chalet market stalls take over Piccadilly Gardens – once again set to be transformed into the Winter Gardens – Market Street, Cathedral Gardens, Exchange Street, New Cathedral Street, St Ann's Square, Exchange Square, The Corn Exchange, and King Street.
Piccadilly Gardens takes pride of place this year again, as the hub of all things Christmas and market-y. It features a family-friendly Winter Gardens, right in the heart of the city, transforming the gardens into a labyrinth of yuletide bars selling locally-brewed ales, food stalls, craft sellers and, for the first time, a stage featuring live music and DJs throughout the festive season.
A family-friendly Winter Gardens, right in the heart of the city
This winter you can joyfully stumble around wooden huts with mulled wine, sip from festive mugs, scoff hot chocolates and, of course, navigate the bustling crowds all full of Christmas cheer.
And if you're looking for Christmas gifts, here's your one-stop shop for everything you need – fancy cheeses, high-end spirits, jewellery, fridge magnets, cute trinkets, as well as a wealth of cured meats and gingerbread bread houses.
If you've been before, you'll know the weekends are the busiest times so stick to midweek trips if you want to avoid the crowds. But more than anything, make sure you don your favourite wacky Christmas jumper. They're a must for all you chilled-out entertainers out there.