Lizzie The Musical at Hope Mill
Kristy Stott, Theatre Editor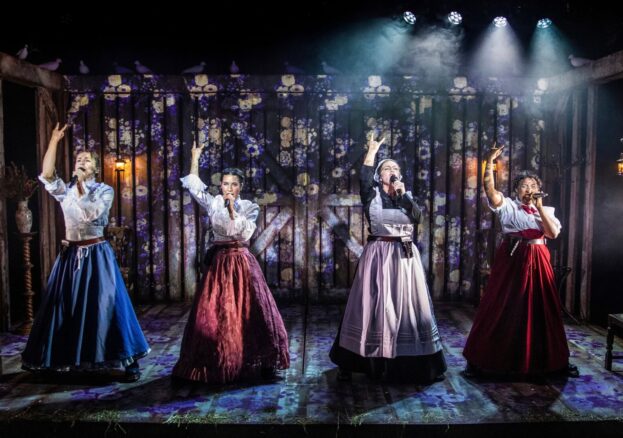 Hope Mill Theatre brings a fresh and thrilling new production of Lizzie The Musical to the stage. The true crime punk rock musical will premiere in Manchester in autumn 2023 before heading off on a short UK tour.
Lizzie The Musical tells the true story of Lizzie Borden, who was accused of murdering her father and stepmother with an axe in the late summer of 1892 in Fall River, Massachusetts.
Appealing to fans of true crime, horror and musical theatre, the production explores the life and motivations of Lizzie Borden. Delving into her complex character and her experiences of sexual abuse, loss of inheritance, oppression and madness, the infamous story is brought to life by a talented cast of four performers and an all-female band.
Lizzie The Musical was first performed at the Living Theatre, New York in 2009, before the Danish production played at the Greenwich Theatre, London in 2017. To date, Lizzie has swung her axe in over 60 cities, in six countries, in five languages, across four continents and has won dozens of awards including eight Best Musical Awards. Most importantly, this 2023 revival will be the first UK-created version of the musical and its first UK tour.
Directed by William Whelton, the phenomenal cast is headed up by Lauren Drew (Six The Musical, Legally Blonde) as Lizzie; Maiya Quansah-Breed (Six The Musical, Rent) as neighbour, Alice; Shekinah McFarlane (Six The Musical, Parade) as Lizzie's older sister Emma and Mairi Barclay (Pippin, Mother Goose) as maid Bridget. The cast is completed by Ayesha Patel and Emma Louise Hoey as understudies.
Of the show, director William Whelton told us, "As a massive true crime fan myself this musical is the perfect way to explore this infamous story with the added extra of an incredible punk rock score. The retelling of this story is with an incredibly talented all-female cast and on stage all-female rock band, but the real heart of this show is how it explores the power, resilience and strength of women and their relationships."