Light Night Leeds at Leeds Town Hall
Alice Hiley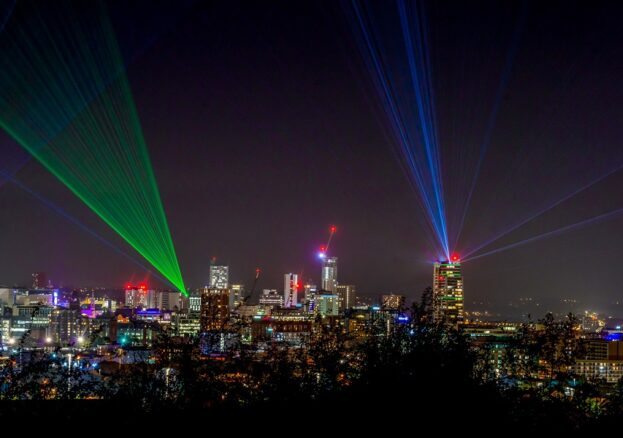 Light Night Leeds is a chance to see the city's most loved locations in a brand new light. The UK's largest annual art and light festival, it has been illuminating Leeds' indoor and outdoor spaces with cutting-edge installations for the past 18 years.
The waterfront, Town Hall, Millennium Square, Trinity Centre and the rest of Leeds' public squares and spaces are transformed for two nights every year, lit up by spectacular projections, installations and performances by artists from the UK and all over the world. Many of the artworks are interactive, responding to your touch and voice to change shape or illuminate, making the experience even more immersive.
Get ready to lose yourself amongst the crowd and be captivated by the wealth of entertainment on offer, from dancers and jugglers to drummers and acrobats – all kitted out in fluorescent outfits. Giant puppets march through the crowds and tightrope walkers balance overhead. The night markets stay open till late so you can enjoy food and drink throughout the night.
The whole festival is free and there's no need to book, just turn up and use the online maps to make your way to the next installation (or simply follow the glow!)
Returning on 12 and 13 October, Light Night Leeds 2023 promises to be better than ever.
Previous years included the hugely successful 'Laser Light City' which saw powerful laser beams lighting up the skyline at 25 locations across Leeds, in the festival's biggest and most ambitious installation yet.  Light Night Leeds also joined forces with fellow light festivals in Salford, Lancaster, Durham, Gateshead and Blackpool to launch SHINE, a development programme for early-career artists. The selected artists were commissioned to make a new digital work to be shown across each of the festivals. This year's festival promises even more fun!