Li Yuan Chia: Unique Photographs at the Whitworth
Sara Jaspan, Exhibitions Editor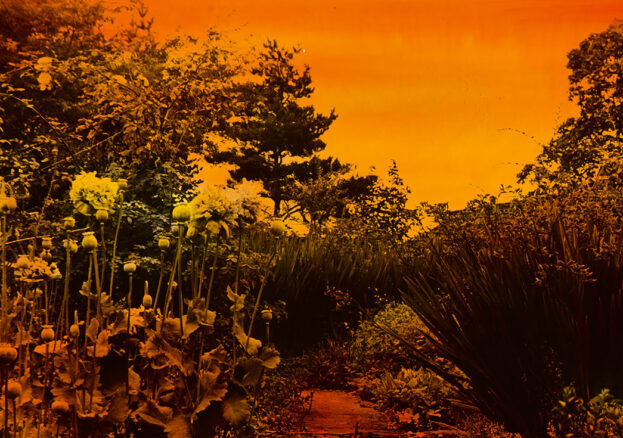 A dilapidated farmhouse in the far north of Cumbria, built on top of a section of Hadrian's Wall, may seem an unlikely place for China's first conceptual artist to find his home. Yet it is here, after a life of travel, that Li Yuan Chia moved to in 1971 and founded the LYC Museum & Art Gallery– a remarkable, almost entirely solo enterprise through which he staged over 330 exhibitions over ten years (reputedly attracting around 300,000 visitors per year at its peak) and supported the early careers of artists including Andy Goldsworthy, David Nash and Shelagh Wakely. It's also the place where he lived out the last few years of his life, creating a quiet, yet arrestingly beautiful series of hand-coloured photographs which will go on display at the Whitworth this coming spring.
Born in 1929 to a family of farm-labourers in rural Southern China, Yuan Chia was part of an exodus of refugees fleeing the country's Communist military forces to Taiwan in 1949. Despite receiving little education up until that point, he gained a conservative training in classical Chinese art before coming under the influence of independent teacher Li Chung-sheng who first introduced him and many others to modern Japanese and European painting. Also interested in mathematics, Buddhist philosophy and ancient cave painting, Yuan Chia began to develop a very unique vision of space and a system of signs which continued to evolve as he left the repressive conditions of Taiwan and emigrated to Bologna then London, exhibiting internationally.
He purchased the farmhouse in 1971 from the British painter Winifred Nicholson with the intention of establishing a communal centre for learning and creativity, which the LYC quickly became, offering workshops, a Children's Arts space and poetry readings alongside an extensive exhibitions programme, library, small theatre and sculpture garden. Over his career, Yuan Chia experimented across painting, sculpture, sound art, immersive installation, participatory work and poetry, yet came to photography much later on, after the museum had closed. The images selected to appear in Unique Photographs, mostly taken in autumn and winter, capture his garden at Banks, his sculptures and himself –portraits in which he appears solitary, elusive, almost ghostly; an apt after-image of such an enigmatic figure.