James Holden at YES
Johnny James, Managing Editor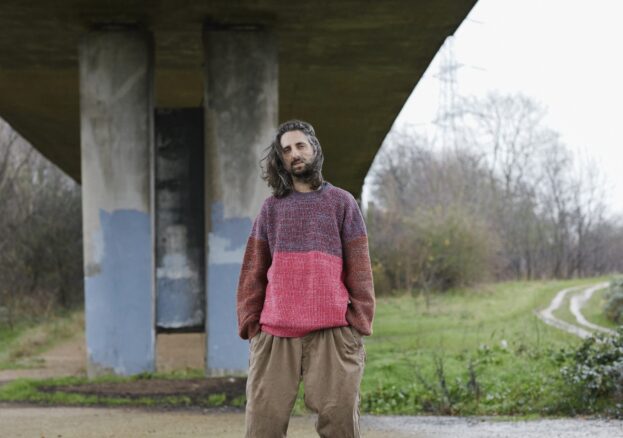 James Holden is an artist who seems to find it difficult to settle, no sooner finding himself momentarily aligned with one musical milieu (trance, progressive house, minimal techno, IDM, modular synth, cosmic jazz…) before his latest set of explorations lead him on to pastures new. His 2023 album, Imagine This Is a High Dimensional Space of All Possibilities, integrates all that has gone before.
Holden was just 19 years old and not quite finished university when his early 12" 'Horizons' was picked up by a Sony Music-backed imprint in the trance glory days of 1999. A career as an international DJ and remixer to the stars (from Madonna and Britney to Radiohead, New Order and Depeche Mode) opened up before him, aided and abetted by his own proudly DIY Border Community imprint. In 2006 he released The Idiots Are Winning, an album of idiosyncratic techno bangers that cemented Holden's status as a vibrant new force in electronic music.
It was seven years later with the pagan thud and shimmering nostalgia of his second artist album The Inheritors that his path would take a bold left turn, prompting him to eventually hang up his DJ headphones and take a portable incarnation of his modular synth rig out on the road, accompanied by live drums and the occasional saxophone flourish. By the time of the recording sessions of his third artist album The Animal Spirits (2016), Holden had grown his band to six – a fantasy spiritual jazz ensemble who performed his new set of synth-led folk-trance standards, all in one room in a series of live takes, no overdubs, no edits, under the direction of Holden as emergent band leader. Loud And Quiet called it "Dramatic, colourful and Holden's fullest-sounding work yet".
Fast forward to 2023, and James Holden's new album stands somewhat in contrast to the expanded band and live take dogma of its jazz adjacent predecessor. The snappily titled Imagine This Is a High Dimensional Space of All Possibilities is a studio-assembled record of "rave music for a parallel universe", and sees Holden embracing dance music again, after years spent drifting further and further from its boundaries; front to back, it's a coming-to-terms with his musical past, with subtle nods and callbacks to notable moments in a 20-year-long sonic journey, alongside the odd guest contribution from members of the Animal Spirits live band.
From the undulating dancefloor melancholy of 'In The End You'll Know' to the spiralling pixie arpeggios and hazy vocals of 'Trust Your Feet' and 'Continuous Revolution', we get distant memories of his erstwhile DJ career, while the pagan thud, synthesised strings and woozy shimmering nostalgia of his landmark Inheritors era remains omnipresent, albeit with a somewhat lighter and brighter sheen.
"For a while in the mid 2010s I couldn't hear dance music anymore, a single kick drum had me lunging for the skip button, but I've found my way back to that – reclaiming the bits I liked (the hypnotism, the utopianism, the wide ranging cross cultural freedom) and leaving behind what I don't need," he explains. "I wanted this to be my most open record, uncynical, naive, unguarded, the record teenage me wanted to make. It's like a dream of rave, a fantasy about a transformative music culture that would make the world better."
Autumn sees Holden take his latest record on the road, along with a cast of guest performers and an improvisation-ready live set-up designed by himself from the ground up. His Manchester gig is at YES on 30 September, and promises to be something special.