GoGo Penguin at Albert Hall
Johnny James, Managing Editor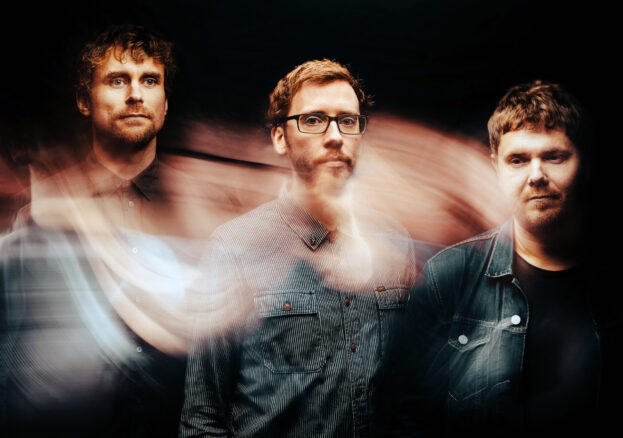 Manchester's GoGo Penguin are heading home this March to perform a career-spanning set at Albert Hall, featuring new drummer Jon Scott.
GoGo Penguin have spent the last decade refining a niche formula, which sees them transplant the rush of electronica into a jazz formation of piano, double bass and drums. With influences ranging from Aphex Twin to The Esbjörn Svensson Trio, their music pulses and flows from the dancefloor to meditative inner worlds, and while they wear their eclectic musical inspirations on their sleeves, the amalgamation of them produces something that's entirely the band's own.
Two years ago, just before the pandemic hit, GoGo Penguin released their fifth studio album. Self-titling an album is usually an indicator that a band has arrived at a significant moment; a destination they've been striving towards, and finally reached. And indeed it was an excellent release – less jazzy, more pensive and equally as mesmeric as anything we'd heard from them previously. Notably, it saw pianist Chris Illingworth experiment more with his instrument; for lead single 'Kora', for example, he prepares it to sound like the African stringed instrument after which the song is named. Meanwhile Nick Blacka's slithering bass and Rob Turner's skittering, hi-hat-happy drums provide a propulsive counterweight to Illingworth's heady cinematics, with tracks like 'Atomised' leaning towards trip hop in their rhythmic punchiness.
The pandemic laid to waste the extensive album tour that GoGo Penguin had planned, and so for two years the record's pretty much only existed on Spotify. Until now. The band's upcoming tour will see them finally able to lift the curtain on that album, alongside older favourites and – excitingly – new material. And with that new material comes the aforementioned new drummer, following Rob Turner's amicable departure from the band a few months back. Turner's shoes are big ones to fill, but by the sounds of 'Ascent', a recent standalone single, Jon Scott is doing a brilliant job – staying close to Turner's propulsive, fluttery style while twisting in some of his own flavours, one early standout being his deft, pattering footwork.
The arrival of Scott marks a new chapter for the band, and we can't wait to be a small part of that new chapter at Albert Hall – a venue as atmospheric as the music that will be filling it on 2 March.