Gary, Indiana at YES
Johnny James, Managing Editor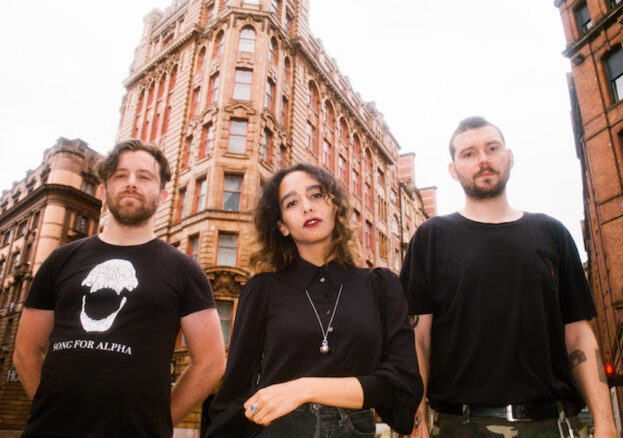 Following their signing to Fire Talk Records, Manchester's newly-formed Gary, Indiana are performing a socially-distanced gig at YES this March – their live debut.
Mixing coarse industrialism, squalling feedback and contorted electronics, the trio's early tracks have quickly captured the attention of the experimental music scene in Manchester and beyond. 'Pashto', 'Berlin' and 'Nike of Samothrace' are made of ever-evolving soundscapes that combine post punk, noise and electronics, drawing on the likes of Girl Band, Housewives and Giant Swan.
Founding members Scott Fair and Valentine Caulfield met when their previous bands shared a bill at Aatma, a venue in the heart of Manchester's thriving DIY music scene. The visceral punk poetry style of Caulfield's vocals – delivered in her native French – stuck in Fair's mind, and when both of their projects ended some months later, the two started discussing ideas for a collective next chapter.
After witnessing liberating experimental sets at venues such as The White Hotel, Aatma, The Peer Hat and Studio B, Fair and Caulfield began writing together, with a view to capturing the excitement they were surrounded by and warping it with their own idiosyncrasies. The duo found a third missing piece in Liam Stewart (percussion), whose past as a touring member of Lonelady made him the perfect fit for the forward-thinking project.
Entirely self-produced with minimal mixing, the band record in industrial spaces that speak to the raw intensity of their music. In terms of their visual aesthetic, they draw on the macabre filmmaking of Gaspar Noe and Leos Carax, as well as old videos from MTV2, VH1 and Kerrang. The captivating video for 'Nike of Samothrace' (above) features carefully spliced found-footage and unnerving visuals whose entanglement reflects the hybrid nature of the music.
Presumably, Gary, Indiana will be taking this sense of dark spectacle to the stage – where a band like this truly belongs. We're expecting their debut show at YES to be loud, weird and thrilling – one of the gigs we're most looking forward to this New Year!