From Ocean to Horizon at CFCCA
Sara Jaspan, Exhibitions Editor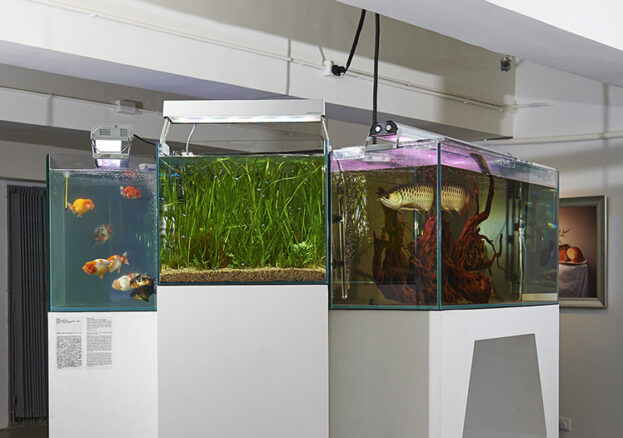 The semi-mythical, impossibly distant point of intersection between sea and sky that forms the horizon has long been recognised as providing a deeply calming, contemplative space to look upon. Indeed, the significance and value of this perhaps seems even greater today, as so many of us live boxed in by tall buildings and surrounded by human-constructed skylines. As such, for residents of the densely populated, skyscraper-packed global metropolis of Hong Kong, to momentarily gaze into the distant horizon of the sea must provide a very welcome source of relief. Especially given the strong, long-standing connection the city has with the ocean, due to its unique island geography and famous deep natural harbour.
Taking this fluid, forever-shifting natural boundary as a symbol for Hong Kong itself – a place undergoing continual, rapid, physical, social and cultural transformations – CFCCA's current exhibition invites a group of artists to respond to their unique experiences of living and working there. In this way, the natural metaphor serves as a useful device to help open up new perspectives and add to a growing critical discussion taking place around Hong Kong's recent history, as part of CFCCA's 2017 Hong Kong season (timed to mark the 20th anniversary of the handover of Hong Kong from British to Chinese administration).
Situated in a firmly-landlocked conurbation like Manchester, From Ocean to Horizon might also provoke questions about visitors' own experiences of their surrounding environment. Often also in a state of flux, what spaces of escape are available to us in UK cities and what role do they play in our lives?
From Ocean to Horizon is an ambitious group exhibition featuring established and emerging talent from Hong Kong's contemporary art scene, none of whom have exhibited in the UK before. Combine your visit with Samson Young's One of Two Stories, or Both (Field Bagatelles), which is presented at CFCCA as part of MIF 2017.