Folly Group (socially distanced)
Johnny James, Managing Editor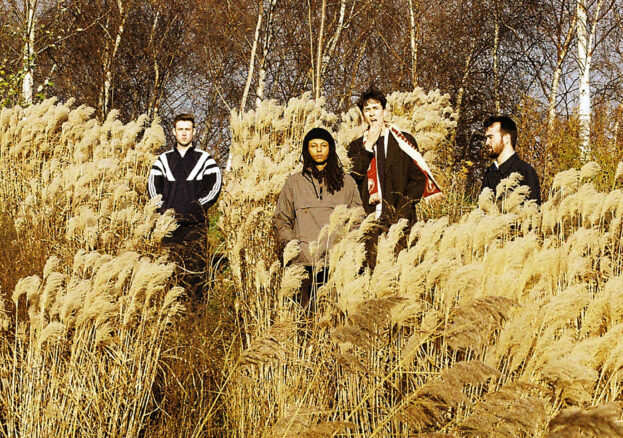 Taking influence from primal post punk, lashing electronica and pure experimentalism, Folly Group are an East London collective for whom anything and everything goes.
Self-styled as a collective due to their open door policy to both genre and collaboration, Folly Group started up when three of its core members (Sean Harper, Louis Milburn and Tom Doherty) moved into the same house in East London, and started jamming around post punk riffs. They'd all meandered between projects for a number of years, but this felt different. The real eureka moment, though, came with the addition of close friend Kai Akinde-Hummel on percussion and sampler, whose electronic leanings morphed the project into something more expansive.
In 2020, Folly Group tested the water with single 'Butt No Rifle', an industrial/EBM-sounding debut whose balance of playful experimentalism and sheer infectiousness caught the attention of the underground scene in London and beyond. Then came 'Fewer Closer Friends', a feast of ragged rhythms and increasingly intensifying changes in direction atop which drummer and co-vocalist Sean Harper delivered arresting, sprechgesang vocals about the fear of losing the sentiment of your younger-self as time ticks on.
In February 2021, Folly Group made their streaming platform debut with 'Fashionista', a moonlit art rock track filled with deliciously moreish, jaunty guitar hooks and danceable electronic production. At the start of March, they followed this up with the darker 'Four Wheel Drive'. Veering between anxious freneticism and primal danceability, it's a patchwork of incendiary ideas and inspiration that marks So Young Records' debut release.
Speaking about that last single, Sean Harper (drummer and co-vocalist) said: "'Four Wheel Drive's mechanical chug aims to invoke the feeling of alchemy that occurs when we make music together. It's a kind of sonic metaphor for our each being part of an engine—together, we each provide a different service in pursuit of the same goal. That goal is whatever kind of good it makes you feel."
When you think that Folly Group have only been making music together for a year or so, their output so far is all the more impressive; 2021 could well be an explosive year for them. With that in mind, we're all over their socially distanced show at YES on 24th June.