Families at Bluedot Festival 2022
Shekina Rose, Families Editor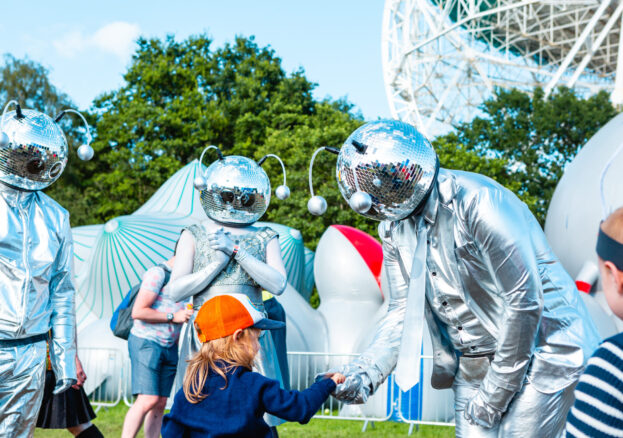 Science and space-loving families are invited to the Bluedot Festival 2022, which returns for its fifth year of awe-inspiring, inter-planetary fun and delight!
Taking place on 21 – 24 July, and based at Jodrell Bank Discovery Centre, Bluedot is an award-winning music, science and culture festival, hosted at the site of the mesmerising Lovell Telescope – an icon of global astronomy and one of the biggest telescopes in the world.
Bluedot 2022 will be a chance for you and your family to sing, to dance, to learn, and to make infinite memories. The festival is headlined by musical favourites Björk, Groove Armada, and Mogwai, and alongside incredible musical artists, also headlining is Astronaut Tim Peake, whose fascinating background and 78 million miles of travel makes him a true pioneer of space and science.
Tim joined the International Space Station crew in 2015 to complete two consecutive missions, which took over six months. In his time in space, he orbited the Earth approximately 3000 times, and travelled over 78 million miles! As well as, you know, orbiting the earth, while Tim was up in space he also managed to run the London Marathon from the ISS treadmill and present Adele with a Global Success award at the 2016 Brit Awards… multi-talented or what?
Other amazing events for families at the Bluedot Festival include Brainiac Live, described as 'the science museum meets Top Gear', an exciting science show based on the well-known TV series. Not for the faint-hearted, Brainiac Live will feature a number of live and quite risky experiments; daredevil stunts, exploding dustbins, combusting microwaves, to name a few. You'll be giddy with excitement as you participate in this incredible journey, taking you amongst the wacky and the wonderful, but, we must say, kids (and grownups) – DO NOT TRY THIS AT HOME!
Elsewhere in the ethereal Bluedot festival, catch up with the CBeebies 'Clangers', a weird but wondrous family of imaginary creatures who live on a blue planet, far, far away. Join them for the Clangers DJ set and so much more, to be announced soon!
Further activities for families at Bluedot include the Space Shed, which will feature stories, interviews and DJ sets, based in the UK's coolest, most exciting garden shed, packed with infinite possibilities…
For a sprinkle of classic arcade game nostalgia, head to the Actual Reality Arcade, a life-sized interactive game zone suitable for children and grownups of all ages, combining classic arcade games of the past, to present day, for the whole family to enjoy.
And if you're feeling a little tired and fancy a 'rest', families at Bluedot take a visit to the Pop Up Puppet Cinema, bringing adaptations of much-loved classics to a warm and hilarious puppet show.
At the heart of Bluedot Festival 2022 is dance and music. The weekend will be packed with dance workshops, discos and parades, for people of all ages to enjoy. Dance favourites Big Fish Little Fish will be presenting their Cosmic Disco, Twilight Parades present Global Grooves, expect Shlomo's Beatbox Adventure for Kids and Bhangracise, plus so many more dance and music activities.
Experience the wonder of Twisted Time Machine, which links both music and science, taking audiences on an immersive journey through time and space to experience and enjoy the most prolific music decades – from the 1920s through to the modern day.
For the smallest scientists and space hoppers, experience Dance Like a Mother – the award-winning babywearing dance class for families at Bluedot.
Be illuminated as you visit the Luminarium, a returning Bluedot favourite, for an immersive and magical experience that takes you through a light tunnel maze, encouraging exploration and play for children of all ages.
There's so much to enjoy at the festival, not only the extensive list above, but you can also experience Bluedot's fire garden, reinvented as the Origins experience. There are over 30 hands-on science stalls and workshops, so the whole family will have something to enjoy throughout the weekend.
And just to prove that Bluedot truly provides limitless fun, more highlights include: Live Science Shows from guests including Chester Zoo, Ancient Antarctic Ice Cores with British Antarctic Survey and Meet and Learn sessions from scientists including Sarah Crowther and The Volcanologists.
Families will be able explore the stunning setting, as they tiptoe under the iconic Lovell Telescope, enjoy late-night Stargazing sessions and explore the wider areas, including Woodland Glade Nature Trials, the Whispering Dishes and The Jodrell Bank Arboretum. Other confirmed family events at Bluedot 2022 include film screenings with Aardman Animations, Wallace & Gromit creators, alongside a specially-curated bill of Morning Family Films and Hengercise, taking place across the Star Fields.
Festival Director Ben Robinson said: "After a two-year hiatus, our fifth instalment of Bluedot looks to be one of our best yet. Welcoming Tim Peake to Jodrell Bank to excite and inspire families under the Lovell Telescope is going to be really special. Tim has lived the dreams of so many of our visitors, young and old, and we're delighted that he'll be here."

"We have a packed line-up of activities and experiences for festival-goers. While our musical acts are a massive draw and promise spectacular performances, bluedot offers so much more. Jodrell Bank is a jaw-dropping location and the perfect place to be inspired as a family by the wonders of science and culture, with hands on workshops, electrifying experiences and hilariously engaging shows. We can't wait to be back in action."
Expect worlds upon worlds of fun and discovery at the Bluedot Festival 2022. Book your tickets through the link below.