EXTC at Band on the Wall
Johnny James, Managing Editor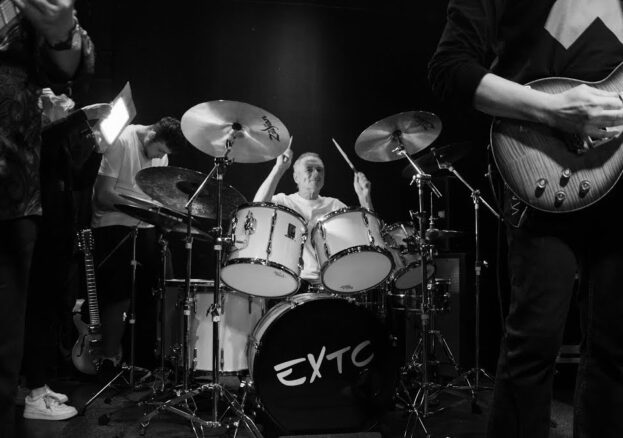 XTC were one of the sharpest British bands to emerge from the new wave explosion of the late '70s. From their thrashy beginnings to the lush, meticulous art pop of their later albums, the group amassed a cult following for their hook-laden songwriting, which gleefully trampled on rock conventions set the day before.
But for all the rich and varied music they put to record – including hit songs 'Making Plans for Nigel', 'Senses Working Overtime' and 'Sgt Rock (Is Going to Help Me)', XTC were a short-lived live act; after singer Andy Partridge collapsed numerous times, for numerous reasons, during their 1982 tour, the band announced they would be, from that point on, a studio band only.
This left drummer Terry Chambers cold. "For me being in a band is all about playing live," he says. "When we came off the road I thought "how are we going to promote ourselves?". A little later, rehearsals for XTC's new album Murmur failed to soothe Terry's concerns: "I felt the songs on our last three albums (Drums and Wires, Black Sea and English Settlement) were great, and we were really playing well. But I didn't think the new material was heading in the right direction and, of course, we weren't going to be playing the songs live."
Following the release of Murmur, Terry left the band and emigrated to Australia where he remained with his family for the next three decades. XTC released a string of albums with drummer Pete Phipps, and their reception proved Terry right. The lack of touring not only caused tension within the band and with Virgin Records, it cast a dim light on record sales – even for those albums like 1986's Skylarking and 1992's Nonsuch, which were hailed as masterworks by critics.
Apart from brief stints in Aussie bands Icehouse and Dragon Terry left his drumkit gathering dust. That all changed in 2016 when he visited the UK and reconnected with old XTC bandmate, Colin Moulding. XTC had folded so Terry and Colin decided to collaborate on a new musical venture called TC&I.
"We played six sold-out shows at Swindon's Art Centre," said Terry. "It was a fantastic experience." Sadly, it was another short-lived one. Satisfied with performing many of his XTC songs live for the first time, Colin Moulding laid TC&I to rest just before Christmas 2018, leaving Terry with no outlet for his rekindled passion. A lifeline came in the form of Steve Tilling – TC&I's guitarist and now EXTC frontman. "We both felt we should salvage something from the situation. We decided to form a band that honoured XTC's legacy while introducing new material of our own. That's when EXTC was born."
https://www.youtube.com/watch?v=Ytf9Z5uKy6M
With the blessing of Andy Partridge, EXTC have spent the last five years bringing a full set of classic XTC songs to audiences worldwide, including headline appearances at the Isle of Wight Festival and London's 100 Club. And while of course it's a far cry from watching the original line-up – Terry Chambers being its sole representative – EXTC goes a long way to soothe the loneliness of being a fan of a band who were elusive enough when they actually existed, never mind the fact they last graced a stage together a staggering 41 years ago.
Maybe it's hyperbole to call XTC a 'lost band', but for one of the best that '70s Britain produced, they're at least criminally overlooked. This celebration of their music, which releases some truly wonderful songs from their four-decade confinement, is sure to be a joyous occasion for any long waiting fan. Catch EXTC live at Band on the Wall on 29 July.