Elias String Quartet at RNCM
Johnny James, Managing Editor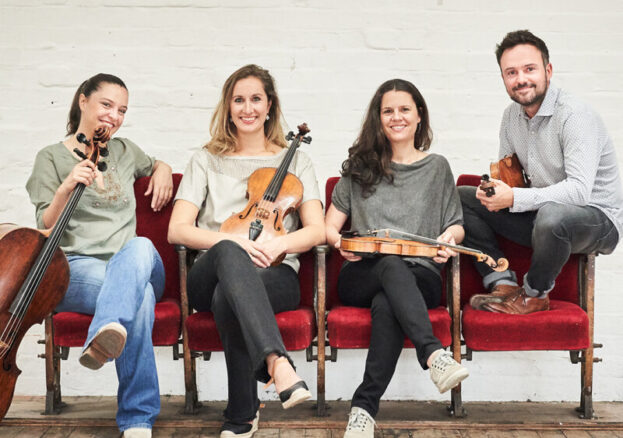 On 21 November, the internationally celebrated Elias String Quartet will return to the RNCM to perform works by Haydn, Beethoven and Sally Beamish, following their announcement as Artists in Residence at the College.
Formed at the RNCM in 1998, the Elias String Quartet are one of the leading quartets of their generation, praised for their intense and vibrant performances, which they've taken around the world. "Few quartets at any stage of their evolution have this much personality", wrote the Philadelphia Enquirer who caught them on their USA tour, while The Strad remarked on the ensemble's ability to "live and breathe each phrase with an enraptured sensitivity which proves revelatory."
The ensemble – Sara Bitlloch and Donald Grant (violins), Simone van der Giessen (viola) and Marie Bitlloch (cello) – have had a long association with the RNCM, culminating in their being named as Artists in Residence – an exciting announcement for budding string musicians at the College. Through workshops, teaching and performance, the Quartet will work closely with students during the RNCM's anniversary year, giving them the invaluable opportunity of full immersion in string quartet training with a leading ensemble.
The 21 November concert is the first of two special events featuring the Elias (the second coming in spring 2023). The evening starts with Haydn's String Quartet No 39 in F minor, seen as one of the composer's most challenging and unsettling works. Next, it's Sally Beamish's Reed Stanzas, first premiered by the Elias at the 2011 Proms. "Reed" in the work's title connotes areas of marsh and fen, and speaks to the landscape of the Isle of Harris in the Outer Hebrides, where part of the work was written. Beamish also draws on the Gaelic roots of Donald Grant, making the most of the Elias' second violinist's talent as a Scottish fiddle player as well as violinist.
The Elias String Quartet have long been celebrated for their subtle and fiery interpretations of Beethoven, and so the composer's String Quartet No 8 in E minor seems a fitting way to conclude this concert. Known for its intensity and characteristically Slavic themes, the second of Beethoven's 'Rasumovksy' quartets is a tense and tumultuous piece, which never allows us to drift into complacency as moments of quiet anxiety explode into ferocious outbursts.
The concert is one of many highlights from the RNCM's Autumn Season. Read our full highlights in our dedicated guide.