Elias String Quartet: Mendelssohn Cycle #1 at RNCM
Johnny James, Managing Editor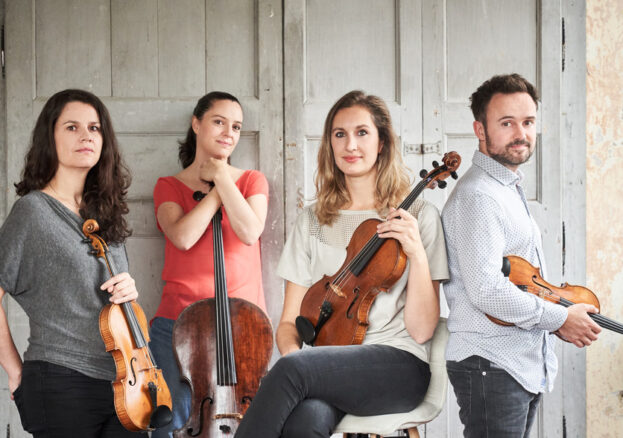 The RNCM welcomes the Elias String Quartet as Artists-in-Residence once again, as the ensemble kick off their exploration of Felix Mendelssohn's exuberant canon of chamber works with three string quartets.
The Elias String Quartet are one of the leading quartets of their generation, praised for their intense and vibrant performances, which they've taken around the world. The ensemble – violinists Sara Bitlloch and Donald Grant (an RNCM staff member), violist Simone van der Giessen and cellist Marie Bitlloch – formed at the college in 1998 and have had a strong association with it ever since. This year they place a special focus on the profound artistry of Mendelssohn.
One of the most celebrated figures of the early Romantic period, Mendelssohn paired the formal balance and graceful control of the Classical period with Romantic subjectivity and fantasy, synthesising a style that was heavily influenced by Beethoven, but very much his own. His chamber works are musical conversation pieces of real sophistication, and among them, the string quartets shine brightly.
The three quartets of Opus 44 mark the centrepiece of the composer's mature string quartets. The Third – the last to be completed but the first to be published – was Mendelssohn's favourite; he deemed it "more spirited and […] more grateful to the players than the others". It's this light and joyful work that opens Elias' concert, before we trace our steps backwards to Quartet No 2 in A minor from Opus 13, written when Mendelssohn was just 18, and poring over the just-published late string quartets of Beethoven.
One of Mendelssohn's most passionate works, written in the wake of an early love affair, the A minor Quartet borrows compositional techniques from Beethoven, but draws its material from one of Mendelssohn's own songs, Frage ('Question'), whose lovestruck lyrics implore the object of his infections to "stay forever true". A key motif from the song influences many themes while other material binds all four movements into stunning unity, the finale circling back to the beginning, making this one of the very first cyclical chamber works.
Joined by a second violist, Alex Mitchell, the Elias String Quartet conclude the concert with String Quintet No 2 in B flat major from Op 87, written two years before Mendelssohn's premature death at 38, and published posthumously in 1851. It features some ingenious contrapuntal writing, full of textural contrast. From the brief Andante scherzando, which recalls the nocturnal world of the Scherzo from A Midsummer Night's Dream to the blazing, fleet-footed finale via the tragic Adagio e lento, it's one of Mendelssohn's finest chamber works, and a wonderful finisher.
This concert forms part of the RNCM's packed Autumn Season, from which we select our highlights in a dedicated guide.