DakhaBrakha at Band on the Wall
Johnny James, Managing Editor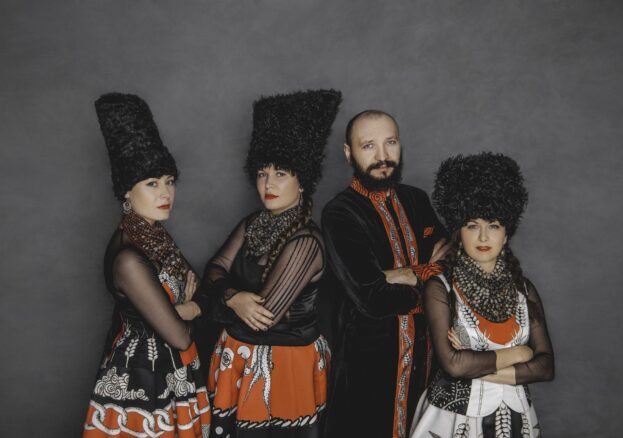 Following their sold-out show at Band on the Wall in 2023, Ukrainian global folk powerhouse DakhaBrakha return in January 2024.
Hailing from Kyiv, Ukraine, DakhaBrakha are a self-described "ethnic chaos" band who started out playing traditional Ukranian folk but have since pursued a path of musical experimentation and political expression. Founded in 2004 by avant-garde theatre director Vvadyslav Troitskyi, theatricality has always been a core element of the four-piece, whose music draws on folklore and whose shows are usually staged with a strong visual element, including extravagant costumes and towering fur hats.
The band (Marko Halanevych, Iryna Kovalenko, Olena Tsybulska, Nina Garenetska) started out within the realms of Ukrainian folk music but soon began incorporating various global sounds, taking in Indian, Arabic and African instrumentation, while folding in genres from blues to opera, rock to trance. As stunning as these unusual combinations are, it's the group's vocals that hit you first; all four members have a stunning range, and they also use their voices to emulate birdsong and animal calls, bringing a deeply atmospheric element to the live shows.
Loosely translated, DakhaBrakha means 'give and take' in Ukranian, and it kind of fits – the instruments and genres they borrow from other cultures, they help spread around the world, having been performing on the international stage for over a decade. Of course shows during the last year, including one of the most memorable sets of Glastonbury 2023, have taken on a new meaning in the light of the Russia-Ukraine war. This isn't just about the music any more.
Before the war, DakhaBrakha's show was playful. Now, the fierce beauty of their music hones in on human courage and the desperate determination to be free. Rife with political message, the band often perform against a backdrop of footage showing the destruction Russia's war has wreaked on their homeland. It invites audience members to make a personal and emotional connection with Ukraine, calling for solidarity in a universal language.
Having been lucky enough to catch their celebrated Glastonbury set, we say with full confidence that their upcoming Band on the Wall show will be one of the most powerful you'll see for a long time.