Contact Reopening Season
Kristy Stott, Theatre Editor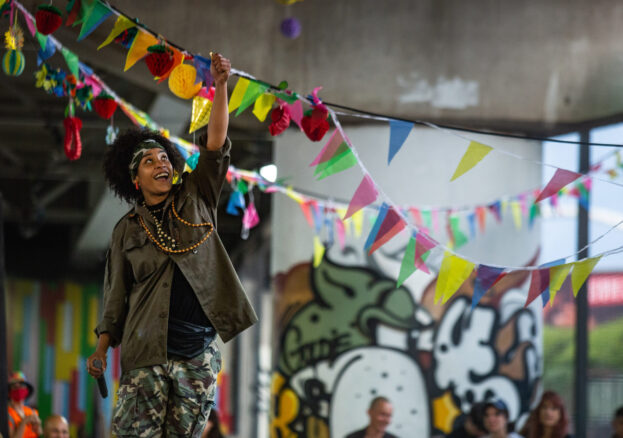 Following the extensive transformation of their iconic Oxford Road venue, Manchester's Contact Theatre has announced a vibrant, progressive and celebratory reopening programme.
Always placing young people at the centre of its decision making and supporting the next generation of artists and audiences, the venue will throw open its doors and welcome audiences into the newly renovated building this autumn. Bringing radical, ambitious and pressing work to the city of Manchester, we couldn't be more thrilled about this impressive reopening season.
Visitors to the new building can expect new and improved performance spaces; a purpose-built recording studio for young people's music projects; a unique health and science development space; new offices for artists and organisations to hire and the delicious arrival of Manchester's Indian street food champions, Chaat Cart.
We're absolutely thrilled that this season launches with a new production by the award-winning Contact Young Company. Directed by Contact's Artistic Director Matt Fenton, Everything All of the Time is a highly visual journey into a new world. Audiences should buckle up and expect a heady 60 minutes of hedonism, love, anger, nostalgia and hope.
For Black History Month, Contact will join forces with Black Gold Arts to deliver an outstanding line-up of Black-led art, performance and film. Audiences can enjoy the eagerly anticipated live world premiere of mandla rae's as british as a watermelon alongside stunning film screenings from Chanje Kunda and Mele Broomes.
In a groundbreaking and immersive piece of theatre commissioned by Contact and Re:Con, Ergon will present The Wicked Problem – a brand new fully immersive work that places the audience at the centre of the world's first judicial ecocide trial.
Two autobiographical works are further highlights in the Contact Reopening Season. In Pink Lemonade, writer and performer Mika Onyx-Johnson combines original music, spoken word and movement in an invigorating exploration of sexuality, identity and self-discovery. Meanwhile, theatre-maker and activist Nathaniel Hall and Dibby Theatre will present the award-winning First Time, a funny, frank and unapologetic show that smashes through the stigma of HIV.
The theatre season also features Contact favourites House of Ghetto presenting The Black Pride edition of Manchester Vogue Ball and Eight-freestyle's modern upbeat reimagining of Dick Whittington and his Amazing Cat.
Contact's Reopening Season showcases everything we love Contact for; its produced work, its partner artists and the award-winning Contact Young Company.
Check out our rundown of this exciting season.