Artists' Talk and Tours With Holly Rowan Hesson & Ellen Sampson at Warrington Museum & Art Gallery
Sara Jaspan, Exhibitions Editor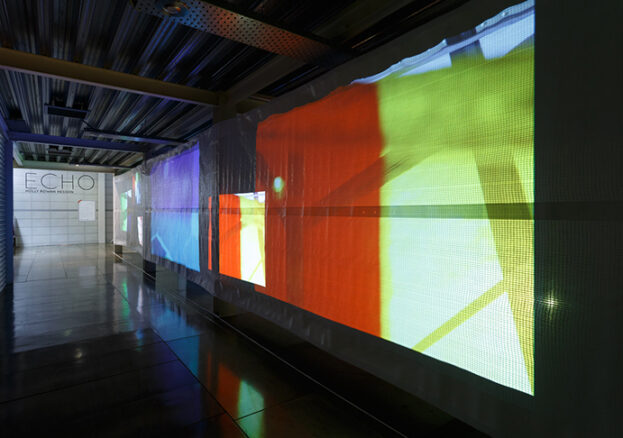 Attend a special artists' talk and guided tour of two exhibitions by artists Holly Rowan Hesson and Ellen Sampson in association with CVAN and Warrington Contemporary Arts Festival.
The event will start at Warrington Museum & Art Gallery, where artist Ellen Sampson (RCA, 2016) will present her exhibition Worn: Footwear, attachment and affective experience. Sampson's exhibition uses film, photography and installation to investigate the relationships between bodily experience, memory and footwear, highlighting the ways this relationship is made apparent in the creases, folds and scuffs, which are the inevitable outcomes of use.
Next, at Pyramid, artist Holly Rowan Hesson will present a guided tour of Echo, a site-specific installation. Hesson's projection and sculptural work navigates the gap between purely sensory feeling and more literal, rational thought-based experience. The floating and projected elements of Echo are constantly changing, the interplay between the moving and static elements tapping into notions of permanence and transience.
Afterwards, Hesson and Sampson will lead a discussion and Q&A session, exploring dialogues around their bodies of work. Festival organiser Roger Jeffery will present an overview of the extended Contemporary Art programme, including details of forthcoming commissions, and in addition there will be a networking opportunity for local artists, curators and writers. Both exhibitions end on 27 January.
Please note, this free event starts at Warrington Museum & Art Gallery at 3pm and concludes at Pyramid. The two venues are separated by a short 2-3 minute walk. Limited free parking is available at Pyramid – please ask for a parking pass at Box Office. Visitors are welcome to attend all or part of the event.