Anika at YES
Johnny James, Managing Editor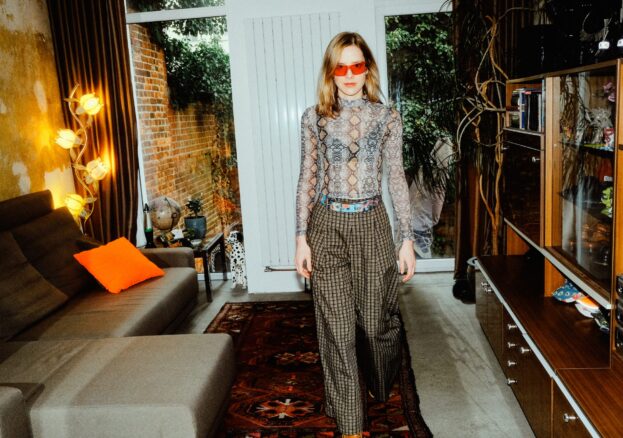 In summer 2021, Berlin-based chanteuse Anika – the project of Annika Henderson – dropped her first solo album in over a decade. It follows her cult favourite self-titled debut from 2010 – an album recorded with BEAK>, filled mainly with covers of '60s pop and folk songs, delivered with Nico-tinged vocals and a dubby, beat-driven noir. Change – the new one – is, in a way, a second helping, serving up another slice of detached, avant-garde pop. And yet it also moves beyond its predecessor, casting a wider net both sonically and lyrically, while serving up nine original tracks.
In the intervening years between solo records Anika co-founded the electro-psych outfit Exploded View, whose extra-terrestrial second album Obey is well worth a listen if you've not heard it. After recording the initial ideas for Change by herself at Berlin's Klangbild Studios, Anika enlisted the help of Exploded View's Martin Thulin, who co-produced the album and played some live drums and bass. He helps bring a much wider palette of colours and textures to Anika's naturally sparse songwriting.
The songs offer skittering, austere electronic meanderings reminiscent of classic Broadcast records or Hi Scores-era Boards of Canada. This isn't so different to her first record, and yet the sonics the tracks are glazed in are. From the dreamy, glistening atmospherics of opener 'Finger Pies' to the elastic-sounding synths on 'Rights' to the cavernous industrial ambiance of 'Freedom', there's a whole lot to go at, all of it intense and compelling, especially when played against Anika's icy, almost cosmic voice.
Lyrically, the political-journalist-turned musician has a lot to say over the course of Change. It's coloured by the circumstances around its creation, which happened during lockdown. "It's a vomit of emotions, anxieties, empowerment, and of thoughts like – How can this go on? How can we go on?" says the Wales-born artist, who moved to Germany shortly after deciding to jump careers in her early twenties.
It's not all dark though; the fraught intensity that runs through the album is buoyed by guarded hope. Anika in fact sees the album as "a treatise on optimism", and the title track presents this message writ large: "I think we can change, we all have things to learn, about ourselves and about each other", she proclaims, her voice at its most plaintive. From there, though, the album dips back into nihilism, rising to sunnier climes only fleetingly. It's thus a genuinely surprising touch when she closes the album with 'Wait For Something' – a doggedly optimistic track led by tender acoustic guitar. After an album so emotionally torn at the seams, ending on a note of resolute hope is perhaps Change' most revolutionary act.
To celebrate the release of the record (albeit belatedly, following some Covid-related postponements), Anika is heading out on a rare solo tour, accompanied by a full new band. We can't wait to catch her in YES' intimate basement room on 18 April.