Amélie The Musical at Manchester Opera House
Kristy Stott, Theatre Editor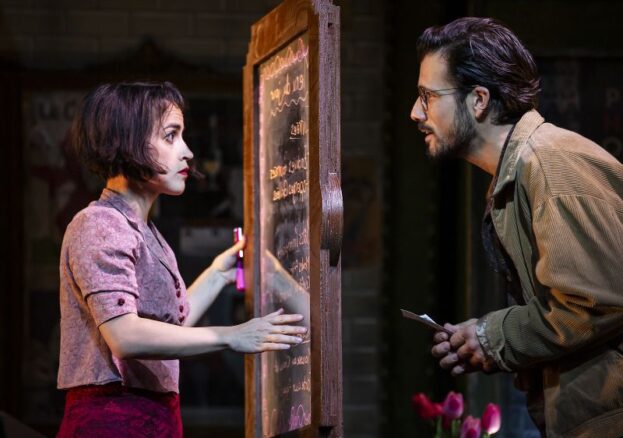 It's almost two decades since Amélie, starring Audrey Tautou and Matthieu Kassovitz captured the hearts of cinemagoers all over the world. Released in 2001, the original film Le Fabuleux Destin D'Amélie Poulain became one of the most successful international French films of all time. Now in a vibrant stage adaptation with original orchestrations, this iconic and beloved story lands at Manchester Opera House this August.
Amélie is a story which actively seeks human connection and kindness.
Amélie The Musical opened at the Watermill in Newbury earlier this year to huge public and critical acclaim, leading to a sell-out season. Enchanting, witty and gorgeous, the story – set in Montmartre – translates beautifully for the stage.
Born to an emotionally cold father and a neurotic mother, Amélie grows up to be an astonishing young woman. With a mischievous personality, she lives quietly in the world but loudly in her own mind. Leaving home at 18, she becomes a waitress in a café where she meets a charming bunch of quirky characters. Shy with a lively imagination, Amélie is inspired to carry out small acts of invisible kindness – bringing happiness to those around her. However, when a chance encounter with love comes her way, will Amélie risk everything to say what's in her heart?
A vibrant stage adaptation with original orchestrations.
Directed by Michael Fentiman, this new musical based on the five-time Oscar-nominated film by Jean-Pierre Jeunet and Guillaume Laurant will feature an original Gallic-inspired score by Hem's Daniel Messé.
Taking on the role of Amélie is French-Canadian star of stage and screen, Audrey Brisson. A fluent French speaker and classically trained singer, Fentiman describes Brisson as 'an extraordinary performer', 'a rare thing' and an 'obvious casting for Amélie'. Alongside Brisson, West End performer, Strictly Come Dancing finalist and television actor Danny Mac will play sweet daydreamer, Nino Quincampoix.
Aside from the beautiful story, top-notch casting and impressive team behind the production, the sentiment behind the narrative feels so important too. At a time where we increasingly feel distance and separation from others – Amélie is a story which actively seeks human connection and kindness, encouraging us to reach out to one another. Inspiring.