Alice Halstead: Self-Portraits of a Woman
Alice Hiley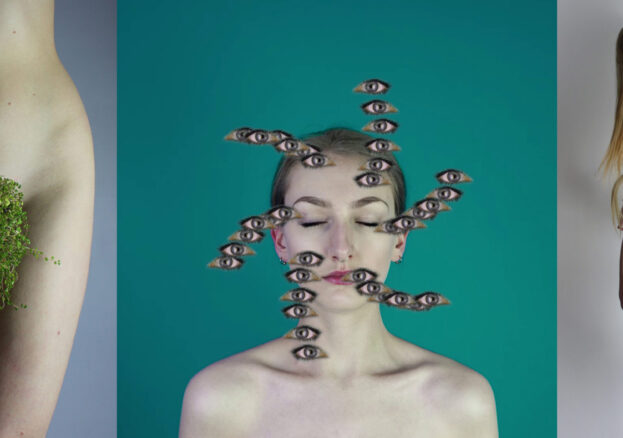 Presenting two series with contrasting views on women and their bodies, Alice Halstead: Self-Portraits of a Woman uses self-portrait and looped animation to explore the female form in the modern world.
The exhibition, at the Bowery in Headingley, freely switches between colour and black and white, and combats heavy subjects such as femininity and sexuality with curiosity and wit. With this unique and personal collection, the artist aims to create a safe, comfortable space for considering her viewpoint through photography.
The two collections, What's Wrong with Pink? and Instead of Sex, use a variety of forms and styles; for Alice, the message relayed is more important than the style used to achieve it.
What's Wrong with Pink? considers the rules many women feel obliged to follow when presenting their bodies to the world, with regards to body hair, periods, modesty and promiscuity. Full of desire, the images force viewers to question what it is that they find attractive about the female form and why. What's Wrong With Pink? highlights the absurdity of the ways women's bodies are hidden away, fetishised and abhorred instead of embraced and celebrated.
Instead of Sex imagines alternative methods of advertising for typically feminine products, using concepts rather than the sexuality of the model to sell to an audience. While What's Wrong with Pink? focuses on a desire for the natural body, Instead of Sex aims to remove the idea of a woman as a means of sexual gratification entirely from beauty advertising.
Alice Halstead is a photographer and filmmaker based in North Yorkshire. She focuses primarily on women and their bodies through an experimental and conceptual approach, with a significant element of post-production. Through the use of metaphor, self-portrait and moving image, Alice Halstead: Self-Portraits of a Woman presents the audience with a unique view of a world she would like to live in as a young woman.