Albrecht Dürer's Material World at The Whitworth
Katie Evans, Exhibitions Editor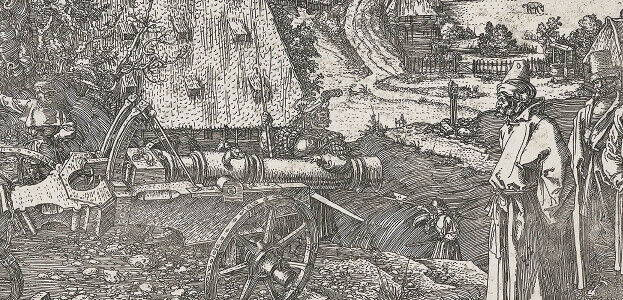 Step back in time to Renaissance Nuremberg with The Whitworth's first major exhibition of works by Albrecht Dürer in over half a century.
Albrecht Dürer's Material World brings together over a hundred works by the forefather of the European print revolution. Masterfully technical and intricately fantastical, the exhibition reflects the accelerated creativity and innovation of Renaissance Nuremberg.
Visitors move between three thematic spaces – the home, workshop, and scholar's study – to gain an insight into Dürer's influences. The exhibition sets woodcuts, etchings, and engravings alongside objects contemporary to his world. A lethal-looking pike, a taxidermied parrot, and a sixteenth-century brass alarm clock straight out of the Da Vinci Code contextualise the transitional period between medieval Christianity and the Enlightenment.
Hypnotising linework vibrates to form values and shadows with laser precision. Look closely at these works (most predating Martin Luther's revolutionary printed bible!) and you'll spot graphics that remain fresh today. The 'fire and gallstones' in Martyrdom of Saint Catherine (1498) resemble comic book 'zap!' or 'kapow!' starbusts, and the Gothic linework of Apocalypse (1498) is proving popular half a millennium later in everything from sign writing to tattoos. 
Easter eggs for modern viewers include: a saint's penchant for slippers and scatter cushions, a deer with a crucifix for an antler, and the staple Renaissance trope of an eerily adult-faced baby.
Take a moment to look at the original woodblock on display – you could easily walk past this lump of wood, but its dark stain is actually disguising the hair-thin engraved lines that defy belief. 
If you only spend time analysing one image, make it Nemesis (1501). Dürer's preoccupation with mythology, zoology, urban life, textiles, the celestial… it's all beautifully on display here.
Albrecht Dürer's Material World proves that, half a century later, Dürer is still reaching across time and proving himself the master printer.