Abigail's Party at Manchester Opera House
Kristy Stott, Theatre Editor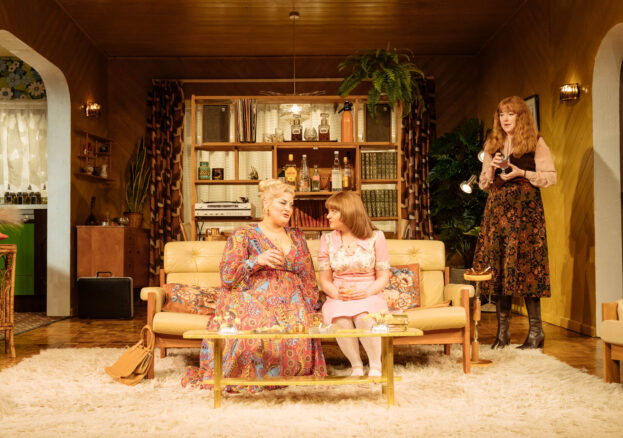 The iconic and most-lauded 1970's comedy Abigail's Party, devised by Mike Leigh, comes to Manchester Opera House this spring. This celebrated comedy of manners first premiered in London in 1977. Now, over forty years later, the party is still going strong for this warm, laughter-filled suburban situation satire.
Star of stage and TV, Jodie Prenger leads the cast as the overbearing hostess, Beverly. Together with her husband Laurence, played by Daniel Casey, Beverly throws a dinner party for her newly married neighbours Angela and Tony. Beverly also invites her divorced neighbour Sue, whose teenage daughter, Abigail is holding a party at home.
Immerse yourself in the 1970s. Cheese and pineapple sticks and spider plants; chintzy wallpaper and cocktail cabinets.
As the booze flows, tensions boil and tempers alight. Until the curtain of respectability falls with hilarious though potentially catastrophic consequences.
Mike Leigh started out as a theatre director and playwright in the 1960's and Abigail's Party is considered one of his most revered works. When Abigail's Party was devised, Leigh's way of working was viewed as different from many other theatre-makers. Instead of presenting his actors with a script, Leigh used the rehearsal space and the actors as his medium and inspiration. Abigail's Party was created through improvisations during which Leigh explored the characters with the performers. This organic, character-based work allowed for evolution and depth, as Leigh and his actors worked together to create authentic and fully realised personalities. The finished work is never planned beforehand.
Running at two hours and twenty minutes, Leigh's ground-breaking Abigail's Party is one of Britain's most popular comedies. Boasting rave reviews, this acclaimed touring production is not to be missed.