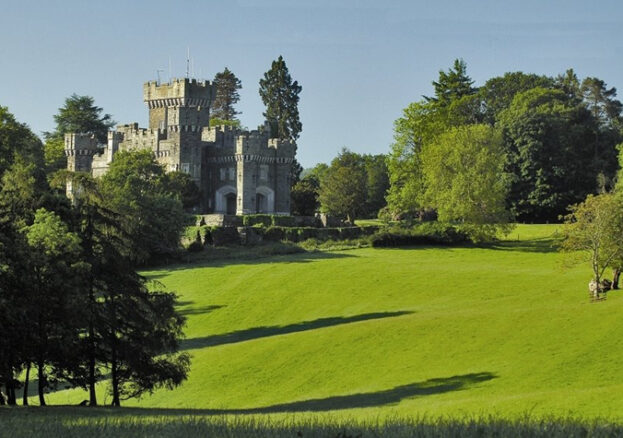 When is a castle not a castle? When it's a half-restored Victorian fancy teetering on the edge of Lake Windermere.
You've got to admire the Victorians. They built an empire. They built the railways. They named their children Isambard and Ebenezer. And when it came to building their own homes, the richest among them went all out to create great Gothic flights of fancy that even now are a reminder that, sometimes, money really is no object. So with all that in mind, ladies and gentlemen, we give you Wray Castle.
Standing high on the edge of Lake Windermere, Wray Castle at first glance appears every inch the monumental medieval pile. Grey stone turrets with arrow slits and mullioned windows give way to an interior that features an oak-panelled library, the remains of stained glass still lodged in some upper windows. Yet Wray was built in the 1840s by a Liverpool surgeon and his wife, a retirement home for James and Margaret Dawson that is epic in scale but not Gothic in truth. The whole thing is, as current property manager Rosemary Lord points out, "a bit of a fake."
The story of the castle doesn't end its curious turn there. The designer behind it "killed himself with drinking," while the Dawsons only lived at Wray for 35 years. The castle eventually passed to the National Trust, minus its sold-off contents, which in turn let it out to the YHA and the Merchant Navy. Grand plans were put in place in 2004 to turn it into a hotel but they came to naught. "It's a very unusual property in that it came without its contents," says Rosemary Lord, who works at the castle. "We spent years going through the planning process to turn it into a hotel, but in the first week of January 2011 the hotel company we'd been working with said no, the banks won't lend. It would have cost £6 million to convert it and with the hotel only ever able to lease the property, it was seen as too much of a risk."
The castle opens itself out for your imagination, and welcomes it to run riot
It may have been a risk for an investor, but it also left the National Trust with a big empty barn of a place, one sorely in need of repair. Rather than keep it shuttered, however, the Trust came up with an interesting solution. "It is the most fantastic location," says Lord of a house that commands the sorts of views over Lake Windermere that even a hardened cynic would describe as impressive. "The grounds have always been open to visitors, and those same people wanted to know why they couldn't go inside. We realised that because Wray is a fake we didn't have to treat it in the same way as our traditional properties. It has loads of empty rooms but rather than lock them up we decided to open them – all of them."
The result is a maze-like run of rooms, back stairs and interconnecting corridors that open out onto grander spaces: a 100 foot-high central atrium, for example. It is a place where you can ditch the crowds and get lost below stairs. It isn't beautifully restored – some of the rooms have the 1970s bathrooms and dodgy wallpaper installed by previous tenants – but is somehow all the more appealing for it. "It is very different to the sort of historic house where you follow a set route round," says Lord. "Here it's much more hands-on and people end up staying for three or four hours as there's so much to see and do."
It isn't completely empty, of course. The library has an entire wall painted with fake spines, to which visitors can add their own titles. In various rooms games have been laid out – a giant Connect 4 here, a Beatrix Potter display tucked there. A few rooms contain details of the castle's slow restoration, showing both found objects (such as a stone lintel carved with "deeds not words") and descriptions of the Trust's ambition to restore a few key rooms. And there's the obligatory shop and small café. Mostly, though, the castle opens itself out for your imagination, and welcomes it to run riot.
"It was a complete unknown when we opened it," says Lord. "We didn't know whether it would be a success." It was a risk that has paid off. Sure, some people pitch up and bemoan the lack of fully furnished state rooms, but without much marketing the castle is proving to be a great success for the National Trust with visitor numbers on the rise. A shore path that connects the castle to the excellent Low Wray campsite, the close proximity of Ambleside and gastro pub, The Drunken Duck, plus the Windermere boats that connect Wray to Bowness, will surely lead to more people being seduced by the castle's no-frills charms in the coming years. Which must mean that Wray Castle is less a case of money being no object, and more the fact that, here at least, the lack of it has been the mother of all invention.