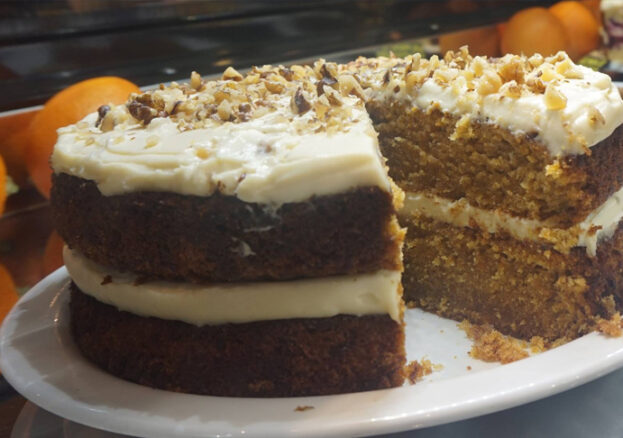 Fellini's does fancy food and films. What better way to treat yourself after a hard tramp in the Lake District?
People visit the Lake District for simple things: mud, wind, sky, water. And the food round here, while high quality, often buys into that, straying into the consciously rustic, the relentlessly local. Most menus boast a steak and ale pie – microbrew ale, organic steak from up the road – and it gets easy to lose track of how many plates of posh sausage and mash you've tucked into if you're a frequent walker across the hills. Which is all fine – but sometimes you want to range a little beyond solid British flavours. Sometimes you want a bit of sunshine food, even in the Lake District: that's where Fellini's steps in.
A vegetarian restaurant and boutique cinema in the little town of Ambleside, Fellini's bills itself as "unpretentious fine dining." The day we went, it delivered on this balanced promise. The staff were relaxed and friendly, there were plenty of diners in jeans – but at the same time, the place feels like a bit of a treat. There are crisp white table cloths and real flowers, a thoughtful wine list with plenty by the glass. You won't find any wet dogs under the table here.
You won't find any wet dogs under the table here
My companion likes veggie food, "as long as there's a point to it." The menu at Fellini's has plenty of point – dishes are focused, confident. Riffing around Mediterranean flavours, each is a harmonious combination of ingredients that have always been friends. Moussaka with lentils, red wine and ricotta. Grilled aubergines dressed with crème fraiche and paprika. To start, my friend chose fresh mozzarella, served with foccaccia, black olive tapenade and cherry tomato and yellow pepper salsa; the mozzarella was correctly and creamily melting, the salty tapenade balanced out the sweet salsa. I had a well-made goats' cheese and chive soufflé with a beetroot, pear and hazelnut salad; the flavours matched, but the dressing talked over everything else.
On to the main: a spinach, feta, cheddar and cottage cheese pancake with tomato sauce and creamy mash potato for me. It sounded like a lot of cheese for one dish, but it did work: the pancake was light and crisp, the spinach well-seasoned and the tomato sauce strong and mellow. My friend went for risotto with fennel, toasted fennel seeds, roasted pepper sauce and goats cheese, and – as well as making a bit more sense on the page – this dish made sense in the mouth: big, well composed flavours, meltingly tender fennel. The puddings, however, had both highs and lows. While an orange-scented crème brulee with blood orange sauce sounded promising, the lack of a crackly top broke my heart. Luckily, a walnut caramel tart with creamy apple ice cream saved the day: rich with nuts, the lightly scented frozen goodness was complimented by warm caramel.
Fellini's, then, is a welcome break from the rustic, right in the heart of the Lakes. A meal here gives something a little more subtle, a little more refined than your average gastropub offering, with a far better choice for vegetarians and those with restricted diets. There's also the tempting option of following a meal with a film in the sweet little screen upstairs. The picture changes every week, but it's usually something off-beat and grown-up, picked from the wider selection at Zefferelli's, the sister cinema-cum-pizza-place across town. Take the time, if you can, to stay for a digestif flick: those comfy seats sure do beckon after three courses. Fellini's may not have the slickest website, but the place is a class act. Start your next mud-seeking trip from Ambleside, and you can expect an impressive menu to stumble back to. It's even better than filling up with sunshine.