Whitelock's Ale House
Louise Bolotin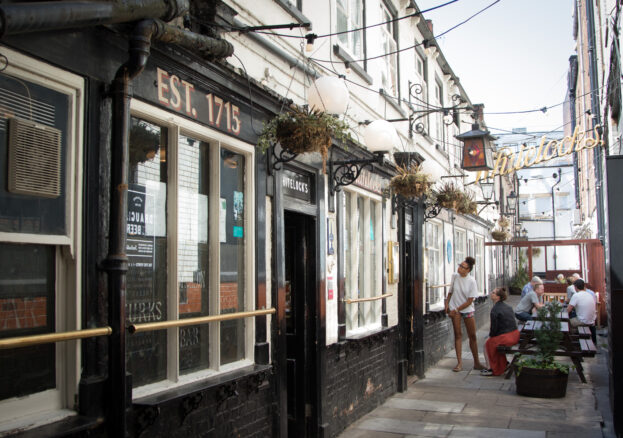 Whitelock's Ale House in Leeds may feel historic, but it's actually a pub that's terribly up to date.
Tucked away down a tiny blind alley in the heart of Leeds' bustling shopping district, Whitelock's Ale House is one of the city centre's best kept secrets. Called The Turk's Head when it first opened in 1715, Whitelock's celebrates its 300th birthday next year and is something of a local institution – but it's not easy to find. Sandwiched between two modern shopping centres, you can stroll past without noticing the sign out in front of the slimmest of passageways.
Like the alley it nestles in, Whitelock's in long and thin – and the frontage would be hard pushed to rival the distance achieved by an Olympic long jump. Inside, the narrowness means that there's difficulty in standing even two deep at the bar. But forget the size: Whitelock's' magnificent Edwardian interior is almost as pristine as the day the craftsmen installed it. There's a long, well-polished mahogany bar, matching panelling, ceramic tiles and windows of etched and stained glass, proudly boasting its status in the 1890s when it became better known as as 'Whitelock's First City Luncheon Bar'. There's also a proper fireplace – even the tables have their original cast-iron feet, with the pub's name on them. It is like stepping back into the past
John Betjeman said that Whitelock's was "the very heart of Leeds"
Except, you'll quickly discover that there's nothing out of date about Whitelock's. When we visited, there was a generous selection of real ales and craft beers on the pumps. The Yorkshire-brewed Timothy Taylor's Landlord is on offer and most of the others are from local breweries. We sampled several over a leisurely and lengthy lunchtime, including one tipple that had been delicately flavoured with blackberries.
The food is also from local suppliers. The menu is fairly typically 'gastropub' – alongside fish 'n' chips and beef and ale pie, the list includes a rare breed hotdog with house onion relish, grilled sardines and even belly pork marinated in Theakston's Old Peculiar (another Yorkshire beer). Prices are good, with small plates priced at £4.50 to £6 and mains average around the £9 mark. The sharing platters (£10) are the usual charcuterie or cheese selections, but do include one of smoked and cured fish. We sampled the house burgers, which were tasty but disappointingly on the small side, and had to pay extra for the house chips. These hit the mark, however – fat cut and fluffy on the inside, with a good crispy exterior.
Whitelock's used to be famous for its Yorkshire puddings; big as a dinner plates and filled with onion gravy. Sadly, after a change of ownership a couple of years ago, they are no longer on the menu – although the barman said the chef wasn't ruling out bringing them back at some point.
Outside, a few picnic tables offer somewhere to sit when the sun shines and you can also admire the blue plaque that proudly records the hostelry's history. It includes a quote from John Betjeman, saying that Whitelock's is "the very heart of Leeds". He's not wrong – and was in good company; esteemed writer Keith Waterhouse and the actor Peter O'Toole counted it as their local when in town. In a world that is changing ever more rapidly, Whitelock's' history feels continuous – and slips down as well as one of the pub's hand-drawn pints.