Where The Light Gets In
Ian Jones, Food and Drink Editor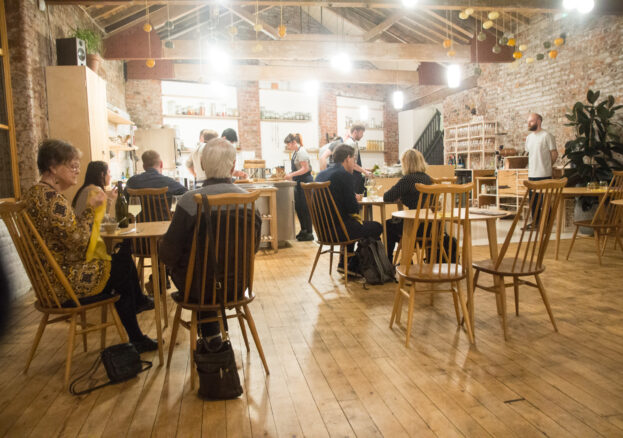 Where The Light Gets In should be familiar to food-lovers in the North and beyond. This Stockport restaurant has totted up awards and accolades by the bucketload since opening in 2016. But where the hell is it? We traipse around the rainy streets for a while, up dimly-lit paths and endless stairs until through sheer fluke we stumble across it, in the top floor of an old coffee warehouse.
This seasonal menu is based around 'The Hunger Gap', that in-between-period after winter and before spring
Inside, it's the open plan apartment of your dreams, all high ceilings, wide open spaces and just a couple of dozen seats, within touching distance of the beehive-busy kitchen. The front-of-house staff float around putting guests at ease, while kitchen staff beaver away intently but happily, no Gordon Ramsay-style bollockings from head chef and owner Sam Buckley here.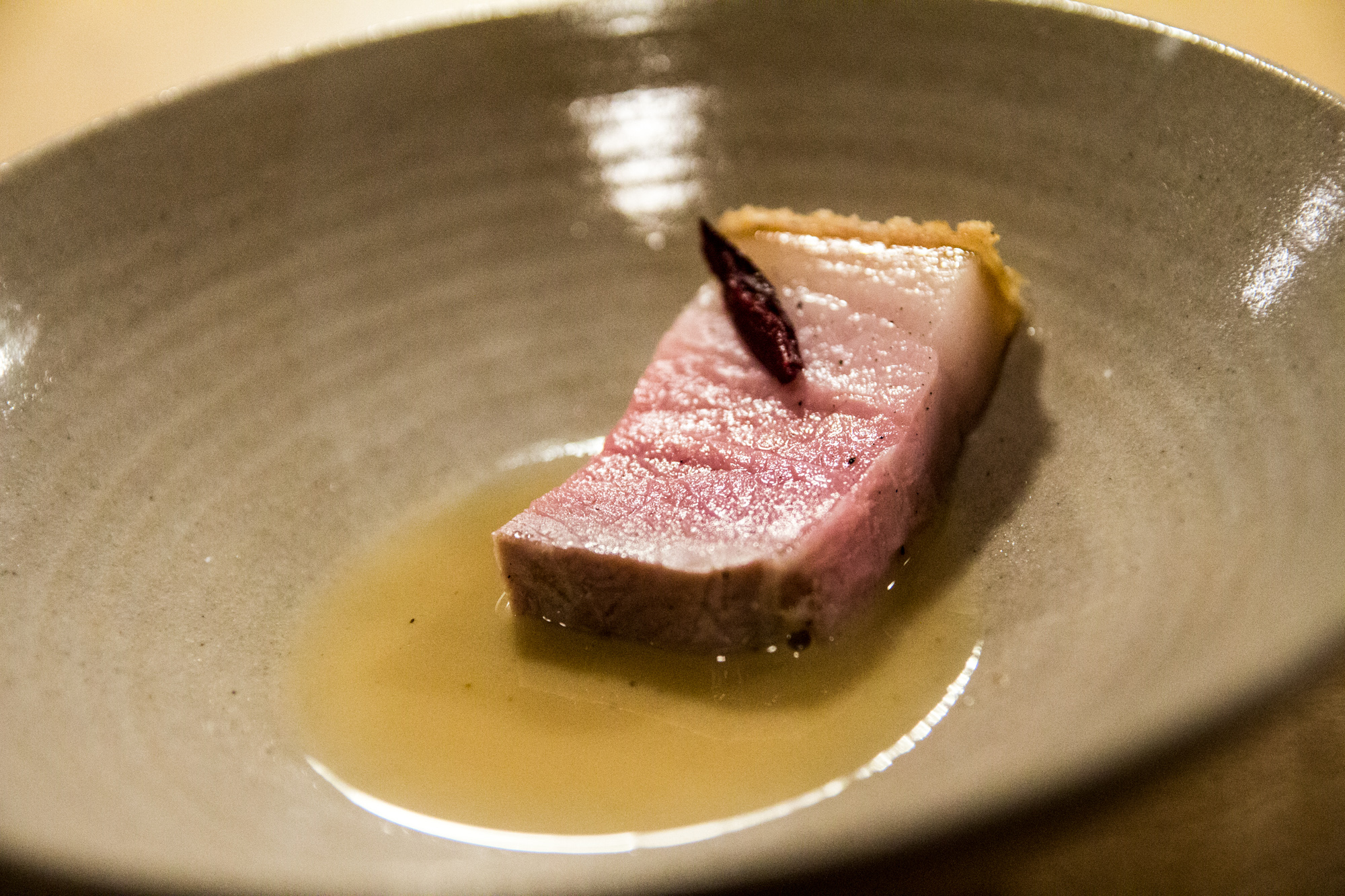 The menus change with the seasons, and as it's early March we're smack dab in the middle of 'The Hunger Gap', that in-between-seasons period after the crops of winter vegetables but before spring crops start sprouting. As such, the courses are made up of ingredients such as stored produce like wheat and seeds, as well as the few hardy plants that manage to grow in this traditionally tough period.
The 'potatoes' course is an incredible dish and worth the price of admission alone
After a broth-style tea to warm us up, we're moved to the chef's table, with an up close and fascinating view of the kitchen hard at work. First up, an oyster shell containing a gently salted mayonnaise, with paper-thin and near-translucent crisped foraged leaves, with which to dip into the mayonnaise.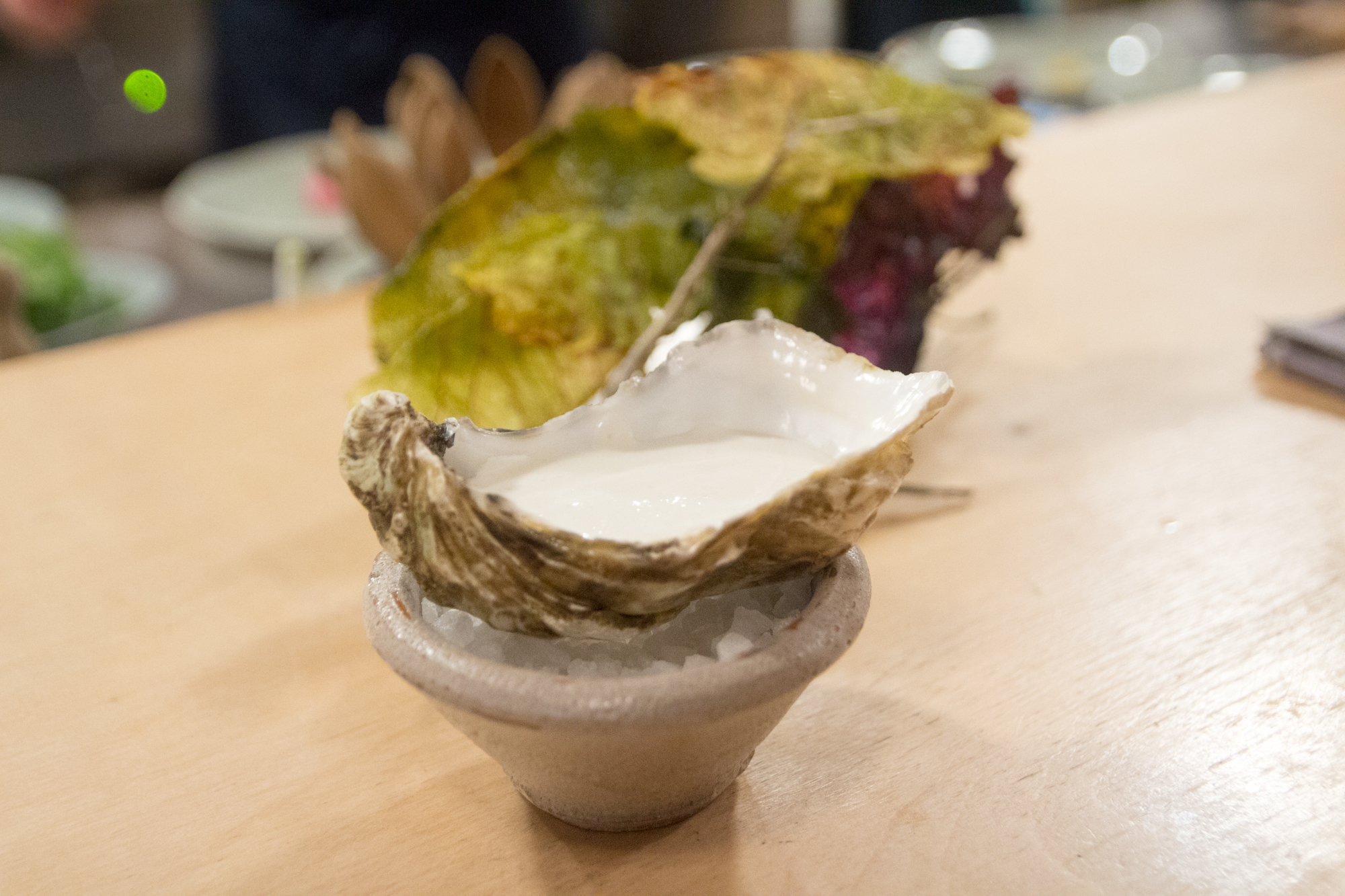 This is followed by its opposite number – cabbages and oysters again, served very differently: an oyster shell containing a delicious and unusually sweet oyster, covered with an array of shredded cabbage. It's all very Japanese in feel, particularly when the follow-up course is sushi-style miniature slabs of Cornish mackerel, to be followed with a swig from a little wooden cup of Yorkshire forced rhubarb. This isn't rhubarb of rhubarb and custard boiled sweets fame, it's a potent hit of sour brew that takes the mackerel to the next level.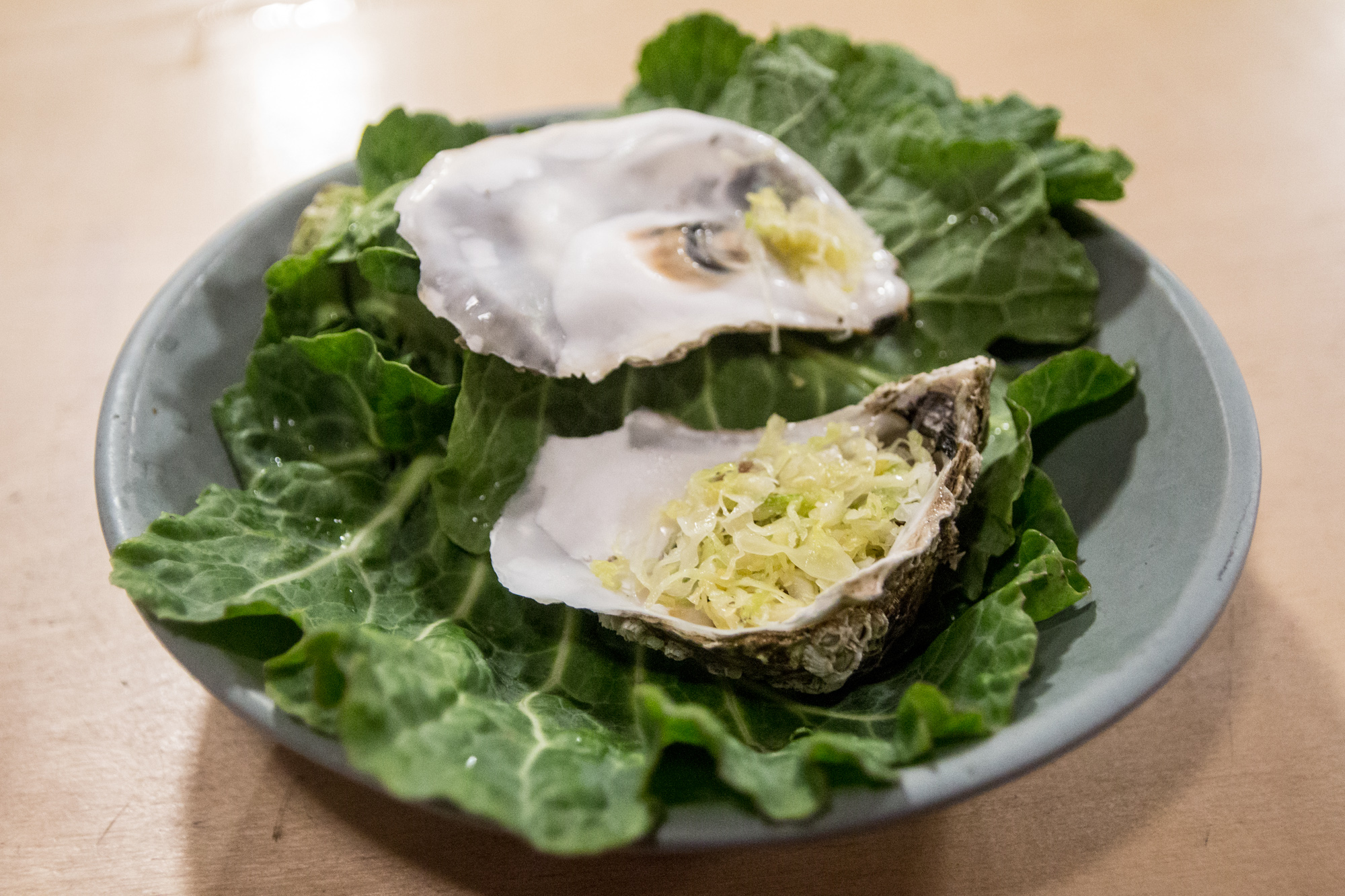 Then a dish described simply as 'potatoes'. But unsurprisingly, it's so much more. This little bowl contains three types of heritage potato: a mousse, confit potatoes cooked with lemon thyme and a generous squirt of neon green leek oil, topped with a thin fried potato crisp. It's a fantastic dish, and you'll never think of the humble spud in the same way again. The whole bowl is warm, creamy, and beautifully comforting. An incredible dish and worth the price of admission alone.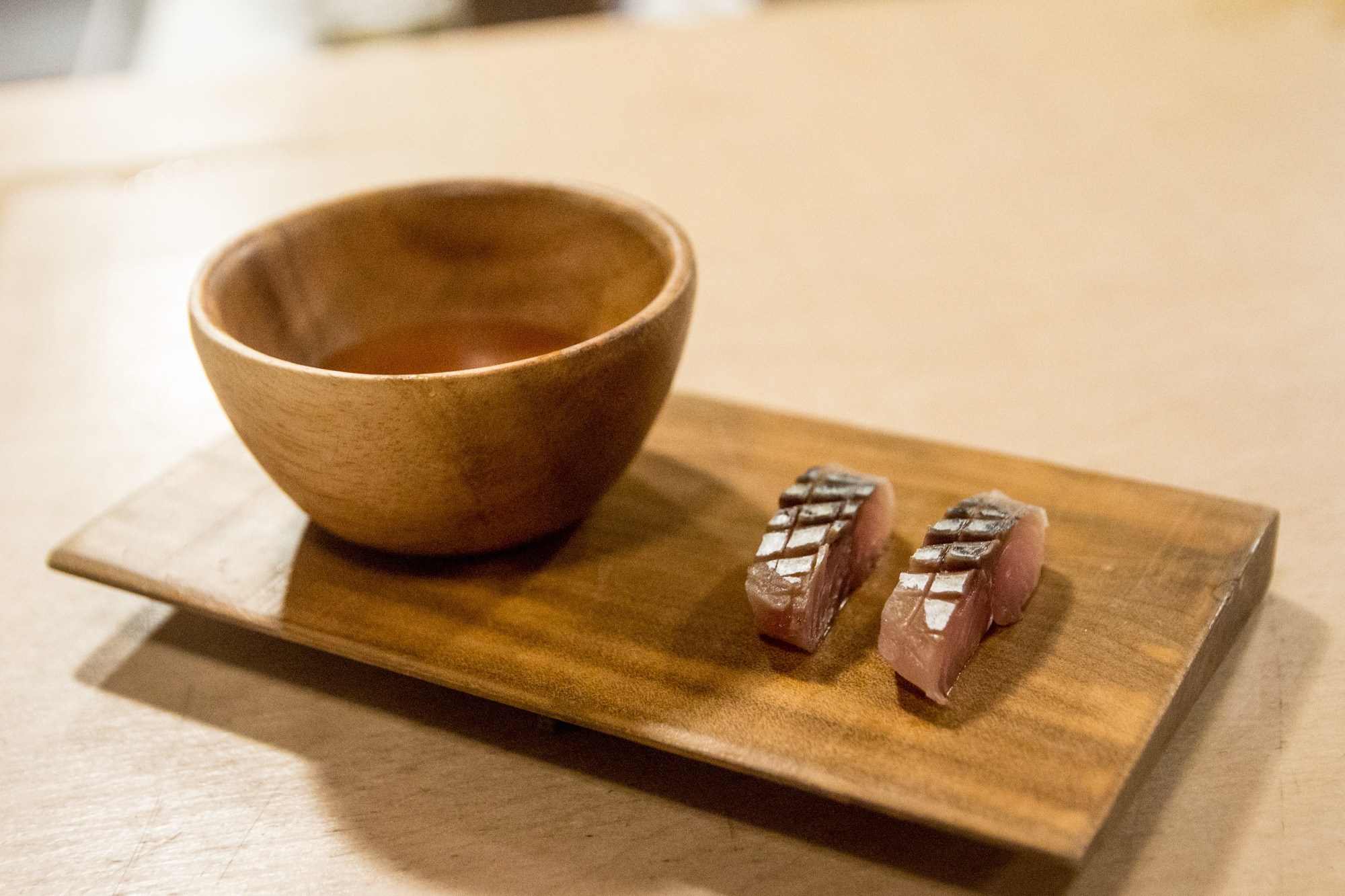 Then for a break to the norm – sourdough bread, with a thick lump of mild Jersey butter, snazzed up with a side plate containing a thin slice of pig head terrine, a sliver of meat so rich it almost feels wet to the touch, and suitably packed with gloriously fatty flavours.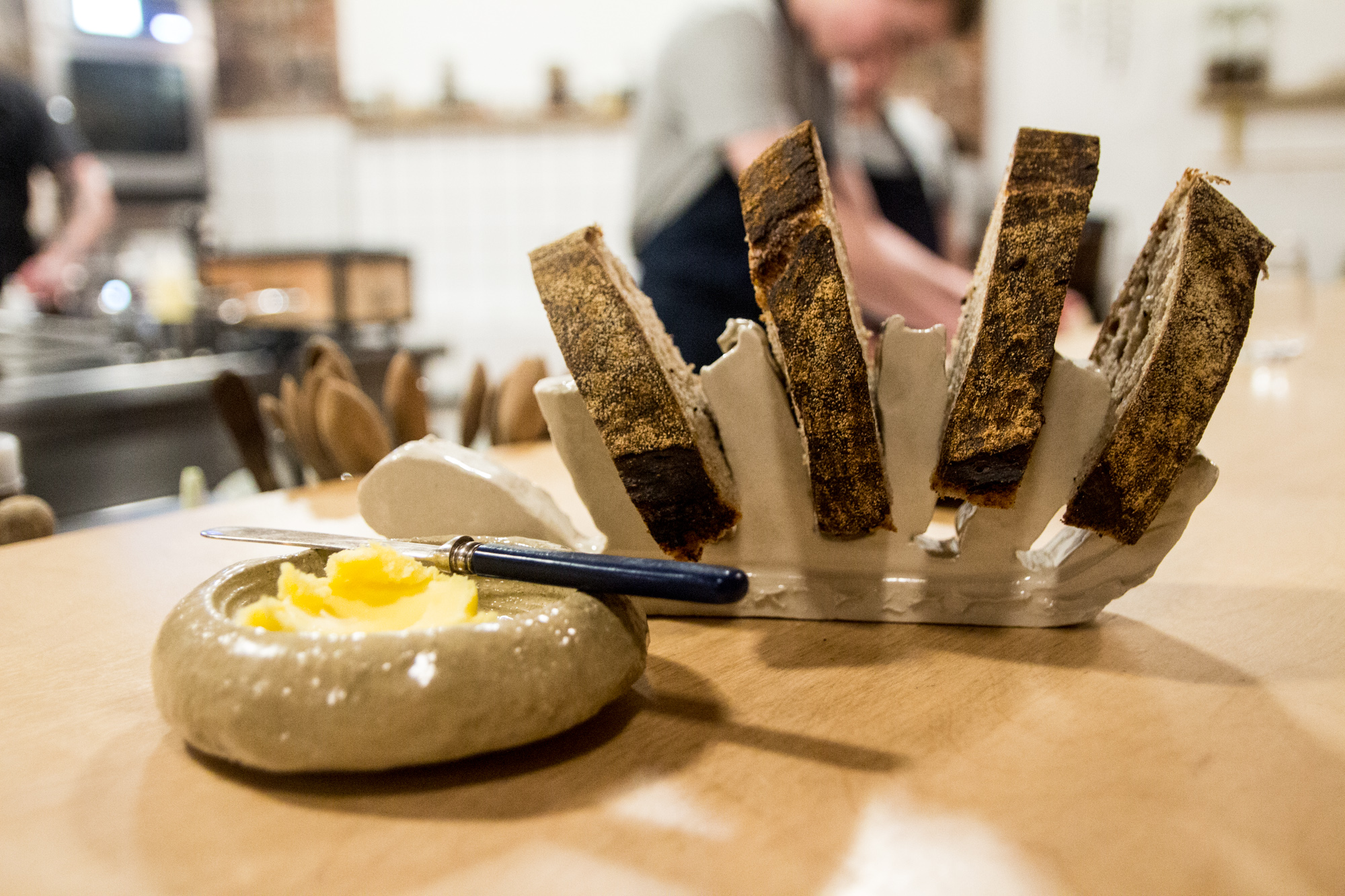 Then beetroot tartare, which comes with a fantastic story that I shan't spoiler here. The plate is all bright vivid colours, which is whisked together to become a little bundle of pink cubes, covered with shavings of bright yellow yolk. It's a punch-packing dish, full of lightly-sweet earthy flavours, balanced with luxurious richness from the egg yolk.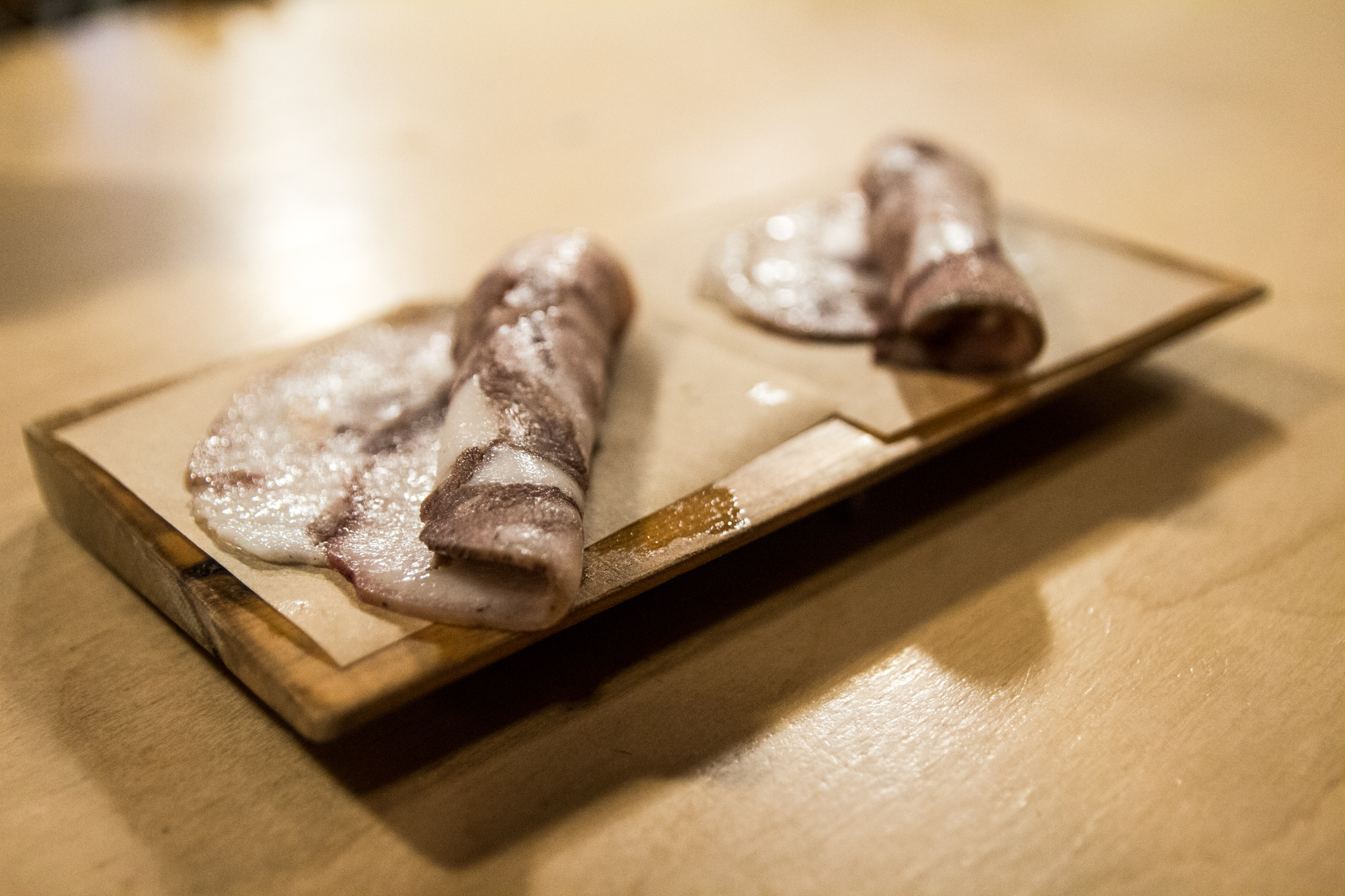 The pork dish delivers another memorable highlight. A chubby rectangle of cooked pig, resting in a powerful fish sauce (two years in the making), and with a barely-visible dried damson that contains a deceptive amount of flavour. The pork itself is a thing of beauty, gradually going from a bright pink, into soft pale fat, then topped with an excellent lid of crispy fat.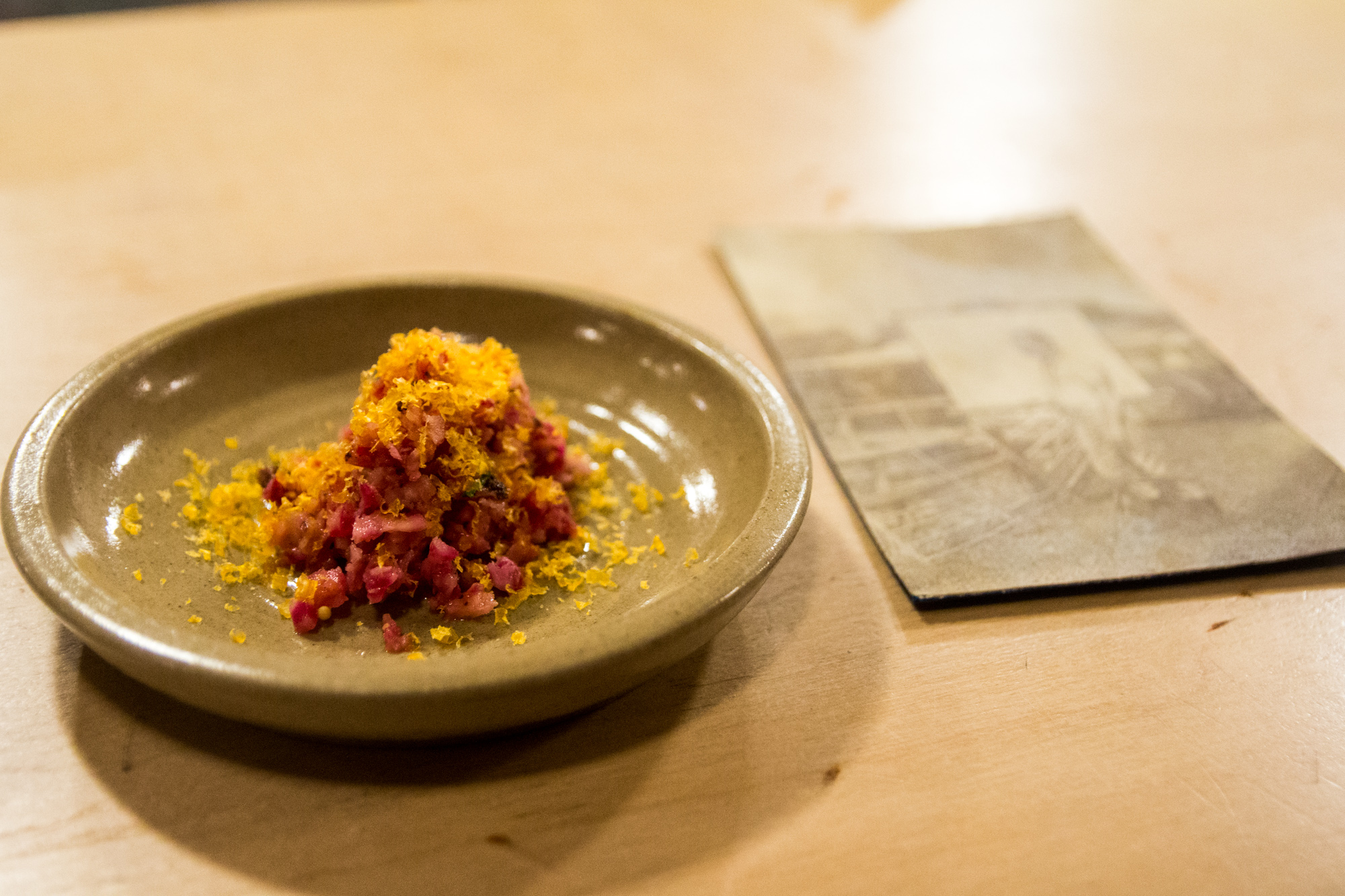 We need to come down a little after these heady meat highs and what better than the humble leek? Much like the potatoes dish, it's far more than the sum of its parts – a sprinkle of leek powder here, a dab of Dale End cheddar cheese there. The leek is from Northumberland – a popular location for much of Where The Light Gets In's recent produce, as it turns out – boiled, then grilled and served up. It's a nice breather, gentle and satisfying opposed to the intensity of the previous two dishes.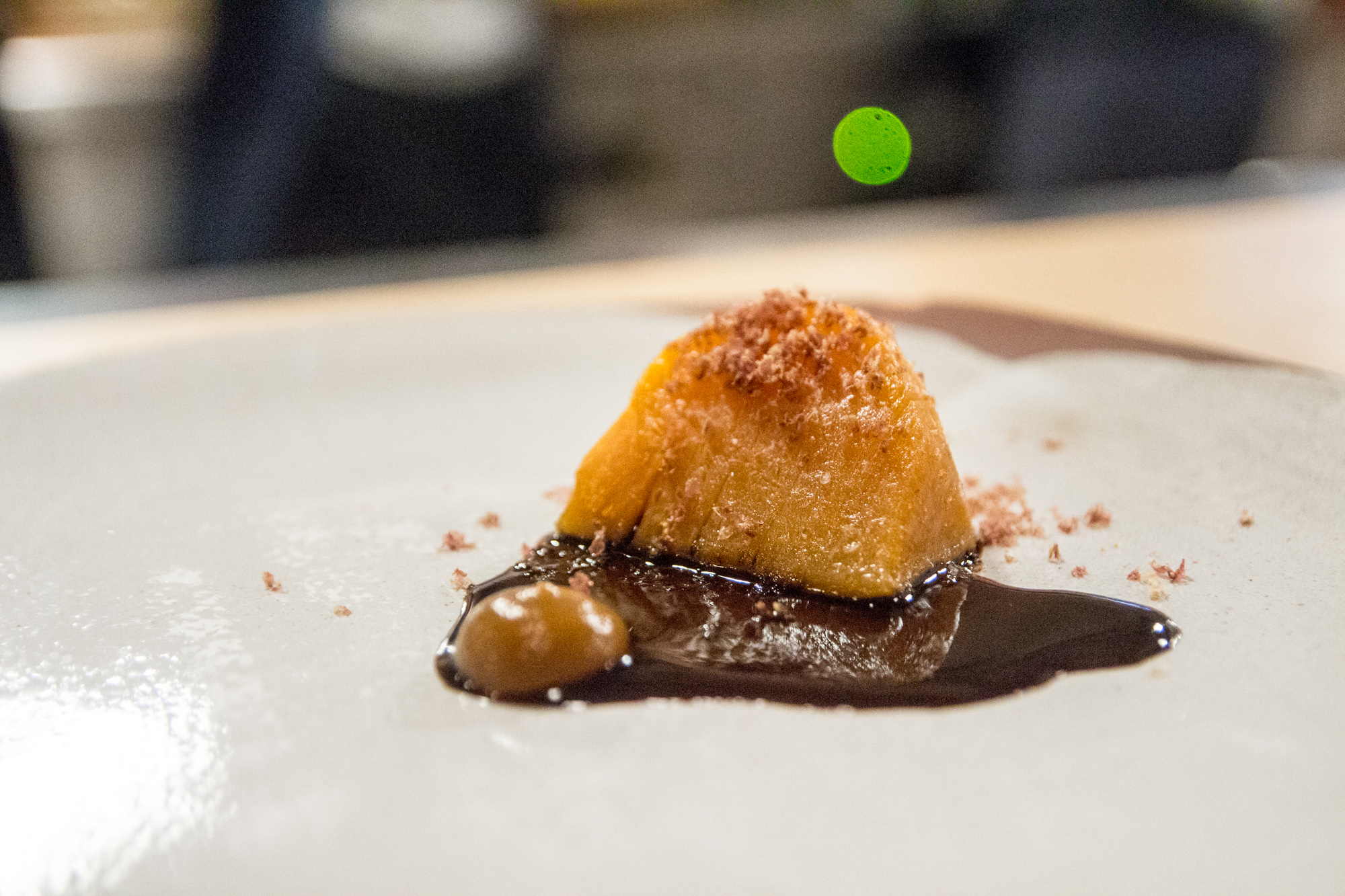 Next, wild garlic containing a blob of mushed-up split pea. This is the first green of the year, with a beautiful subtle aroma, designed to be curled up at the ends and swallowed like a wonderful bad-breath-inducing oyster. Again, brilliant in a quiet way.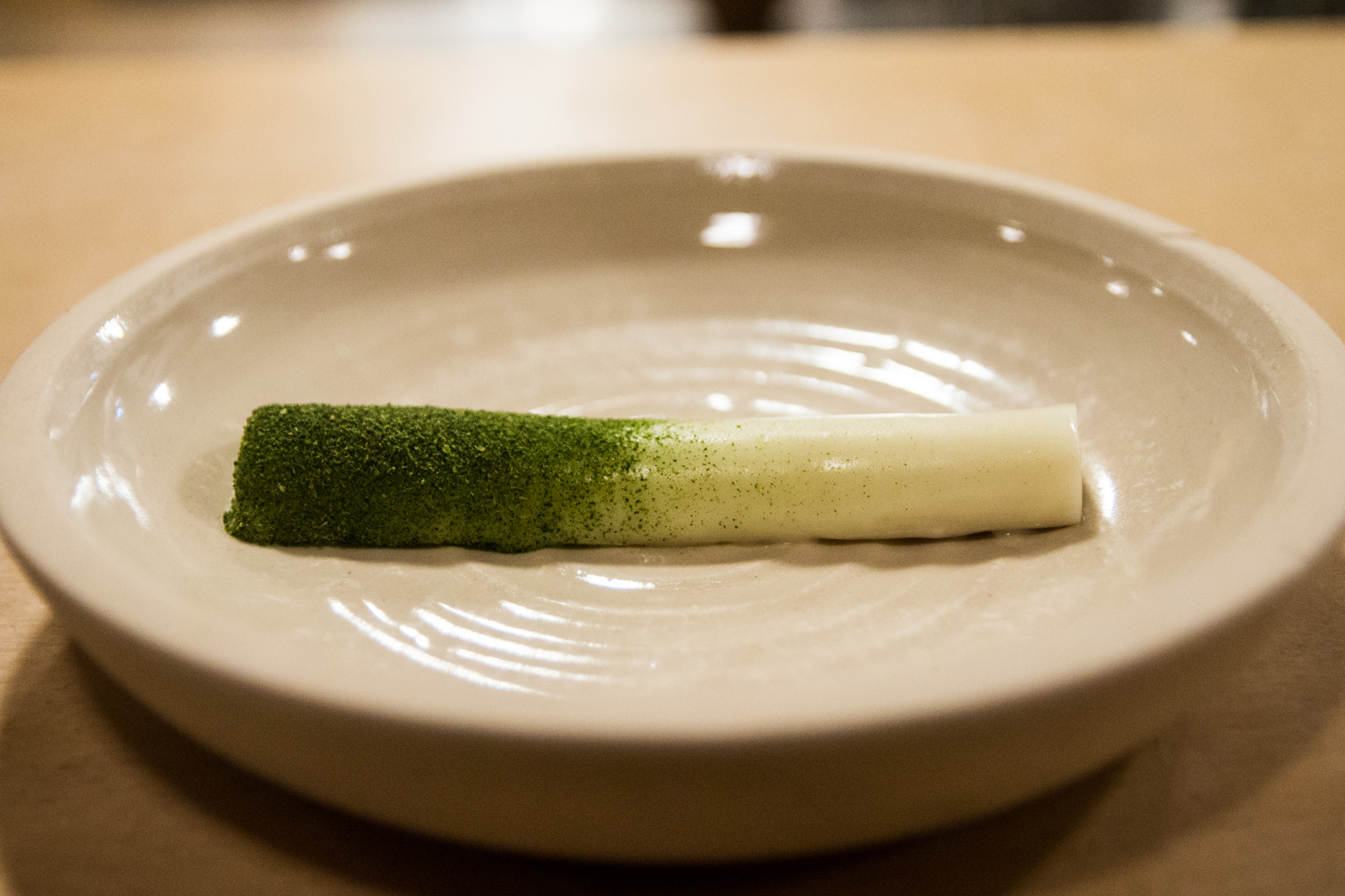 Plaice next, with more wild garlic, this time in tiny shoots placed atop a beautiful rectangle of white fish that rests in a bright green pool of concentrated garlic water. This garlic broth has a powerful thwack, fiery, almost ginger-like in its intensity – a perfect match for the delicate fish.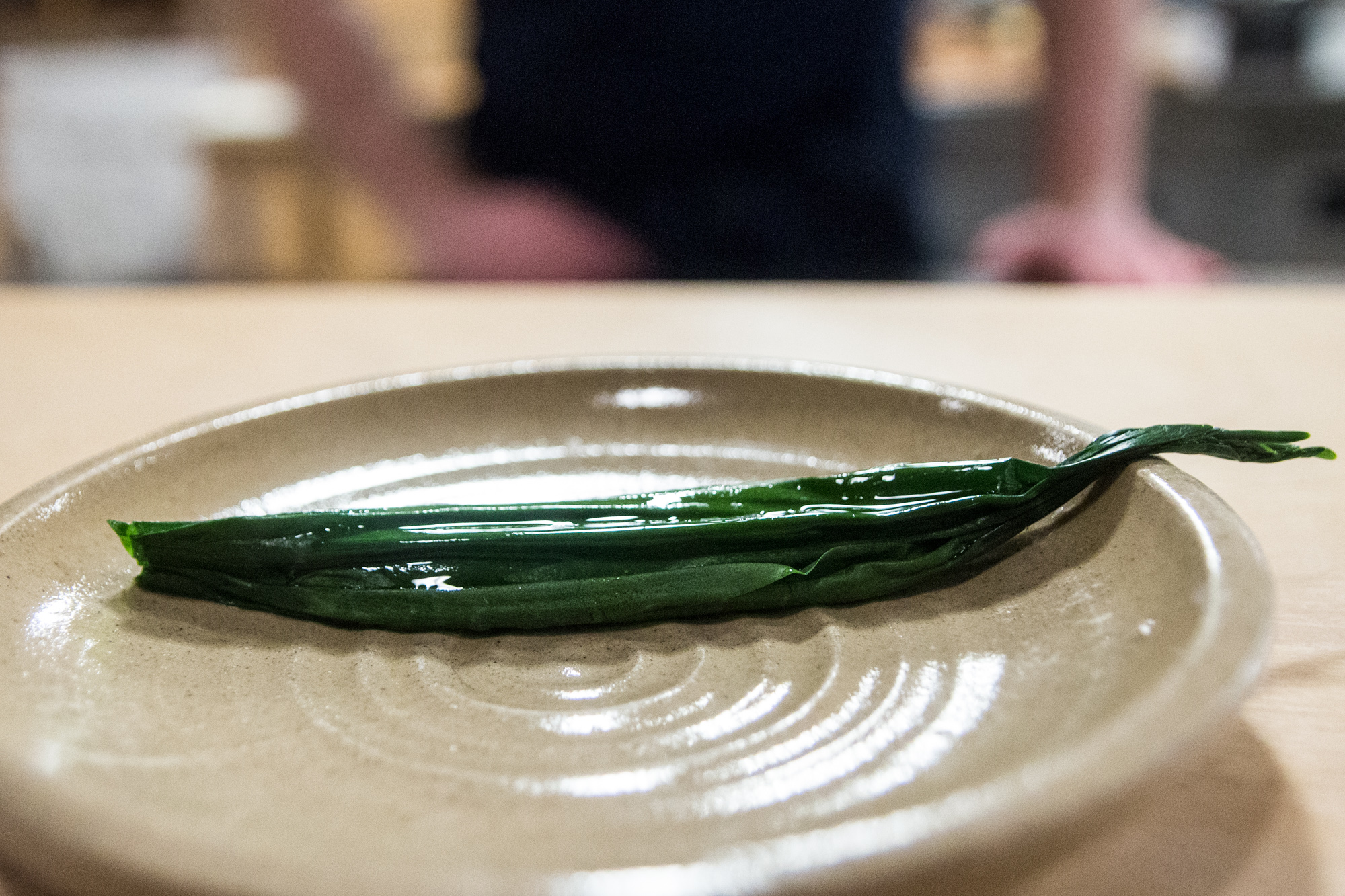 The next course is 'Provisions of Swede Part 1', like the prog-rock album of your dreams. Incidentally, the soundtrack here is the best I've ever come across – post-punk covers by The Slits while eating a multi-course tasting menu? A bold statement, in keeping with the dishes. And none more so than this – a bowl of tagliatelli, made from ribbons of swede rather than pasta. If you close your eyes, you can just about tell, due to the slight bite from the vegetable but in a blind taste test I'd be an instant fail. It's aided by a mouthwatering creamy sauce, topped with cod roe. The whole bowl is small enough to work its magic – any more would be just too intense.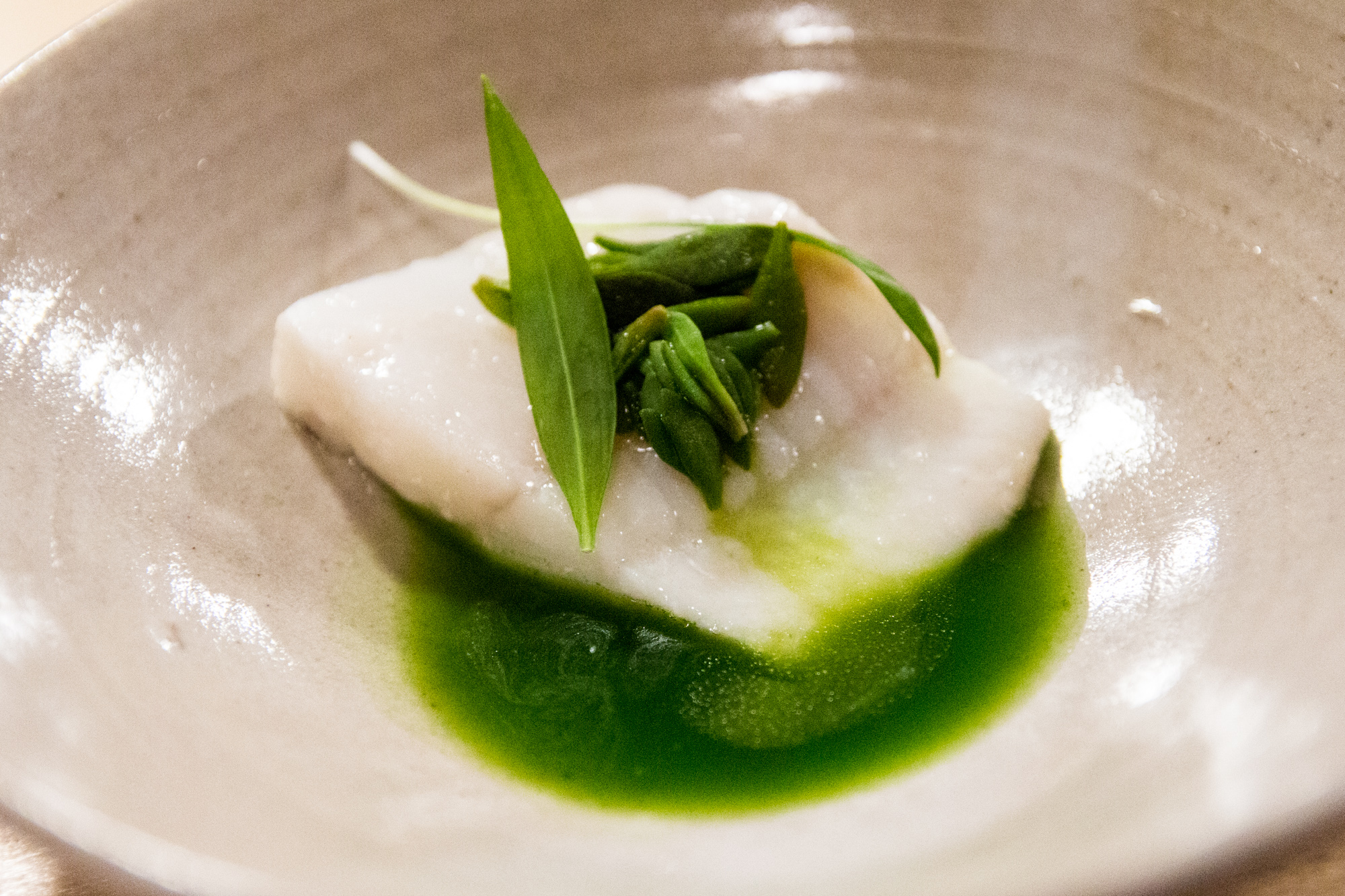 The follow-up? You guessed it, it's the long-awaited 'Provisions of Swede Part 2', which some critics (ie. me) describe as even better than the debut. This time we're presented with a chunk swede, baked overnight so its impossibly soft, on a darkly-potent sauce made from reduced foraged vegetables, plus a blob of swede ketchup, and what's that grated over it? Dried duck hearts. Of course it is. It's another mind-expanding dish, and arguably the best of the night.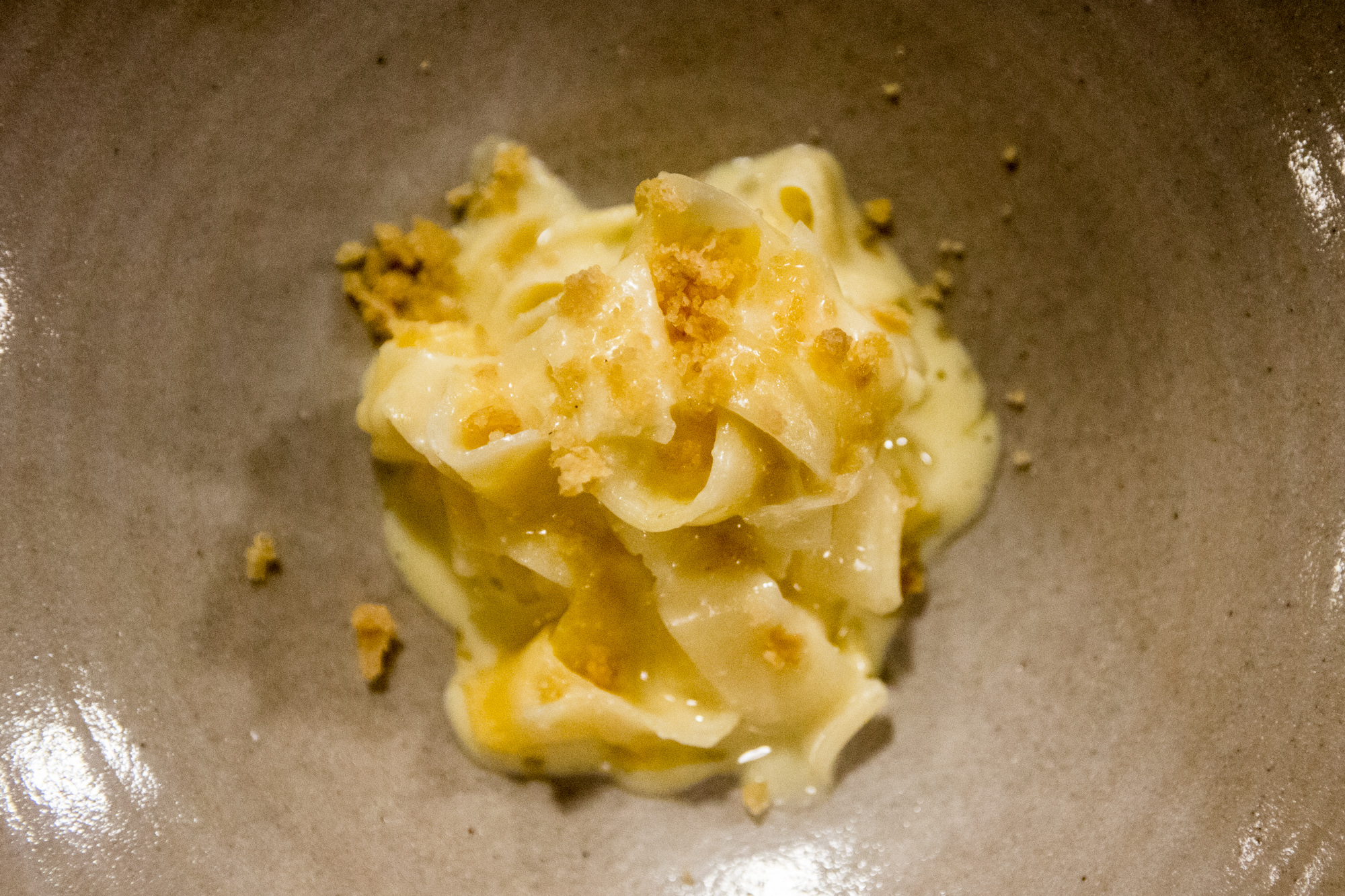 The desserts keep the quality coming. First, sheep's milk ice cream, with a honey yoghurt – it's a smart transition from savoury into sweet, not too sugary, but a definite shift in tone. Then a truly brilliant meringue, with a custard-style inner layer so good it should only be eaten with your eyes closed.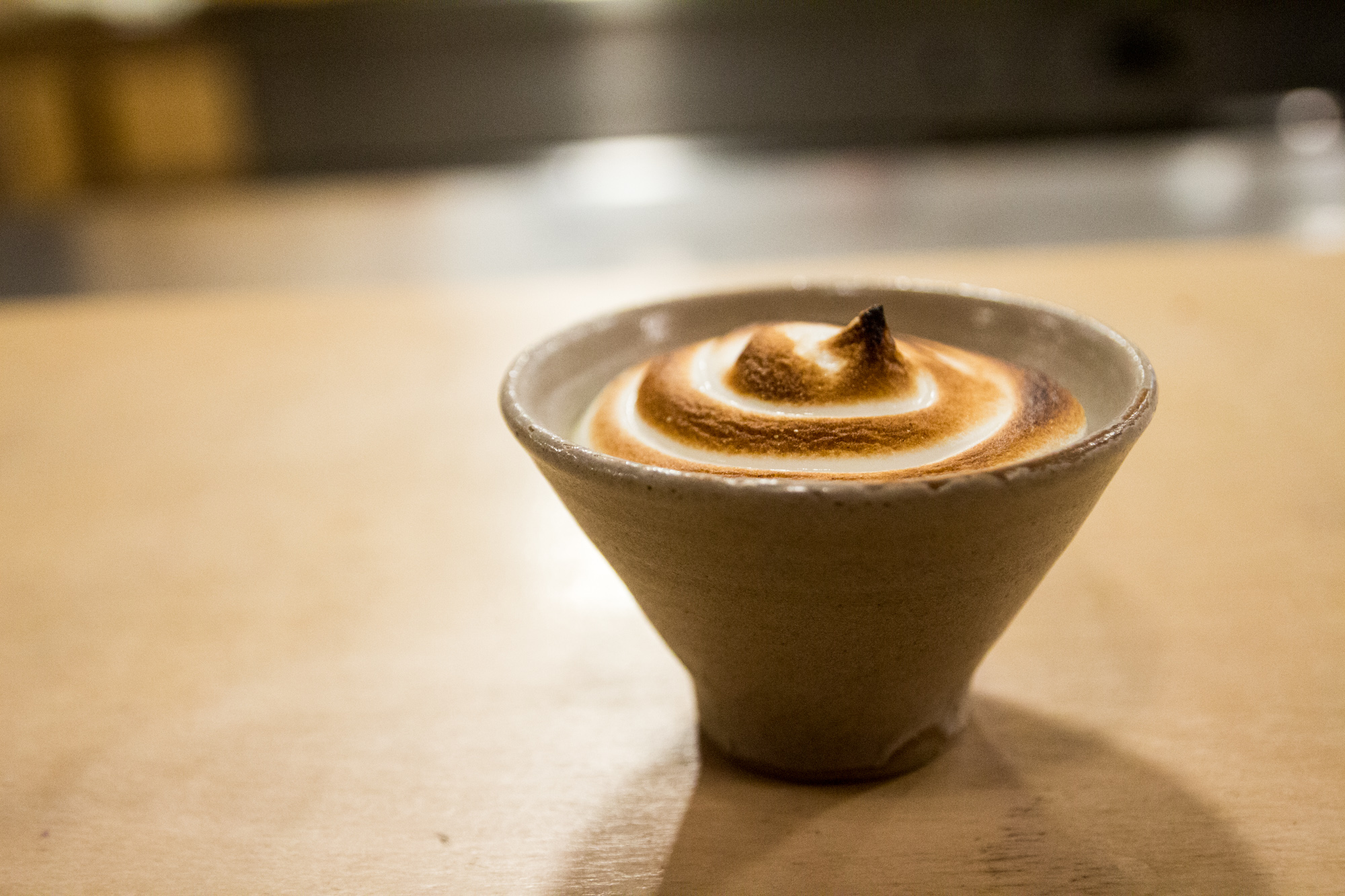 Finally, a neat twist on the ice cream float, this time using Cloudwater Tall Tree beer and a spent yeast ice cream. Again, barely sweet at all and my ale-loving companion declares it a triumph before we need to rush off for the last train home.
Eating at Where The Light Gets In is a remarkable experience, far beyond a simple 'meal'
In conclusion, everything you heard about Where The Light Gets In is true. It's a remarkable experience – and indeed 'experience' describes it far better than a simple meal. It's certainly not a standard tasting menu, there's an Einstein-style level of thought and detail backing up every course. You won't leave bloated and heavy, but with a mind fizzing with ideas and a curiosity about what they could possibly do next. My only criticism? Put up a damn sign outside.