Turbary Woods Owl and Bird of Prey Sanctuary
Polly Checkland Harding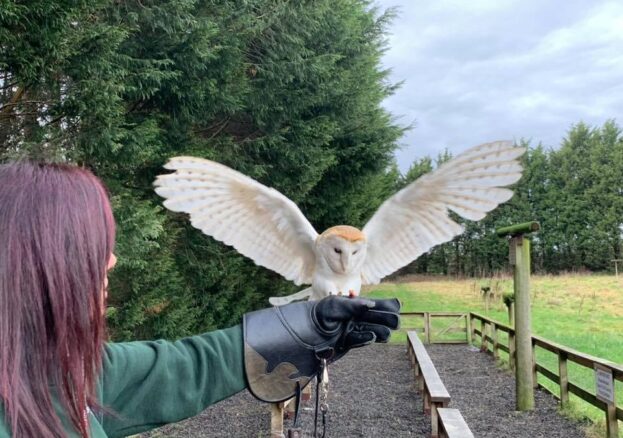 Based near Preston in Lancashire, Turbay Woods Owl and Bird of Prey Sanctuary is home to over 90 birds, including eagles, hawks, falcons, owls and even a resident vulture. A volunteer based, not-for-profit rescue and rehabilitation centre, Turbay Woods also hosts flying displays (12.30pm daily), treating visitors to spectacular views of some of the birds that call the sanctuary home. The team here has accrued an in-depth knowledge of these astonishing creatures through hands-on experience, while each of the resident birds has its own listing on the website.
Open 10.30am to 3.30pm daily, Turbay Woods doesn't take pre-bookings, with visitors encouraged to just turn up on their chosen day. The exception is with the sanctuary's Owl and Hawk Experience Days, which are an opportunity to gain a beginner's introduction to falconry and fly up to four species – including the possibility of the vulture for the strongest (and bravest) participants. Those wishing to book this hands-on experience should contact the Turbay Woods directly. There's a café in the adjacent garden centre if you're after some refreshments before or after visiting this highly reviewed experience.
With its birds occasionally featured in filming for TV and the big screen, as well as enlisted to be part of special events, Turbay Woods also has some intriguing stories to tell. Checkers, the sanctuary's European Eagle Owl, was featured in Spike Jonze's film Her, and a wedding where one of the resident owls was used as a ring bearer didn't quite go to plan: the bird decided to sit in the rafters after dive bombing the bride. Nevertheless, the couple came away saying that it was the highlight of their guests' day.
All of the proceeds from the flight displays and day experiences at Turbay Wood go towards the upkeep of the characterful, wild birds that live here.