Toast Rack (building)
Stevie Mackenzie-Smith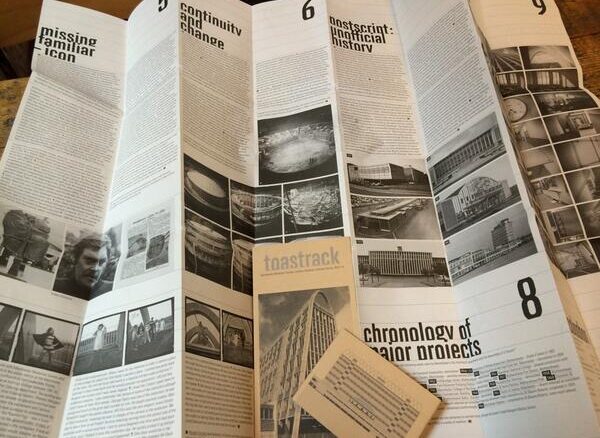 Say what you like about living in a city, one of the greatest joys of the urban dweller is looking up and getting to know the buildings. Whether it's a façade signalling the end of a commute or a monstrosity of a view from the office window, we all have a relationship with the giants that envelope us.
But it's often a city's classical architecture that gets the praise, with the more modern architecture dividing opinion – Britons love to bitch about a new construction after all. While concrete plazas and waffle ceilings illicit wrinkled noses in some, the heart skips a beat for others, and here the Manchester Modernist Society steps in to celebrate the sometimes beleaguered architecture of the 20th century.
For some former students, the Toastrack remains as seminal a part of their experience as first-year flings
So, then, to the iconic MMU Hollings Campus, or the Toastrack as it is more affectionately known. Nikolaus Pevsner described it as "a perfect piece of pop architecture" when it opened as a Domestic and Trades College in 1960. Following the announcement of its closure in 2012, the Manchester Modernist Society moved in as 'Creatives in Residence', scouring archives and collecting the stories of those who worked and studied at the campus. They even baked a Toastrack-shaped cake (quite a feat) and collaborated with Moorhouse's Brewery to create their own real ale complete with beautiful Toastrack-adorned labels. New publication Toastrack is the culmination of the entire project, collating the fruits of MMS's labours and is a fold-out love letter to Manchester's paraboloid landmark.
Manchester Modernist Society published a fold-out history of one of Manchester's most iconic buildings in 2015. Designed by Jonathan Hitchen and printed by supercool Sheffield-based printing house Evolution Print, the double-sided broadsheet chronicles the history of the building with a good dash of nostalgia. Headshots of thickly-fringed staff from the 1970s grin up from the pages. Photographs of fashion students prancing on the famous ridged roof are particularly wonderful, as are the memories shared by former-Toastrackers around the world. The publication also unravels the part that the Hollings campus played in the post-war vision of Manchester, as overseen by LC Howitt who was City Architect between 1946-61. Manchester's Crown Court, the Terminal Buildings at Manchester Airport and the redevelopment of Free Trade Hall following the Blitz also came under Howitt's tenure; his legacy on the landscape of the city today is another of the society's ongoing fascinations.
While the future of the Hollings Campus remains uncertain, the Manchester Modernist Society reminds us of the collective love bestowed on such buildings. For some former students, the Toastrack remains as seminal a part of their Hollings experience as first-year flings or pulling all-nighters at a sewing machine.