Titanic Hotel
Ian Jones, Food and Drink Editor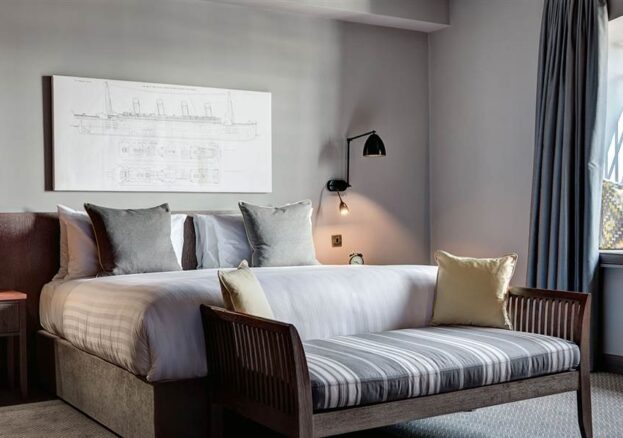 The Titanic Hotel is one of Liverpool's most storied landmarks and now the UK is looking to open up to staycation holidays in the coming months (fingers crossed), this well-regarded hotel is offering an irresistible deal for UK holidaymakers. Called It's Time, this is your opportunity to bag a three-night stay in a superior room, including breakfast and dinner on the first night, for just £329.
This offer is available from Sunday to Thursday, from the 17th May onwards, and means you can relax in one of The Titanic's spacious bedrooms, gorge at Stanley's Bar & Grill, or simply soak up the sun with a cocktail or al fresco lunch on the Colonnades. For an added element of luxury unwind with a beauty treatment and bathe in the hotel's subterranean spa, Maya Blue Wellness.
This well-regarded hotel is offering an irresistible deal for UK holidaymakers
As for the hotel itself, it's based in the North Warehouse of Stanley Dock, dating back to the mid 17th century. It lay derelict for many years before the area was redeveloped and became the world-class destination it is today, popular with everyone from visiting celebrities to us ordinary folk looking for a taste of the high life.
It's a short drive from the city centre so you won't be kept awake by post-lockdown partygoers outside. Indeed, it's remarkably peaceful, with each room providing wonderful views over the docks. Once you unpack there's no need to leave, thanks to the exceptional in-house restaurant, Stanley's Bar & Grill.
The sheer sense of luxury is… huge
The rooms are, not to put too fine a point on it, huge. In fact, the whole place is immense, with vast corridors and high ceilings – Titanic is no misnomer. The beds are huge, the bathrooms are huge, the sheer sense of luxury is, that's right, huge.
But this isn't some cookie-cutter 5-star hotel that you could find anywhere, it has a very Liverpool charm to it. The walls are full of shipping-related artwork and olde-worlde illustrations, but it combines this with a modern feel – high-quality furnishings and the finest bed linen money can buy. I defy you to find a comfier bed in Liverpool. Oh, and there's the requisite flatscreen TV but you really shouldn't be bothering with that considering you're in one of the North's most opulent spaces – not to mention the whole of Liverpool is practically on your doorstep.
The very definition of a special occasion destination
The Titanic is the very definition of a special occasion destination, and one you owe it to yourself to try at least once, whether you're a local or visiting Liverpool for the first time. Hotels don't get any more luxurious than this.