The Hardmans' House
Creative Tourist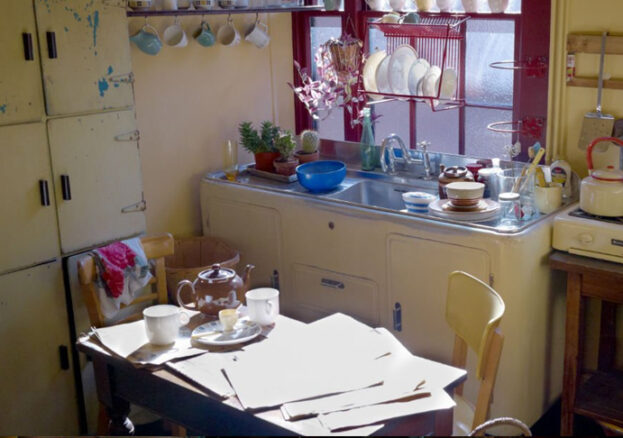 Over the road from where Prime Minister William Gladstone was born, and tucked away behind a distinctive green front door, lies 59 Rodney Street – the home and working studio of the renowned portrait photographer Edward Chambré Hardman and his wife Margaret Hardman (an important photographer in her own right), perfectly preserved since the 1950s.
A small gem of a museum and veritable time-capsule, the Hardmans' House is the only known British example of an intact 20th-century photographic studio and provides a fascinating insight into the life and work of the respectable yet widely-deemed eccentric couple that resided there for over 40 years. Indeed, the unassuming Georgian terrace located near Liverpool's domineering Anglican Cathedral is quite the building of two halves; the neat, spacious, professional rooms in which business was conducted striking a notable contrast to the cluttered and cramped living quarters that make up the rest of the Hardmans' domain.
Edward Hardman (1898-1988) took his first photograph aged nine and went on to win many photographic competitions as a schoolboy in Dublin. Relocating to India at 18 to serve under the British Army, he continued to practice his alchemic hobby with his Eastman Kodak No. 3 Special, developing the images he took in his bath tub. It was also here that he met and became close friends with his future business partner Captain Kenneth Burrell.
Both desiring an escape from military life, the two young men travelled to Burrell's hometown of Liverpool in 1923 and setup the Burrell & Hardman photography studio on Bold Street. This eventually became the place where anyone of distinction in Merseyside went to be photographed (until the business moved to larger premises at Rodney Street) and Edward captured the portraits of many famous and important sitters, including prima ballerina Margot Fonteyn, actor Ivor Novello and the city's celebrated philanthropist John Moores, as well as 'everyday-folk' from plump babies and newly-weds through to serviceman with their families before heading off to fight in the Second World War.
Like Edward, Margaret (1909-1969) had been interested in photography since childhood and became apprentice to him in 1926 aged just 17, marrying him six years later. While she was certainly the more business minded of the two, she also had a real photographic eye and contributed substantially to the many thousands of photographs taken by Burrell & Hardman, including a particularly striking image of the actor Robert Donat. Edward also acknowledged the extent of her talent and influence upon him, once stating: "She taught me the rudiments of choosing and composing a subject, and I think you could date the beginning of my interest in landscape to those days."
While portraits paid the bills, Edward's true passion lay indeed with this more newly emergent genre of photography, once claiming: "My childish dreams were of landscapes – usually of some remote and spectacularly sired lake – which I could never find again." Among his repertoire, the monstrous bulk of 'Birth of The Ark Royal' and the cloud-veiled valleys of 'Loch Alsh and Skye', sit alongside images of Liverpool's now-vanished streets, shipyards and slums.
Today, the Hardmans' House remains fit-to-burst with pieces of furniture, knick-knacks, negatives and even medicines and tinned food (the couple kept everything), making it not only a very personal museum but also a time capsule of an era gone by. Lovingly restored and preserved by the National Trust, the museum is a space in which you can't turn without seeing something – be it a prize-winning portrait or simply a pile of old newspapers.
As well as exploring the house on your own, visitors can also arrange pre-booked tours, take part in a regular programme of one-off events and find out about the lives of the Hardmans' staff with a unique exhibition held in the Burrell and Hardman Photographic Studio.