Tebay Services
Susie Stubbs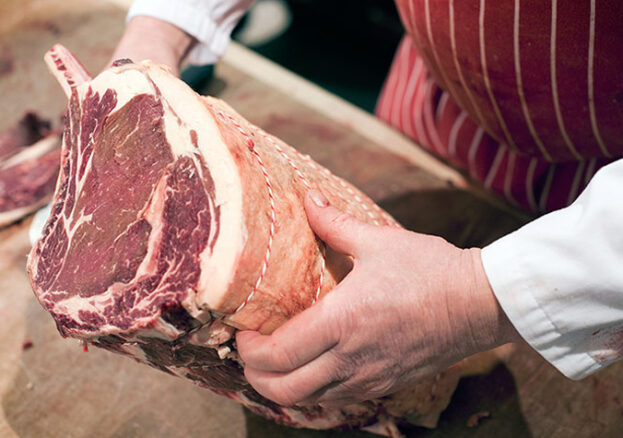 No, you have not entered a parallel universe: good motorway service stations do exist. And the best of the lot is on the M6.
We're going to say this slowly and clearly, for the benefit of anyone who's never been to Tebay before: there is such a thing as a good motorway service station. As in, one that serves decent, locally-sourced food, has its own butcher and deli counter, and comes with shops that stock more than camping chairs and novelty dog-shaped neck cushions in lurid colourways. There is a motorway service station out there that has an outdoor BBQ, wildlife-themed play area (specially designed to placate small, car-bored people), and opens up onto stunning views of the countryside. Best of all, it's on the M6. Welcome to Tebay, Britain's only family-run service station.
Tebay is nothing new. The Dunning family – local farmers who still run a Cumbrian smallholding a few miles away – opened it in 1972, and forty years on are still at the helm. Now, though, the original motorway services have been joined by the Dunning's other business ventures: a hotel, truck stop and caravan park, and the excellent Rheged arts/cinema/food/play centre near Penrith. There is talk of another service station down south on the M5, but for now the main focus is up north, where it is far from grim. Wedged between junctions 38 and 39 of the M6, you'll find a farm shop (stocking produce from 70 Northern producers; local jams chinking up to organic beer), homegrown lamb and beef (from the Dunning's own farm), a traditional butchery (complete with maturing and cutting rooms), outdoor clothing, locally-made produce (Sedbergh soap, anyone?) and, of course, a whole lot of ready-to-eat food.
"Brilliant. I'd like to be locked in with a knife and fork"
It's the food that gets people most excited, which is perhaps understandable given the rest of Britain's woeful, overpriced, malnourished motorway fare. Thanks to a menu that includes Cumberland sausages, barbecued beef and tomato burgers and homemade curry, Tebay inspires a kind of fierce loyalty (or even just grateful bewilderment) among those who walk through its doors. Its Twitter feed is awash with drivers vocal about its charms; Tweets such as "brilliant, I'd like to be locked in with a knife and fork" and "Best. Services. Ever" are commonplace. Tebay has won national plaudits and awards; in 2012 it became the first service station in Britain to get five stars in a joint Highways Agency and Visit England survey, and in 2009, it landed the annual Grand Prix of Gastronomy award. "I remember I was struck right away by the quality of everything I had," said the award's founder, Egon Ronay. "Nothing was mass produced. And there was a restaurant manager as well. Can you imagine that, in a service station?" As it happens, we can, Egon.
Don't get us wrong: Tebay is still just a motorway service station. It is served by the chokingly full M6. It gets absolutely mobbed, and has found it hard to shake off persistent complaints about cleanliness during peak times. It's full of screaming kids and holidaying couples seething at each other over a latté, and it isn't anything close to cheap. But, oh, it is lovely. It has ducks. And duck food. Possibly organic, locally-sourced duck food that won't swell up in an avian gut like so much cheap sliced white. And the Daily Mail (we know, we know) rated it as the best service station in the UK in 2009 – and who are we, after all, to argue with the journalistic might of the Mail? Tebay, you may only be a motorway service station to some, but you've long been a northbound savior to us.