Stuzzi Leeds
Anne-Marie Pattenden, Food & Drink Writer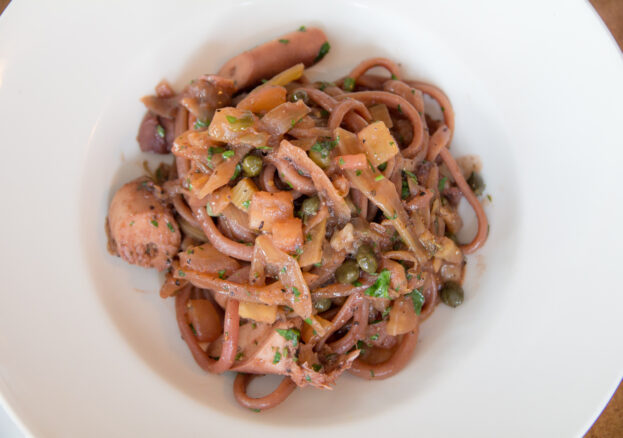 First impressions at Stuzzi are very good indeed. This stylish Leeds restaurant is large, airy, and filled with natural light through huge arched windows. Here, you'll find trailing vines, vintage Cocchi posters and the hubbub of a trendy clientele. It took over from the acclaimed Ham & Friends back in 2019 and has a similar feel: relaxed and welcoming, with a cutting edge menu that few could emulate.
Authentic Italian cuisine executed with flair and packed with ideas
Expectations are high for the stuzzichini, the small Italian plates after which Stuzzi is named. Tonight's freshly minted menu is a seafood-only special, put together using whatever fresh produce arrived from the market that morning. It's a creative and exciting prospect and one only to be attempted by the most quick-thinking and highly-skilled chefs.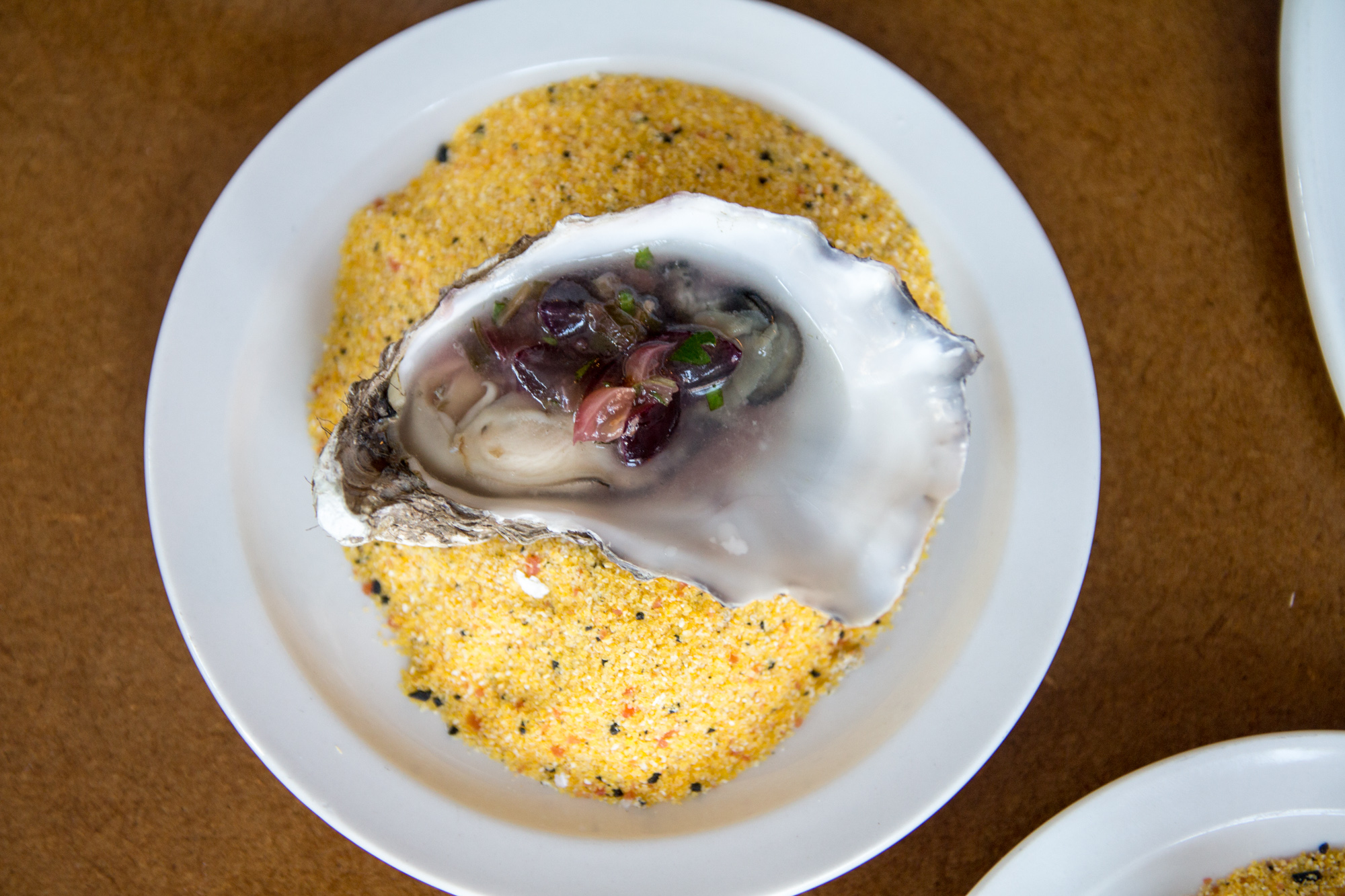 It's hard to resist starting with fresh Lindisfarne oysters. Stuzzi serves them with sliced black grape and a zingy lemon syrup, all of which works together astoundingly well. Next is smoked cod's roe. It's reminiscent of taramasalata, although here the deeply smoky, creamy flavour is balanced with a contrasting topping of pickled fennel seeds and a generous slick of lemon oil. It comes spiked with dramatic 'pasta chips' for dipping: strips of rosy red ravioli, deep-fried to a crisp.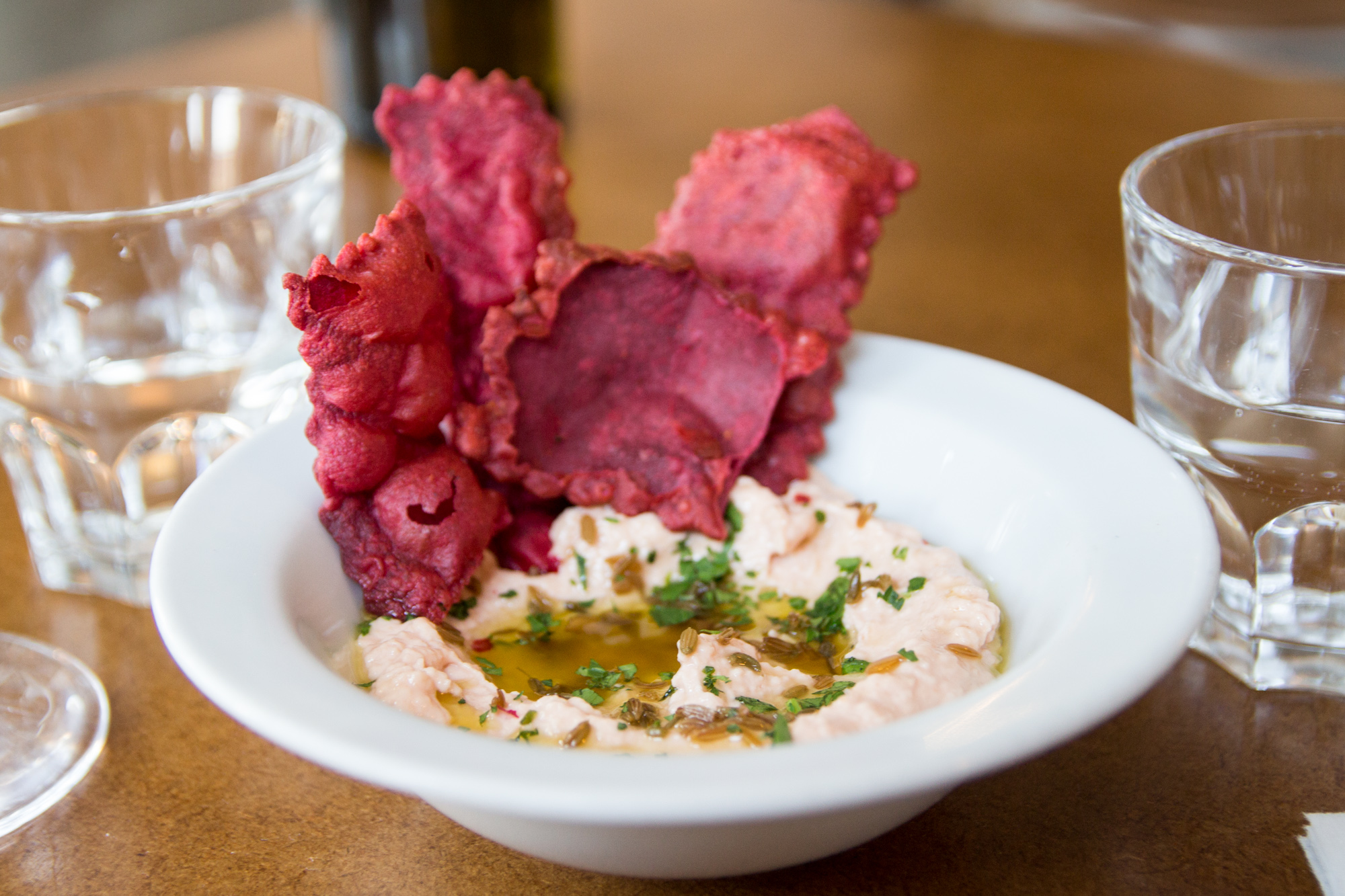 Like all the best tapas-style joints, the plates come out thick and fast, delivered by the highly attentive and friendly staff. It feels like being a kid in a sweetshop – what to try next?
It has to be soft shell crab. You may be more used to getting two or three tiny crustaceans in this type of dish – instead, we're presented with one of their meatier big brothers, so large in comparison that it's possible to discern the different layers of delicious white and brown meat within. It's coated in a thick, super crunchy squid ink crumb and served with a stunning saffron aioli.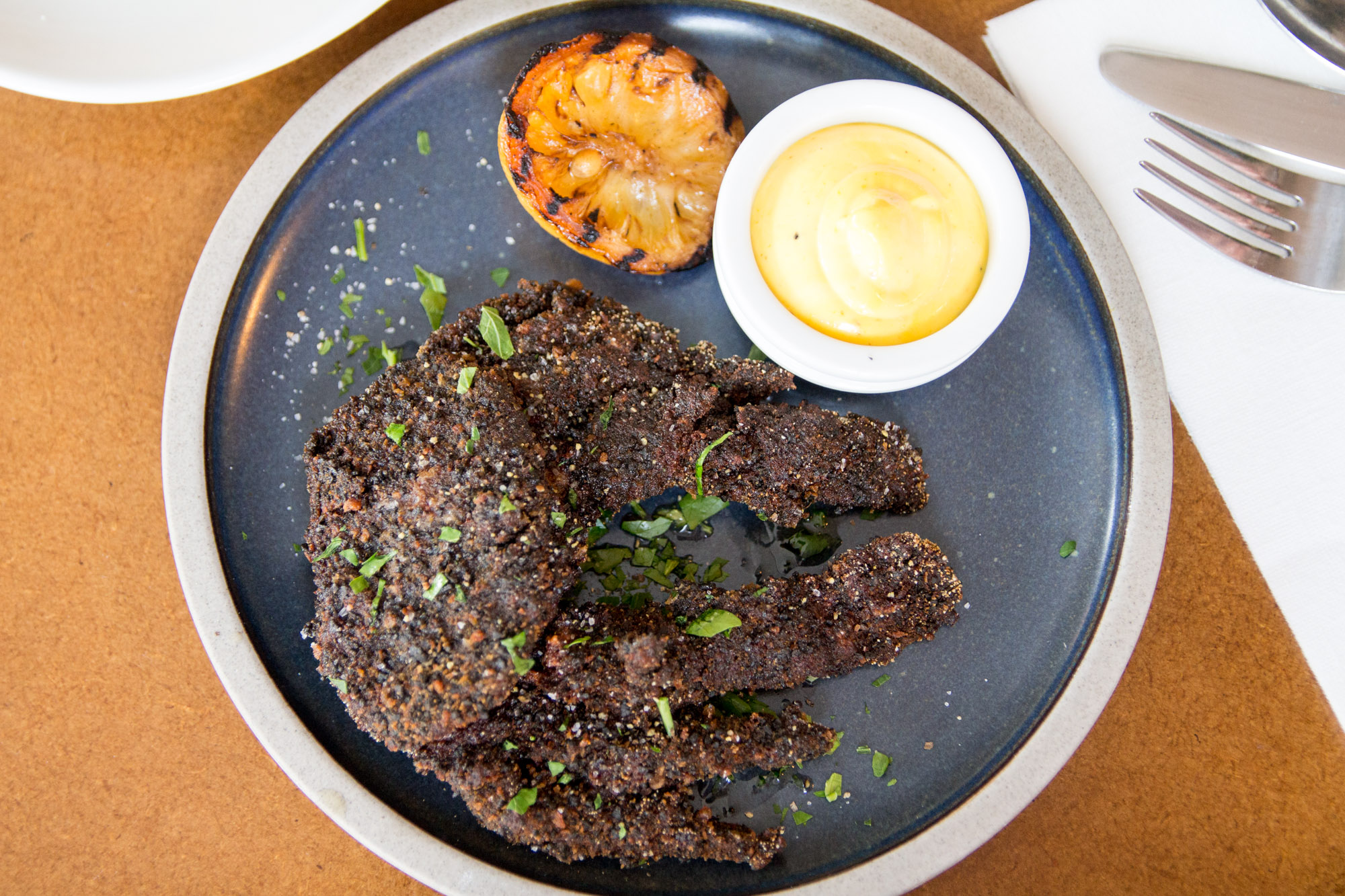 This is followed by a good helping of fennel, orange and mint salad; spiky with chilli and orange dressing. It's the perfect foil to the smoky and salty dishes so far – sweet, refreshing, and utterly addictive. It leaves your mouth tingling, and we can't resist diving back for more between bites of the next dishes.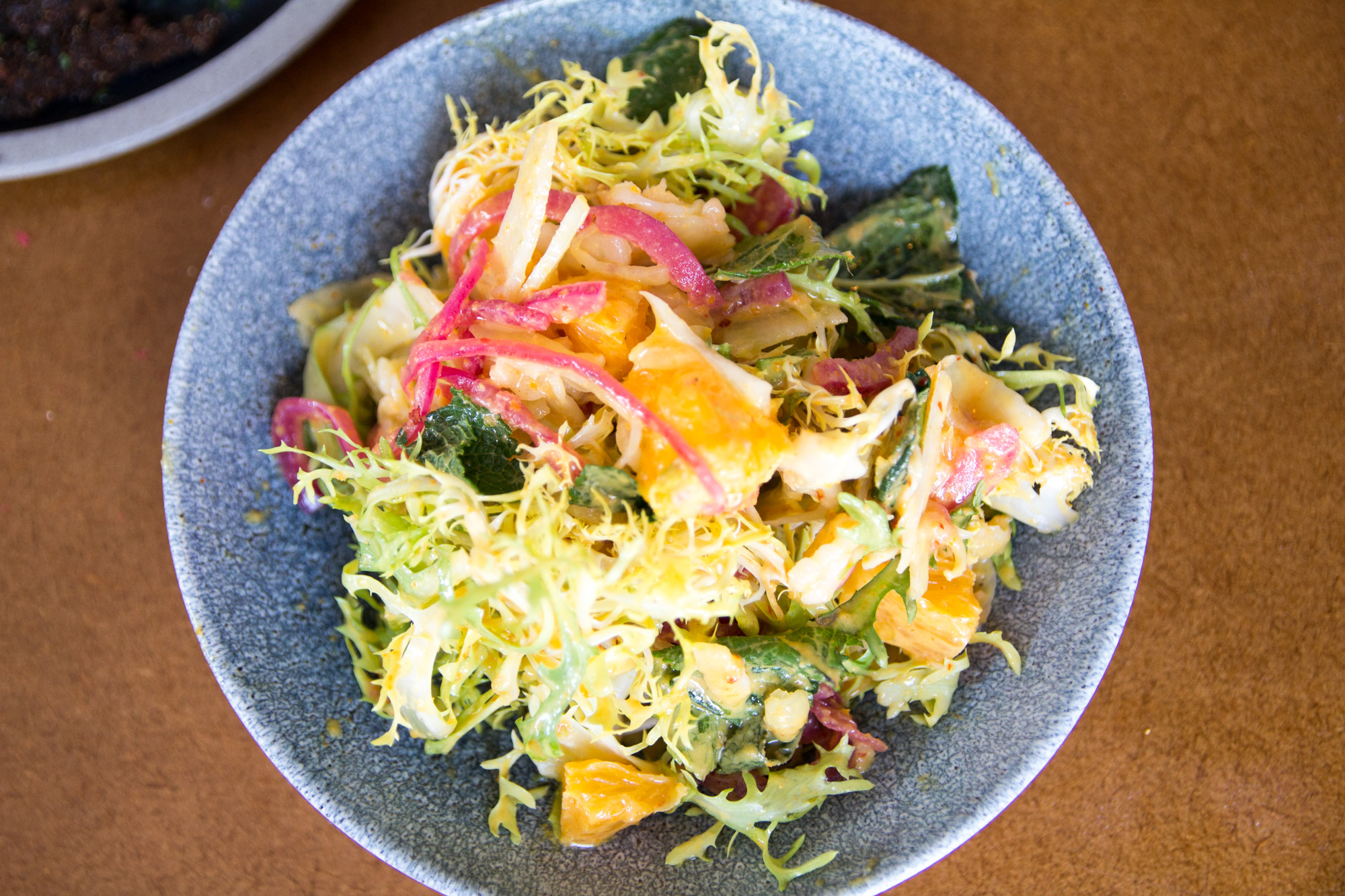 The highlight of the evening is the arrosticini (chargrilled skewers) of monkfish cheeks. They're wrapped in lardo, made by curing strips of pork back fat with herbs and spices. The predominant rosemary flavour of the charred lardo pairs wonderfully with the delightfully sweet, soft, meaty-textured fish beneath.
Our final savoury choice is the bucatini. The spaghetti-like tubes of perfectly al dente homemade pasta are coated in an intensely smoky octopus ragu, enriched with smoked bone marrow and balanced with lemon and capers. Most satisfying of all, large chunks of chewy octopus are intermingled with the lot, making it a truly hearty and gloriously moreish dish.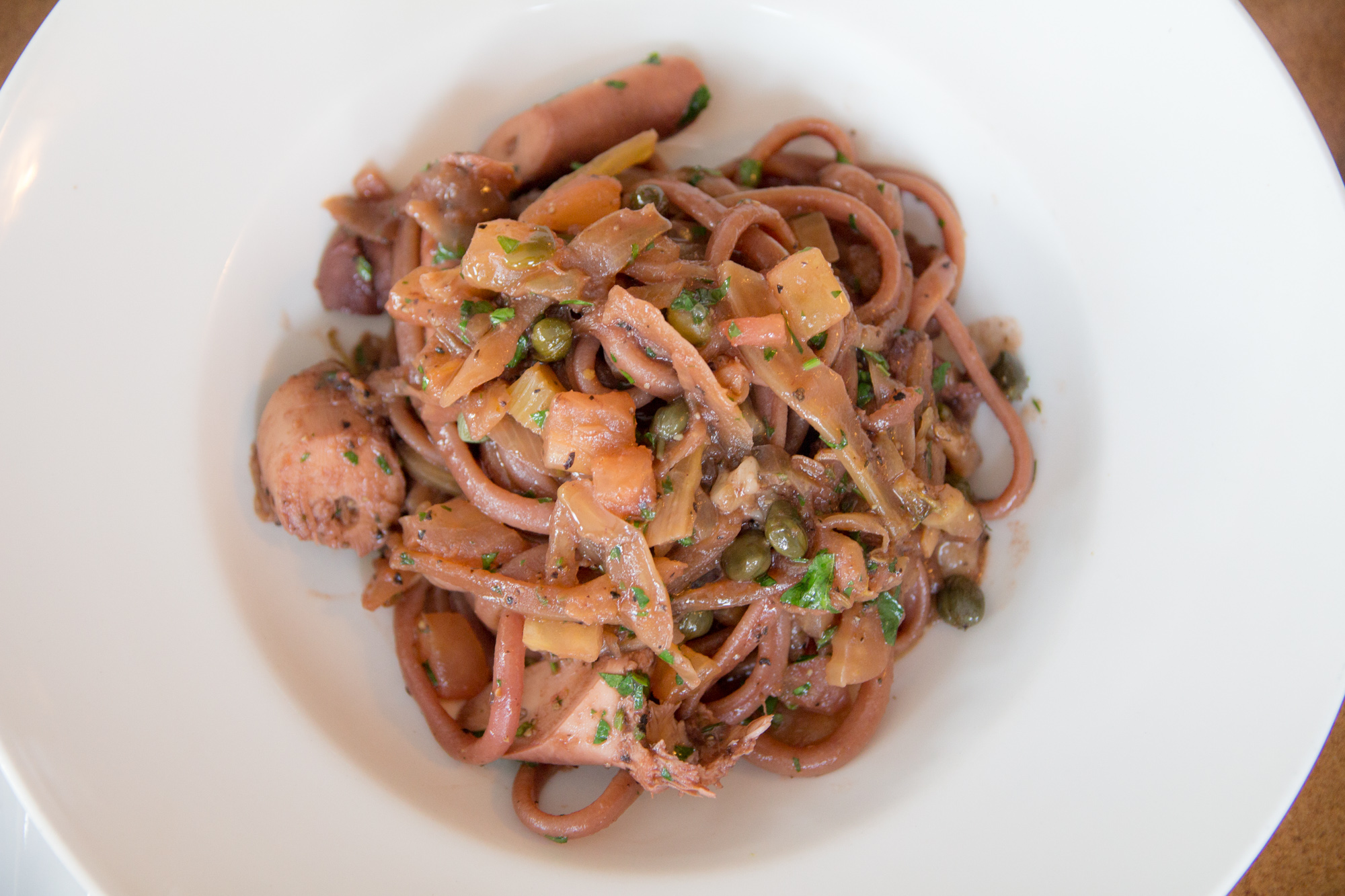 Of course, by this point we couldn't eat another thing, but the waiter politely humours our traditional fake dessert hesitancy and recommends the Piatto Di Dolci, amusingly billed on the menu as 'An assortment of Stuzzi's own sweet mouthbangs – mega!' They're not wrong – we're wowed by the vast selection that arrives, strewn across a large wooden sharing board.
There are cubes of moist and delicious Amalfi lemon polenta cake, topped with flaked almonds and doused in a vibrant lemony syrup. Golden brown shards of cannoli nestle in blobs of sweet ricotta filling. Chunks of chocolate brownie; dense and fudgy, with a strong hit of cocoa. Various Italian meringue shapes with gloriously chewy, caramelised centres. Slices of doughnut dredged in cinnamon sugar. Little glasses of creamy gelato and salted caramel sauce. All colourfully decorated with freeze-dried raspberry powder and crushed pistachios. Reader, we have no regrets.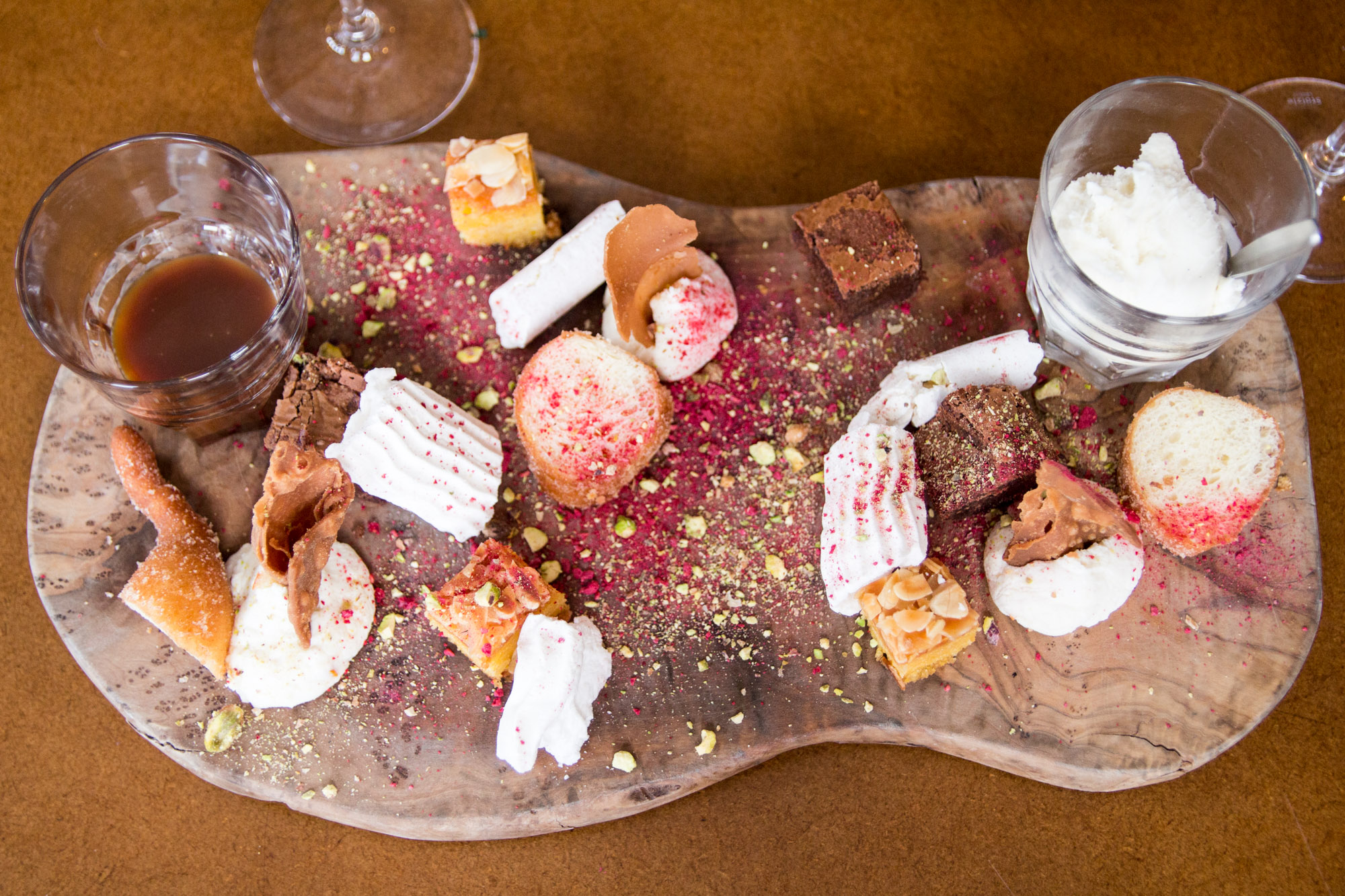 Stuzzi aims to give diners a taste of 'what's on offer beyond the tourist traps' in Italy and has succeeded magnificently. If you're looking for authentic Italian cuisine executed with flair and packed with ideas, make Stuzzi your number one choice.