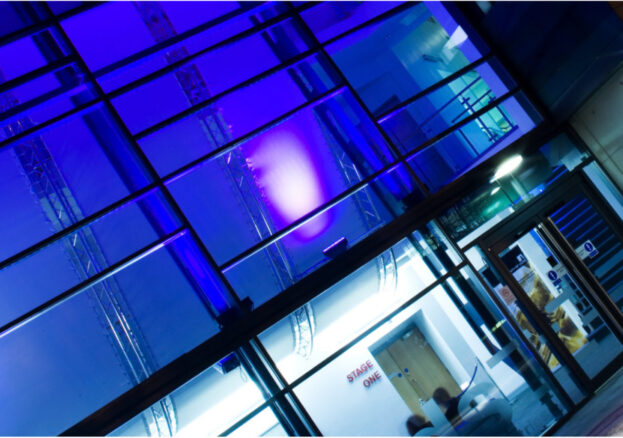 Stage@Leeds is a public theatre situated at the heart of the University of Leeds campus, programming a wealth of contemporary performance. The venue has a focus on artist development, commissioning exciting new pieces by emerging theatre artists, as well as showcasing work by students at the University of Leeds.
Performances at Stage@Leeds are radical, politically-charged and highly immersive, combining various media and art forms to push the boundaries of traditional theatre. The venue programmes two seasons of contemporary performance work each year, running from September to December and January to June.
Stage@Leeds is interested in cutting-edge, forward-thinking creative practice – its online platform 'Stage@LeedsDigital' enabled the venue to host digital, cloud-based performances throughout the 2020 global pandemic. The digital space enables students, researchers and artists to present their performances and webinars in an online-only realm, pushing the limits of what is possible in the physical theatre space. On this digital stage there are few rules or preconceptions, leading to truly innovative creations.
Stage@Leeds has matched the University of Leeds' commitment to becoming carbon neutral by 2030; the venue banned all single-use plastics in 2018, and has implemented sustainable purchasing for all materials used in shows, as well as moving its lighting from tungsten to LED.
The venue offers education programmes and a youth theatre company, which is the UK's first ever fully sustainable Youth Theatre, presenting work on the state-of-the-art stage complex every 10 weeks.
Stage@Leeds offers a 180-capacity flexible main theatre, a 52 seat studio theatre, a flexible outdoor 'Green Theatre' space, a foyer performance area, a dance studio and several rehearsal rooms. There's an on-site bar for pre-performance and interval drinks, and with the University of Leeds campus' various bars, pubs and restaurants nearby, it makes an exciting destination for evening performances.
Stage@Leeds provides a dynamic and supportive environment for artists, researchers and practitioners.