The University of Leeds Public Art Trail
Polly Checkland Harding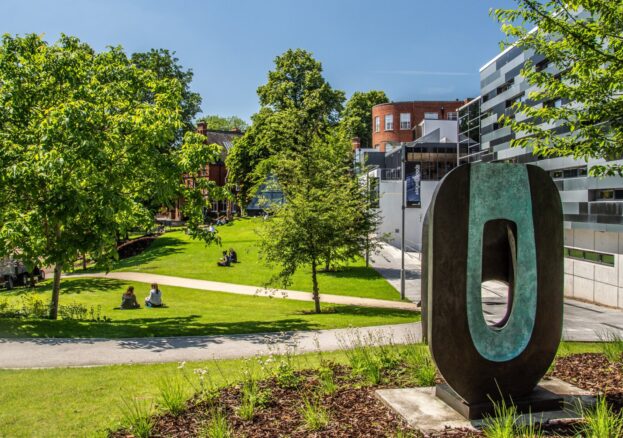 Architecturally, the University of Leeds is a rich site for public art, a complex backdrop that combines red brick wings with Brutalist concrete structures and domestic terraces converted for academic use. Socially, too, it's an apt location: since 1923, leading figures at the university have recognised the importance of situating works of art on campus, with Council member and philanthropist Stanley Burton particularly championing its inclusion. It's for these reasons that the University of Leeds Public Art Trail includes works by Barbara Hepworth and Henry Moore, alongside contemporary artists who've exhibited at prestigious institutions including the Wellcome Collection and Tate St Ives. The trail begins in the Parkinson Court on campus, outside The Stanley and Aubrey Burton Gallery and takes in a total of 17 installations.
These include Walking Figure by William Chattaway in Parkinson Court itself, inspired by Giacometti's trademark physical forms, and replaced in 1989 after students damaged the original, with one leg destroyed beyond repair. Right at the entrance to the university, in front of the Laidlaw Library, is acclaimed artist Simon Fujiwara's first ever public commission, A Spire: this beautiful and monumental piece reflects the shift in industries over time in Leeds, with pulverised coal at the turret's base giving way to a surface inlaid with branches and cables. Man-Made Fibres by American artist Mitzi Cunliffe, the woman behind the theatrical mask design for the BAFTA Awards, is an echoing reflection of technological advances in the city, placed high on the Clothworkers Building South.
Cunliffe's hope was that her art would be 'used, rained on, leaned against'. Happily the trail includes sculptures that have absolutely become part of the conversation on campus: Keith Wilson's Sign For Art at Beech Grove Plaza has been affectionately nicknamed 'the squiggle' by students, its wavy shape actually derived from a sign traced on the forehead of deaf-blind adults to signify 'the arrival of the artist, the subject of art and the imminent activity of making art'. The moniker illustrates the gentle and immeasurable influence pieces like these can have on the people who experience them.
Want more outdoor art? Explore our dedicated guide to Outdoor Art in the North.