Reid of Liverpool
Phoebe Hurst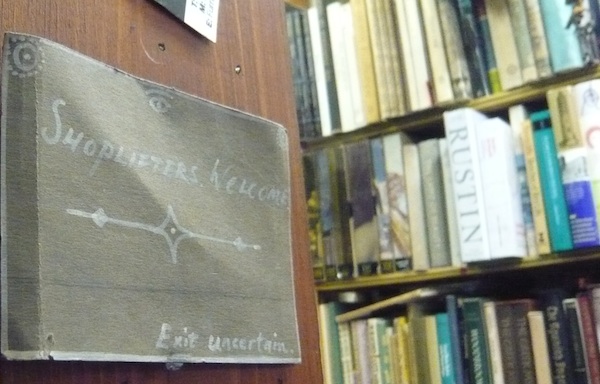 Look past the offbeat cataloguing system; Reid of Liverpool is a Hope Street bookshop that brims with intriguing paperbacks and rare finds.
Bookended by two cathedrals and minutes away from a Grade II-listed college of art, two theatres, a Philharmonic Hall and a performing arts school founded by Paul McCartney, Reid of Liverpool stands on (or at least nearby) the shoulders of cultural giants.
But the Hope Street bookshop is a historic landmark in its own right too. As the city's only surviving, purpose built Georgian retail premises, Reid's has been supplying Scousers in antiquarian and second hand books for more than 25 years. Yet the shop's functional exterior belies none of its neighbouring grandeur and, inside, browsers casually peruse the shelves without fear of any Bernard Black-esque inquisitions. Reid's rammed, ceiling-high bookcases focus on a fireplace and cash register poised regally on a makeshift desk.
Despite the pack-'em-high approach to store design, the independently owned bookshop's stock is decidedly well chosen. Reid's website (it seems even the Georgian store proprietor must enter the 21st century) rather generally states that it sells "books on most subjects." It's not lying: alongside over 40,000 titles, you'll find Ordinance Survey Maps, comics, the odd print – and a friendly shop cat. A selection of used textbooks caters to Liverpool's substantial student population and a bookshelf at the shop front proffers a selection of cheap paperbacks, poised to catch those heading towards Lime Street Station without a good train read.
While Reid's exact system of cataloguing is slightly questionable (something along the lines of general fiction, sci-fi, conspiracy theories, children's literature… and back to fiction), the stock is all fairly reasonably priced. We picked up a coffee table read on British folk art and a recent Roddy Doyle novel for under £15, and serious book collectors are catered for with several rare finds and first editions. And Mr. Reid himself? Sadly, he's as fictional as the contents of the shop's rickety shelves. Real owner, Gerry Fitzgerald swiped his mother's maiden name when christening his shop but that doesn't bother us too much. The combination of second hand books and quietly clever puns is too good to pass up.