New Century
Johnny James, Managing Editor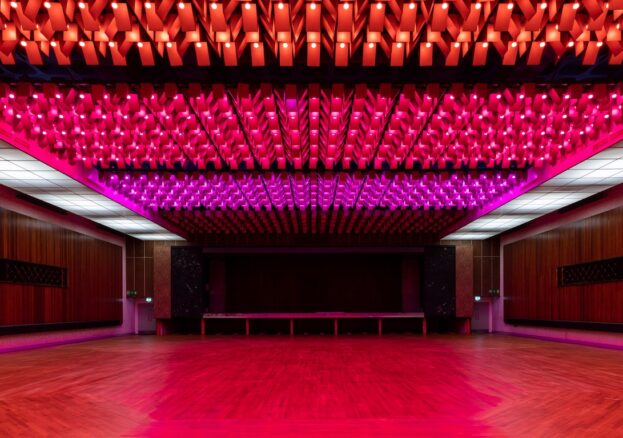 Following a multi-million-pound transformation project, Manchester's New Century Hall has been resurrected as a live music, performance and events space, featuring a food hall and a creative college.
Originally built in 1963, this huge dance-hall with a sprung-floor was an iconic part of Manchester's music scene for years, hosting performances by many greats including Jimi Hendrix, Pink Floyd, The Bee Gees, Status Quo, Chuck Berry, The Kinks, The Who and Jerry Lee Lewis. Entwined with the city's rich cultural heritage, the venue's reopening – after six long years of lying dormant – is a huge win for Manchester's arts and cultural sector.
The Grade II listed concert hall – rebranded from 'New Century Hall' to 'New Century' – is one of many new developments at NOMA, an £800m redevelopment scheme focussed on revitalising the northern area of Manchester city centre. With a flexible layout and capacity of 800+ the hall is a unique multipurpose event space for emerging talent and global touring artists alike, as well as a venue for conferences and community events.
The '60s building was way ahead of its time, with design features and interior treatments that maximised its acoustic properties. Three important pieces of art work – two large sculptured panels in the music hall and a concrete sculptural screen in the entrance area – have been retained and restored by Russell WBHO. Happily, the contractors have also left the '60s disco ceiling and aforementioned sprung dance floor intact.
On the ground floor of New Century are the kitchens. The 8000 square-foot New Century Kitchen hosts five independent food operators alongside more permanent pizza and coffee concepts. A vibrant menu of the best independent food from the most talented and exciting kitchens sit alongside local beers, wines, a creative cocktail menu and artisan coffees, teas, juices and smoothies. New Century Kitchen also spills outside onto Sadler's Yard for al fresco dining, drinking and regular events.
The basement at New Century is home to one of the UK's most exciting education providers, Access Creative College. An established national college (that counts Ed Sheeran as an alumnus and Patron), ACC specialises in kickstarting careers in the creative industry. With a successful music, games, media and computing college already in Manchester on Oxford Road and Hulme Street, New Century is home to the college's third site in the city with degree-level courses in music, games and computing delivered by the DBS Institute.
As much a social and educational destination as a music one, NOMA have not only resurrected this beloved venue, but really maximised its possibilities. We fully recommend you head down soon to check it out.