LIVIN'Italy Dough House
Creative Tourist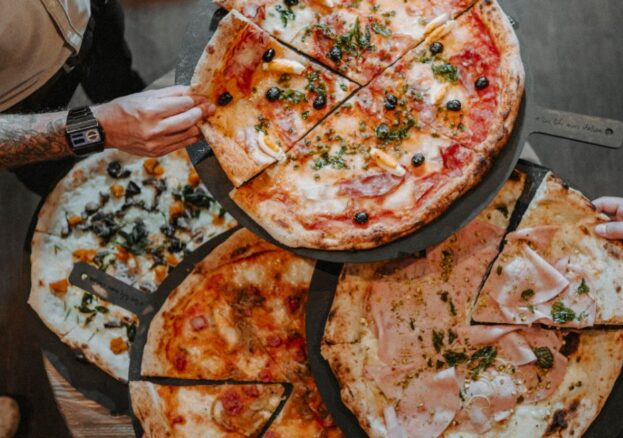 Review by Holly Clarkson
LIVIN'Italy Dough House, positioned next to the historic Corn Exchange, is LIVIN'Italy's second opening in Leeds. They specialise in colossal 20" pizzas, real artisan gelato and cocktails with an Italian twist.
Inside, the venue is vibrant and bustling, with a large central bar area and industrial-style interior. You are instantly hit with the smell of freshly baked dough from the open kitchen, and on a large screen there is a live feed so you can even watch your pizza being made.
Their dough is low on so-called 'bad' carbs
There is a vast pizza menu and three types of dough to choose from. The pizzas are available by the slice, as a gigantic 20" pizza, or a 12" gluten-free option. Using traditional methods and only unrefined ancient grain flours, their dough is low on so-called 'bad' carbs and packed with flavour and fibre. Prices range from £5 for a pizza slice, to £20 for 20" which would serve 2/3 people – great value for money.
We sampled their bottomless pizza, deciding to try as many topping combinations as possible.
First up was the 'Caramellata' – creamy gorgonzola, caramelised butternut squash with chestnut honey, garlic wild mushrooms and fresh thyme. The sweet honey and butternut squash cut through the strong flavour of the cheese perfectly.
Sweet honey and butternut squash cuts through the strong flavour of the cheese
Next we tried the 'Stracotta' – mozzarella, slow-cooked rib of beef in red wine, smoked cheese and fresh thyme. This was served on a white base, which helped prevent the rich beef being too overpowering.
My favourite pizza of the evening was the 'Montanara' – tomato base with rosemary potatoes, mushrooms and pancetta. When I first saw a potato wedge on my pizza, I did have my doubts, however, the flavours and textures worked exceptionally well together.
For drinks, we opted for two of their classic cocktails, the Collins' and the El Classico. Both made using premium VII Hills Italian Dry Gin, they definitely packed a punch. The Collins was particularly refreshing, thanks to the use of grapefruit tonic, while the El Classico had a more sophisticated, bitter flavour.
LIVIN'Italy Dough house is a laid-back venue, offering authentic pizzas in true Italian style. Their unique topping combinations and 20" sharing pizza make them stand out from the crowd in more ways than one.