Knave's Kitchen
Creative Tourist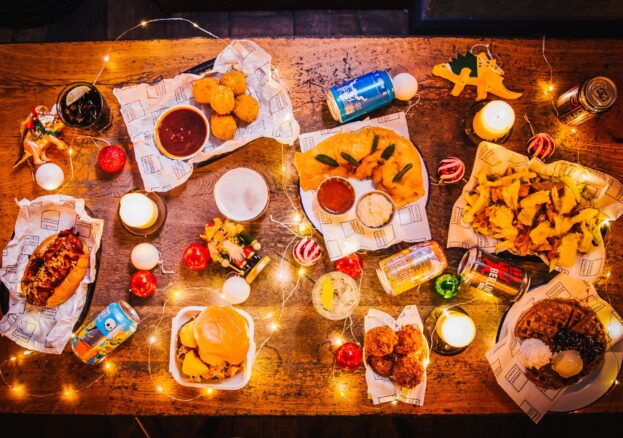 Review by Dan Curley: Christmas is coming and the goose is getting fat, but you won't be gorging on its cranberry-covered corpse at Knave's Kitchen. Based inside the Oporto Bar in central Leeds, this junk food joint's menu is 100% plant-based, and for the second year running, they're launching a Christmas menu – perfect for those who'd rather scoff rhubarb than Rudolph.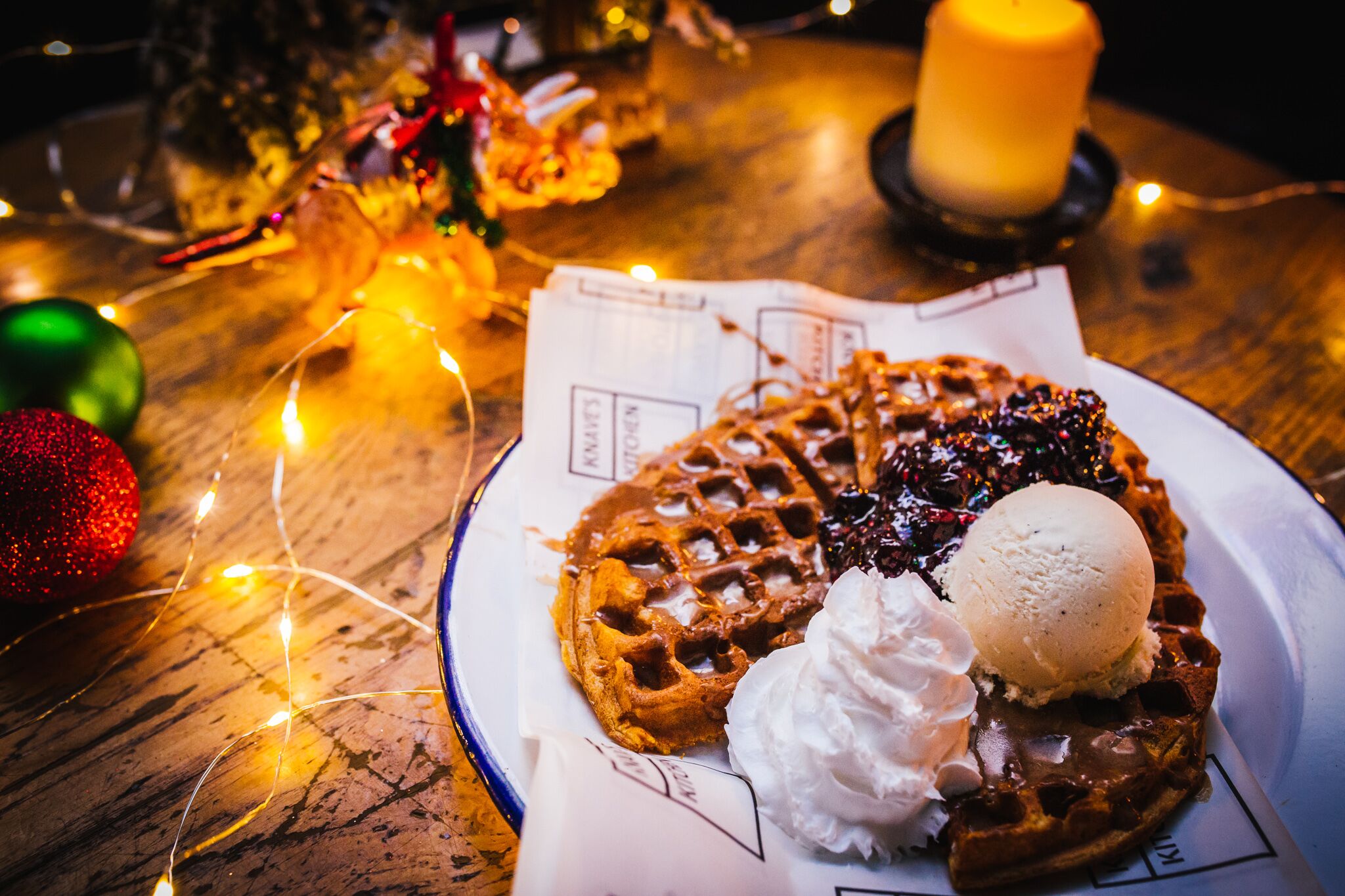 Top of the menu is rude-sounding "Moist Maker Xmas Burger", a mountain of scran stuffed in a bun with a seitan-Turkey patty, slaw, gravy, some soft toast and roast potatoes. Trying to eat it with your hands is like trying to brush your teeth with a toilet brush – this is a knife and fork jobby. It's moist, and goes down a treat. We also had a taste of the "Seitan's Little Helper" – a chunky hotdog with cranberry ketchup, vegan bacon (made out of rice paper, yet genuinely baconic in taste), onions and smoked sriracha mayo. It's a bit drier than the burger, has a spicy kick, and can easily be munched down using your mitts.
A Christmas menu for those who'd rather scoff rhubarb than Rudolph
The next dish we tried was the "Pizza Stocking", which looks a lot more like a cornish pasty. Slice it open and its innards reveal vegan sausage, pizza sauce, mushrooms, onion jam and it comes with a garlic dipping sauce. It doesn't look like pizza but it does taste like pizza.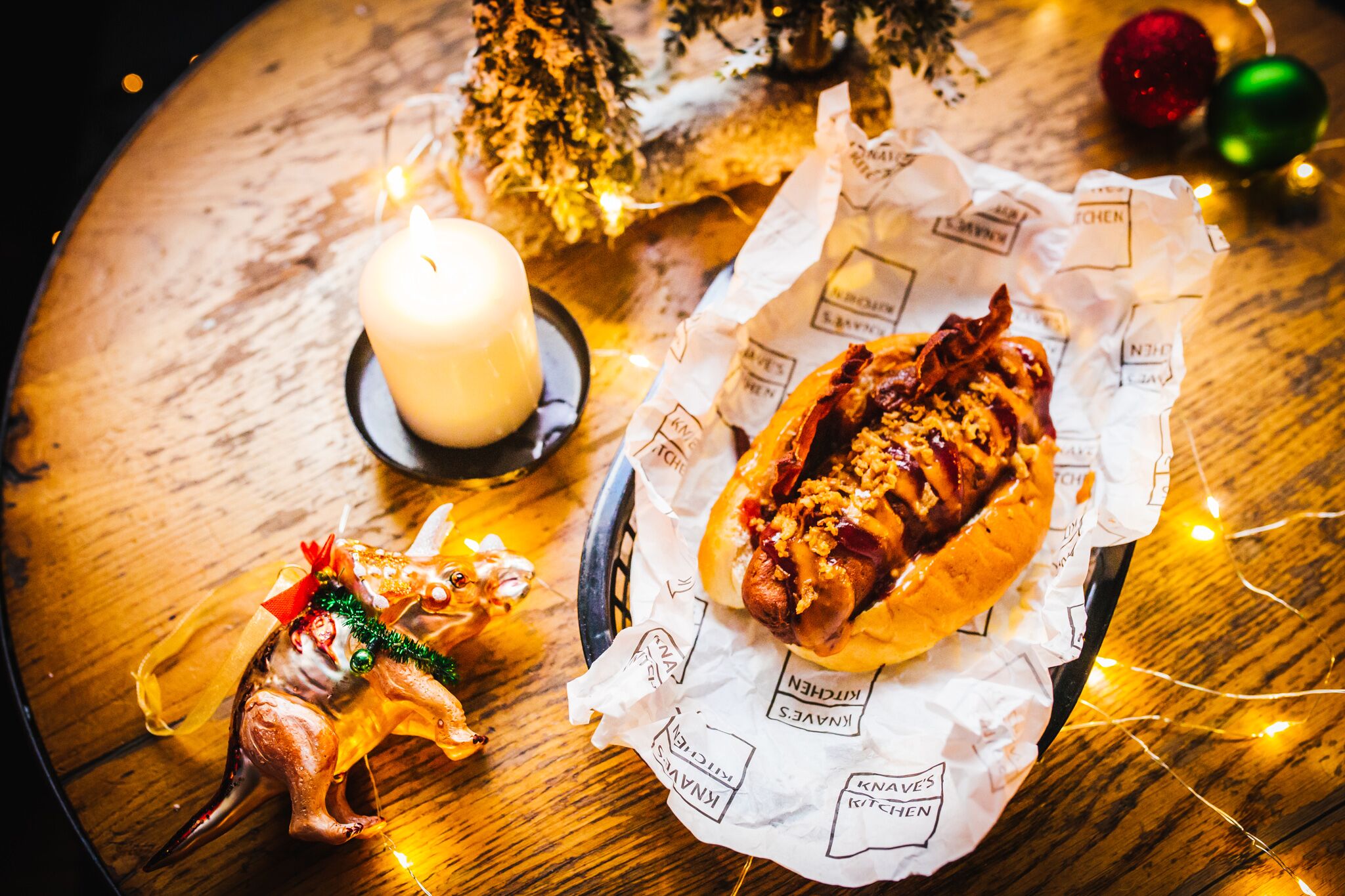 At this stage I've eaten far too much and can't even make a dent in the "Boxing Day Fries", spicy fries covered in vegan turkey, pastry and allotment (veggie) gravy. This is not a side – it's a main that could do for two. Dessert comes in the shape of "Pumpkin Spiced Waffle", a pudding with a large waffle loaded with mixed berries, vegan ice cream and cinnamon icing. Again – this is no dessert for one – I manage a single spoon's worth or risk suffering a similar death to the gluttony geezer in the film Seven.
The Pizza Stocking doesn't look like pizza but it does taste like pizza
The Christmas menu at Knave's Kitchen is available from the 1st Dec. Prices are online, plus they mentioned a £50 platter in which you get one of everything and share it among your group. Oporto is a late-night bar, occasionally one with live music, so would make for a perfect Christmas party venue for vegans.