Huddersfield Town Hall
Johnny James, Managing Editor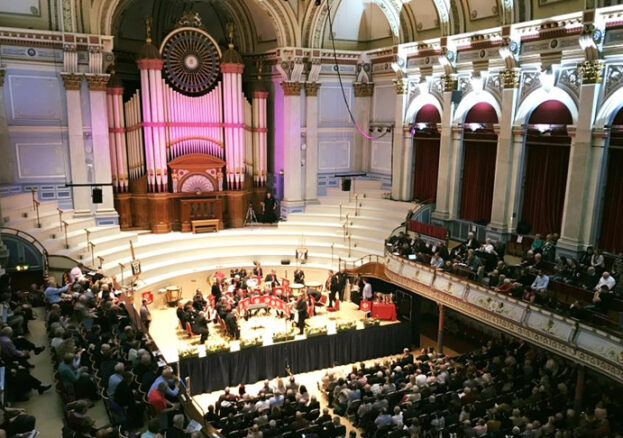 The Grade II listed Huddersfield Town Hall is a multi-use venue that brings an eclectic mix of classical and popular entertainment to its local community.
The Town Hall sits at the heart of Huddersfield, and provides the region with several beautiful spaces for concerts, events, functions and meetings. Much of the interior underwent major refurbishment in 2013, meaning it offers 21st Century comfort, style and technology against an impressive Victorian backdrop.
The biggest draw of the Town Hall is its ornate, 1200 capacity concert hall, which plays host to public events ranging from orchestral concerts to stand-up comedy, as well as private functions and community gatherings.
The Kirklees Concert Season, presented by Kirklees Council and the Orchestra of Opera North, offers a thrilling variety of world-class music each year. Showcasing exceptional talent, both homegrown and international, it features everything from towering symphony music to heart-warming, family-friendly concerts.
The concert hall also hosts regular lunchtime concerts, many of which make use of the munificent 1860 Father Willis Organ. The organ is most often played by Borough Organist, Dr Gordon Stewart, whose imaginative programming has soundtracked lunchtimes at Huddersfield Town Hall for a remarkable 30 years.
On the popular side of the entertainment spectrum, Huddersfield Town Hall curates a programme featuring something for all tastes. The music of The Drifters, Barbara Dickson, Kate Rusby and Elkie Brooks has lit up the hall in recent years, alongside stand-up by star comedians Jimmy Carr, Rob Brydon, Chris Ramsey, Al Murray, Frank Skinner and Sarah Millican.
Finally, two festivals draw big crowds to the Town Hall each year. The first is the Mrs Sunderland Music Festival, which provides a platform for talented youngsters and adults to demonstrate their musical skills. The second is the Huddersfield Contemporary Music Festival, which brings to Huddersfield some of the most cutting edge contemporary music and ensembles in the world.