Hopskotch
Creative Tourist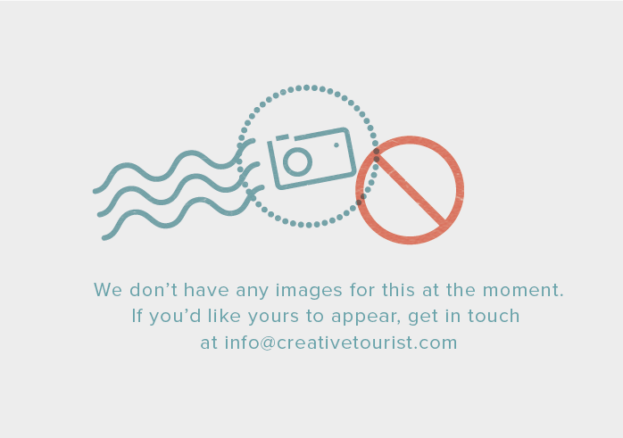 A lot of things spring to mind when you think of Liverpool's Mathew Street – tourists, Beatles-themed tat and hen parties to name just a few – but good food has never been one of them. This is a shame, because it's one area of the city that could really benefit from a good restaurant (or two). If people are going to flock from around the world to have their picture taken with John Lennon's statue, it seems a bit unwelcoming of us Scousers to only offer them a Weatherspoons meal deal in return. But now we have Hopskotch, a kitchen and bar located in 'the Cavern Quarter' that specialises in "international street food". Could this finally be the decent chain restaurant alternative we've been crying out for? Well…yes and no.
Hopskotch is certainly pretty enough, with its bright, neon-coloured walls, very presentable staff and the obligatory picture of Lennon overlooking the punters. Hearing Talking Heads on their PA system definitely earned them bonus points too. It's just a shame that its cuisine isn't as bold as its décor. Hopskotch advertises itself as serving "international street food," but instead of the shredded beef tacos and jerk chicken we were promised on their website, the menus we were handed showcased a disappointingly traditional array of Bangers and Mash, Curry and Chicken Caesar Salad. We love our Scouse as much as the next local, but we're not entirely sure it can be classified as international, or street food for that matter. The only touch of global fare we could find was some (now seemingly mandatory) Americana. We're starting to think there's a law somewhere directing that all Liverpudlian restaurants serve burgers, pulled pork and hot dogs.
In fairness, we were pleasantly surprised by two interesting options on their menu; the deeply fashionable 'Frickles' (deep fried pickles, £3.50) and Coca Cola glazed ribs (£9.50). Sadly, both dishes, while good idea, failed in their execution. Rather than sliced pickle chips covered in a robust cornmeal batter, we were presented with rather weedy cornichons covered in a limp tempura-style batter, which dissolved at first bite. The ribs weren't much better – we can never resist a good plate of ribs, but these were covered in a sickly sweet marinade, which faded away into under-seasoned meat. At least the accompanying chips were decent, even if we could have used a few more of them. We couldn't help feeling a bit short changed by the whole thing – after all, £9.50 does feel a bit steep for five ribs and a small pail of chips. It wasn't all bad: we drank a 'Belfast Brew' tea blend that was one of the best brews we've had in a long time and we were impressed by the staff's cocktail-making skills, even though we didn't indulge ourselves. Ultimately, Hopskotch gave the distinct impression of opting for style over substance. While tapas, pulled pork and cocktails in teapots may sound fashionable, it's all for naught if it's not done well. Instead, Mathew Street is left with yet another distinctly average restaurant. Surely we can do so much better?