Honister Slate Mine
Polly Checkland Harding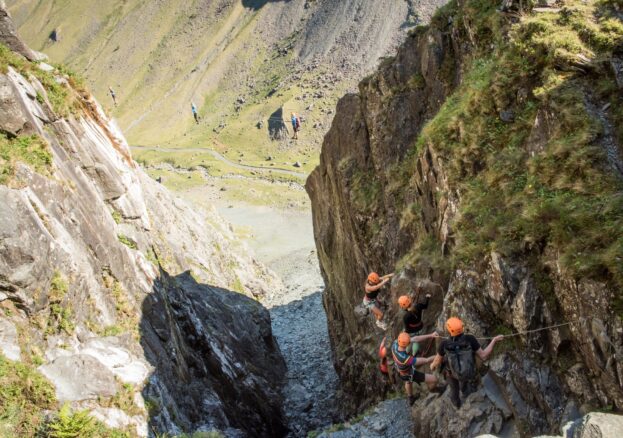 The last working slate mine in England is also home to a host of breathtaking adventure activities in the Lake District. Honister Slate Mine at the head of Honister Pass in Keswick has a history that dates back to what are estimated to be the first extractions during the Roman occupation, but is now home to much more modern preoccupations. Try your hand at canyoning along the course of a waterfall, attempt the Via Ferrata Xtreme along exposed mountain ledges and up vertical ladder climbs, or cross the longest high wire bridge in Europe, over 1,000 feet above the valley floor.
Honister's Infinity Bridge is so called because it's not possible to see the other side from the start, with the incredible climb across the gorge offering unique views of Honister Pass itself. Test your nerves even further by going cliff camping on one of the site's Portaledges, 500ft up on the cliff face and reachable only by abseiling – or venture underground for some subterranean exploits and Climb the Mine. Following the route of the original underground workings, this includes vertical climbs, rope bridge crossings, a zip line and a Tarzan swing. After passing through narrow passageways and cathedral-sized caverns, participants emerge victorious with a spectacular view of the mountain pass.
Slightly more sedate are the guided Mine Tours: these are an opportunity to learn about the 450m year history of the Westmorland Green Slate, and of the lives of the people who used to work here. Brought to life with enhanced reality technology and explosive special effects, these underground tours are a fantastic introduction to a historic mine. There's even the highest café in the Lake District, the Sky Hi Café, for homemade cakes, soups and snacks at altitude.