HOME Leeds
Ian Jones, Food and Drink Editor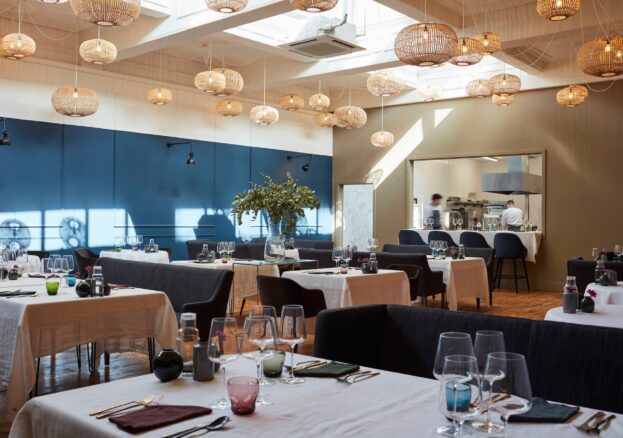 HOME Leeds is a fine dining restaurant in Leeds, located a stone's throw from Leeds Station and next to the Kirkgate Market. In fact the building is the former Victorian fish market. Done up in an exquisite minimalist style that glows with warmth and friendliness, featuring low-hanging lanterns and smooth hardwood furniture, this is the place for the absolute epicure, and a welcome entry to the Leeds food scene, being one of the first restaurants of its kind in the city.
Launched in 2017, HOME Leeds is led by Chef Patron, Elizabeth Cottam, and Michelin-starred Head Chef Mark Owens. The team curate eight- to ten-course menus from Wednesday through to Sunday in a spacious, all adult dining room. The sittings last for three hours, each small dish accompanied with an explanation of the process and, after the first complimentary glass of fizz, accompanied by your choice of paired wines. The staff are chosen for their friendliness, and there's nothing stuffy about this place despite the exquisite food.
The place for the absolute epicure
These menus change continually with the seasons and following the passions of its creators, but the food is always inspired by the surrounding landscape and the produce it provides, stripped down to their essence, and served in exquisite presentations. You'll find, for example, Black Forest duck with terrine, parfait, sour cherry, cep and chocolate; a smoked cod tart with Granny Smith apple and leek; and red leg partridge with greens and pears.
Desserts are along the lines of stout ice cream, with salted caramel ganache and blood orange. In each case, a choice of just two or three ingredients are cooked to perfection and combined. All of this high-end food creativity uses ingredients sourced from down to earth local farmers in the terroir around Leeds.
So, as HOME restaurant approaches its Michelin Star, why not visit so you can say you'd heard of it first?