Hokkaido
Polly Checkland Harding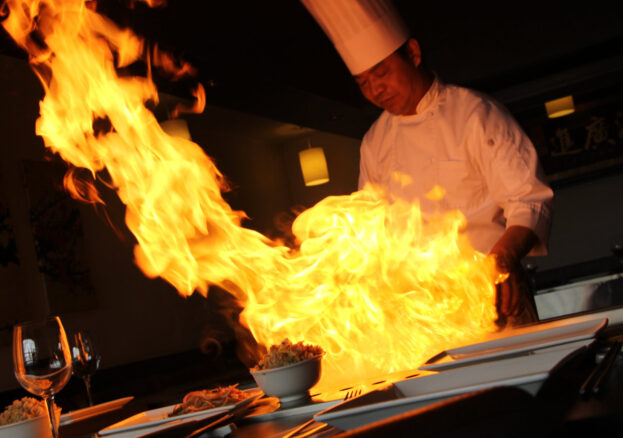 Japanese restaurant Hokkaido centres around the teppanyaki style of cooking – a technique that dates back around 200 years so the early 1900s, initially used by families preparing meals on small grills, and was first commercialised by a restaurant in Kobe, Japan, in 1945. 'Teppan' means metal plate, while 'yaki' means grilled, broiled or pan-fried, encapsulating a method of food preparation in which the chef cooks meat, seafood and vegetables on an iron plate, serving dishes to customers over the counter. As with all traditional teppanyaki restaurants, Hokkaido's leather seats are arranged around the chef's preparation area, with diners able to watch the cook's skills and techniques in action. It was this that made teppanyaki popular with foreign visitors to Japan – and now with both locals and visitors to Wakefield.
Hokkaido uses locally sourced ingredients, as freshly prepared as it's possible to be; even the wait between the pass and the table is eliminated with this style of cooking. The restaurant offers four chef's menus: an all-rounder, one for seafood enthusiasts, another for meat-lovers and a fourth for vegetarians. Each showcases its chosen ingredients perfectly: fresh Atlantic salmon, squid, king scallops, tiger prawns and a fillet of white fish are the maritime selection, while lamb wrack, duck breast, sirloin steak and chicken thighs make up the meat menu. Perhaps the most interesting is the vegetarian selection, which includes a sweet potato cake cooked in butter, teppanyaki bean curd in soy sauce, rice balls wrapped in Chinese leaves and bean curd rolls with red onion – a distinctive combination of flavours that appealingly broadens the vegetarian palate.
An effort is also made to pair the right wine with the right dish; there's a chef's wine selection, chosen by the restaurant's master chef. It's this combination of quality with an attention to the whole dining experience that makes Hokkaido popular – evidenced by the fact that a new Hokkaido restaurant is set to open in London. All the more reason not to miss Wakefield's iteration.