Hafla Hafla
Creative Tourist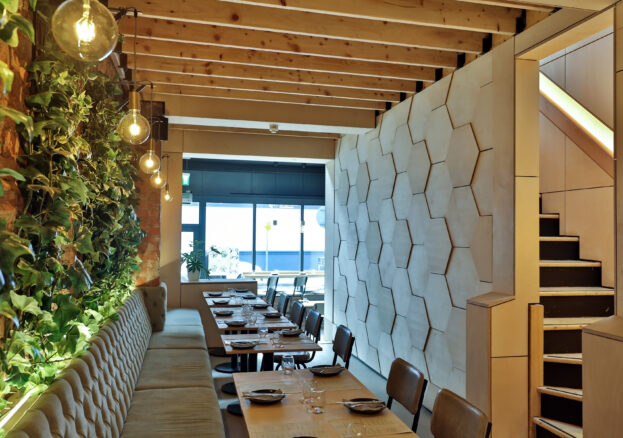 Review by Stephanie Heneghan: 
Once a stall in the Baltic Market (where their salt & pepper halloumi fries became insanely popular) in October 2018, Hafla Hafla spread their wings and instead of setting up camp on Bold Street – the independent's favoured locale – they headed for Lark Lane.
Lark Lane, for those unfamiliar with Liverpool, is 3 miles geographically from the city centre and a million miles away metaphorically. It's next to Sefton Park and the place to go when "you can't be bothered with town" – what a lazier writer might describe as bohemian, which is code for all the bars shut at 12am.
Hafla Hafla have shaped their home on the 'lane in a gorgeously kitted out venue. It's a small restaurant that doesn't feel cramped, both pared back and with an eye on the detail. There's a definite intention in how finished the décor is, this isn't a temporary home for them.
Nor should they expect it to be. "Small plates with a Middle Eastern influence" is hardly a new concept but it's presented so well, with such care, that they've created something fresh and thoughtful out of a well-trodden path.
We started out with hummus, bread and oils to fuel the menu selection process. Again, common offerings, but the hummus has a healthy dollop of Amba mixed into it which is de-lic-ious. It's mango chutney with a glow up. The bread is a chewy airy sourdough and the oils balance garlic with a spicy kick (and are generous both in flavour and portion).
It's a "they'll come out when they're ready" delivery so there aren't starters as such but thankfully all plates come out at a similar time. Is there anything more frustrating than a drip-fed small plate service? Polishing each one off solo? Nah, you need a few of them to mix together, dipping bread into the leftover sauces, all that jazz. Take note, small plate providers. We want a selection of dishes on the table (and tables big enough to accommodate them).
The small plates we've selected are actually in fact medium-sized plates
A vegetable that is definitely having a moment in the spotlight is the cauliflower. Who knew it could be so more-ish? Their market cauliflower is roasted with a bed of red pepper and doused in tahini and harissa oil that infuses through. It's great. It's garlic-y and pepper-y and great.
There's a slight curveball when we're told that some of the small plates we've selected are actually in fact medium-sized plates, and it's gently suggested we don't need to order as many as planned. So instead of five we opt for three, with the reassurance that if we are still hungry we can order more.
The chicken shawarma is most definitely a medium plate. It's also the stand out dish of the meal, an ample garlic flatbread with marinated chicken covered in tahini, amba and onions. Gorgeous, an actual pleasure to eat.
The honey & za'atar lamb was good but didn't have the sticky sweetness the title suggested. Crispy fried squid followed and a special mention has to go to the accompanying artichoke, light and crispy and deserving to be a dish in its own right. Get it on the menu.
There were a number of options for dessert but the magic words of sticky toffee pudding rendered the others into white noise. I have never met a sticky toffee pudding that I didn't get on with and I am pleased to confirm that statement is still true. Can you mess up a sticky toffee pud? I never want to find out.
The restaurant scene in Liverpool is currently thriving and there's the danger Hafla Hafla might be overlooked given the abundance of new places opening over the next few months. But it's deserving of your attention, time and also the fiver taxi fare it'll cost you from town. Go. Try the amba. Then go to Keith's afterwards and we'll probably see you there.