Haddon Hall
Sara Jaspan, Exhibitions Editor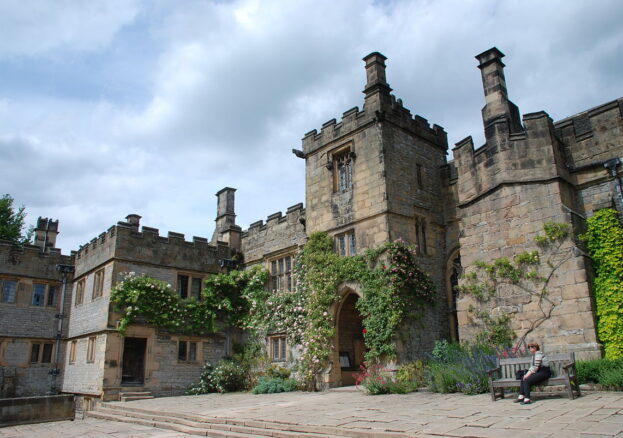 Described by writer and former chair of the National Trust, Simon Jenkins, as the most perfect house to survive from the Middle Ages, Haddon Hall on the bank of the River Wye near Bakewell is something special.
With over 900 years of history, the uniquely preserved Medieval and Tudor house is among the oldest in England, and one of the only to have remained in one family's ownership for its entire existence. Nicknamed the 'Sleeping Beauty', it remained under lock and key for over 200 years, escaping the modernising customs of the Georgians and Victorians. Among its highlights are the Elizabethan architect Robert Smythson's 110ft designed Long Gallery (reputed to be one of the most beautiful rooms in England), a series of rare 15th century frescoes in the family chapel, and The Parlour, which boasts a painted ceiling of Tudor roses and heraldic panelling. It's no surprise that Haddon has been used as a film location for numerous high profile period dramas, including Pride and Prejudice with Kiera Knightley, The Other Boleyn Girl with Natalie Portman, and Mary Queen of Scots with Saoirse Ronan.
The Elizabethan architect Robert Smythson designed the 110ft Long Gallery, reputed to be one of the most beautiful rooms in England
Outdoors, the historic hall is set within an unusual network of Italianate walled gardens arranged across a series of terraces that afford cascading views down into the valley and over the acres of surrounding ancient parkland and countryside. Be sure to stop and smell the roses, for which Haddon is famous, and take in the wild flower meadows. Also note the Fountain and Bowling Green Terraces, which were recently redesigned by the Chelsea Flower Show gold medallist Arne Maynard and his team using Elizabethan plants and techniques, and drawing inspiration from Haddon's important collection of tapestries.
With the air of a fairy tale castle, Haddon is a great day out for kids too and offers free entry for under 16s. Pick up an activity sheet at the Duke's Tower entrance for a fun way to engage with the house, join one of the guided tours for children, or check out the annual programme of child-orientated events and activities, including archery, falconry and historical re-enactments. For adults, regular workshops, guided tours, artisan markets, live music, and a new series of escorted countryside walks, provide plenty of reasons for a return visit.
Pack a picnic (or plan to enjoy a more indulgent meal at the estate's award-winning restaurant and hotel, The Peacock at Rowsley) and set off to discover this untouched time-capsule.