Peacock at Rowsley
Ian Jones, Food and Drink Editor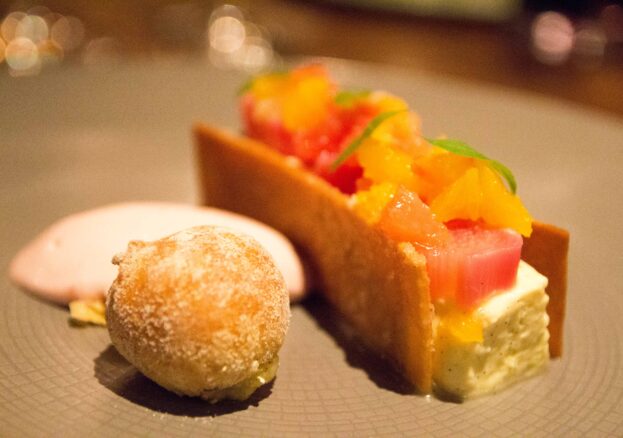 The Peak District is one of the country's most beautiful areas, perfect for fans of stunning scenery and long walks through England's luscious countryside. Smack dab at the heart of it is Haddon Hall, the Duke of Rutland's seat. A vital part of this estate is the Peacock, a wonderfully traditional hotel and accompanying restaurant that dates back to 1652.
The journey here necessitates a long relaxed drive, up and down winding roads, with cheerful views of lazy cows and bouncing lambs. The Peacock looks exactly as you'd expect from a one-time manor house, plenty of nooks, crannies, fireplaces and curious corridors and rooms. Our dining room for the evening has a watercolour portrait of an aristocratic gentleman, staring out nobly over the diners.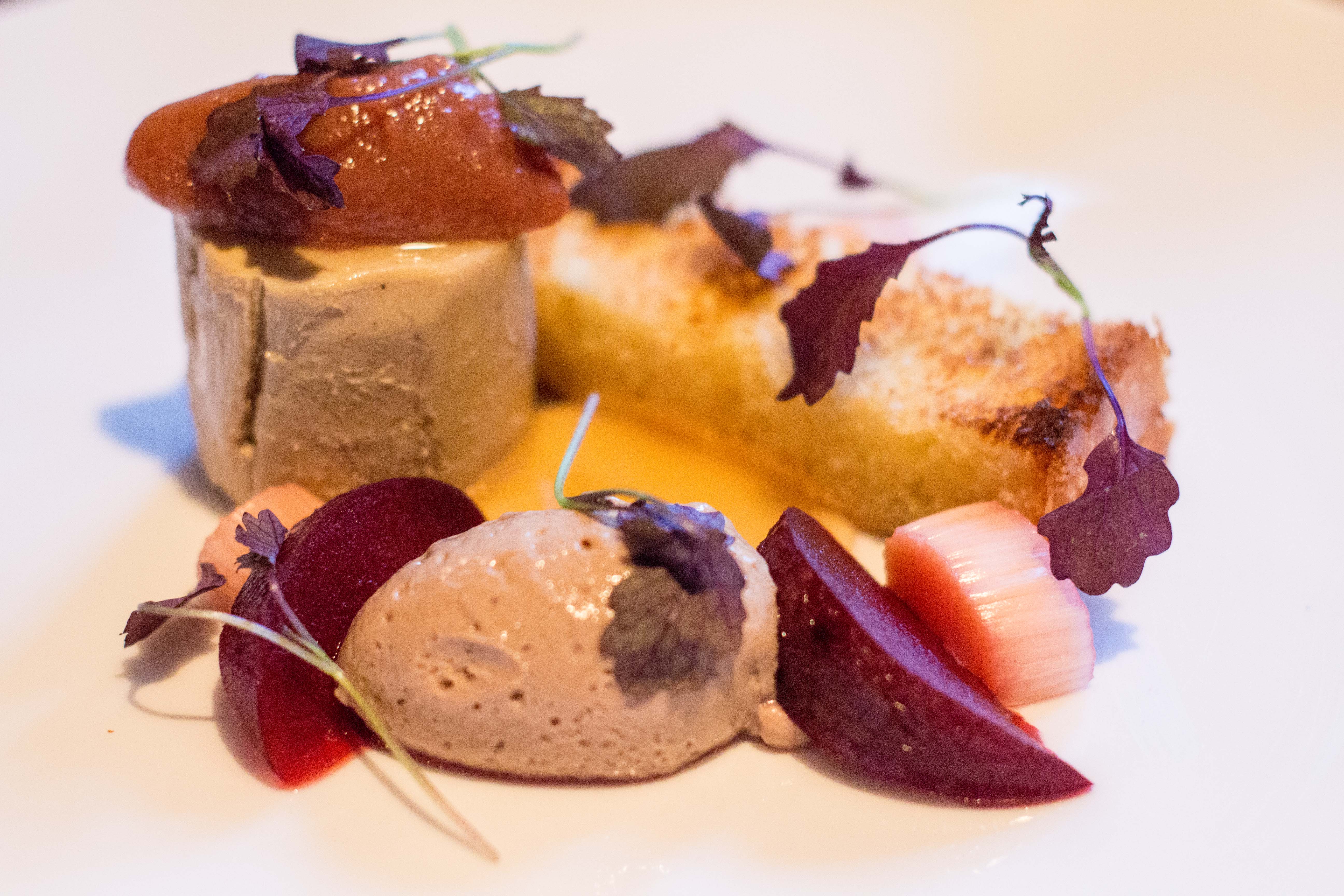 The menu is an unusual combination of traditional fare and ambitious flourish. We begin with a slow-cooked pork collar, smoked eel black pudding, celeriac and a dash of Pommery mustard. There's a deep smokiness to the whole dish, with a complex mixture of best-of-England flavours.
The menu is an unusual combination of traditional fare and ambitious flourish
For those with a sweeter tooth, there's a duck liver ballotine and a scoop of parfait. This arrives with a slice of toasted brioche, rhubarb and some plum sake. It's a unique combination that may not be everyone, but makes for an interesting opener, full of bold deft colours and beautifully arranged.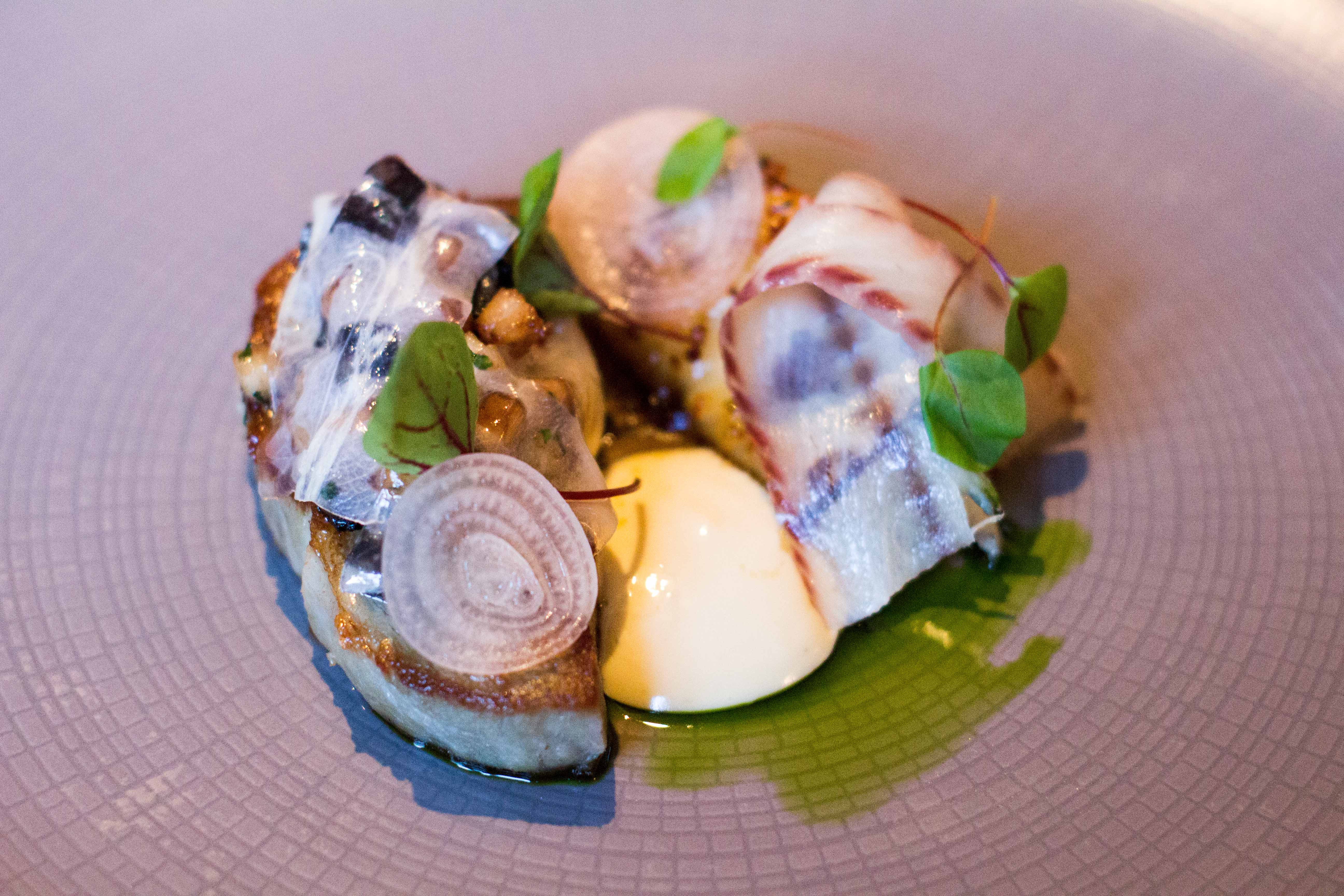 The main course of beef has been kept on from the winter menu due to its popularity with diners. Again, it's an attractively sculpted plate with a multitude of ingredients: fillet of Derbyshire beef, a tender piece of glazed brisket, plus some grilled onions, a mound of smoky mashed potatoes, salsify and turnip tops. All this is rounded off with a subtle red wine sauce that complements, rather than overpowering the meat.
Speaking of red wine, this is where the Peacock shines. The wine list and long and extensive, with well-informed and ever-present serving staff happy to recommend glasses to go with each course. The Chateau La Fleur Coterie 2010 is particularly moreish, an ideal accompaniment to the beef.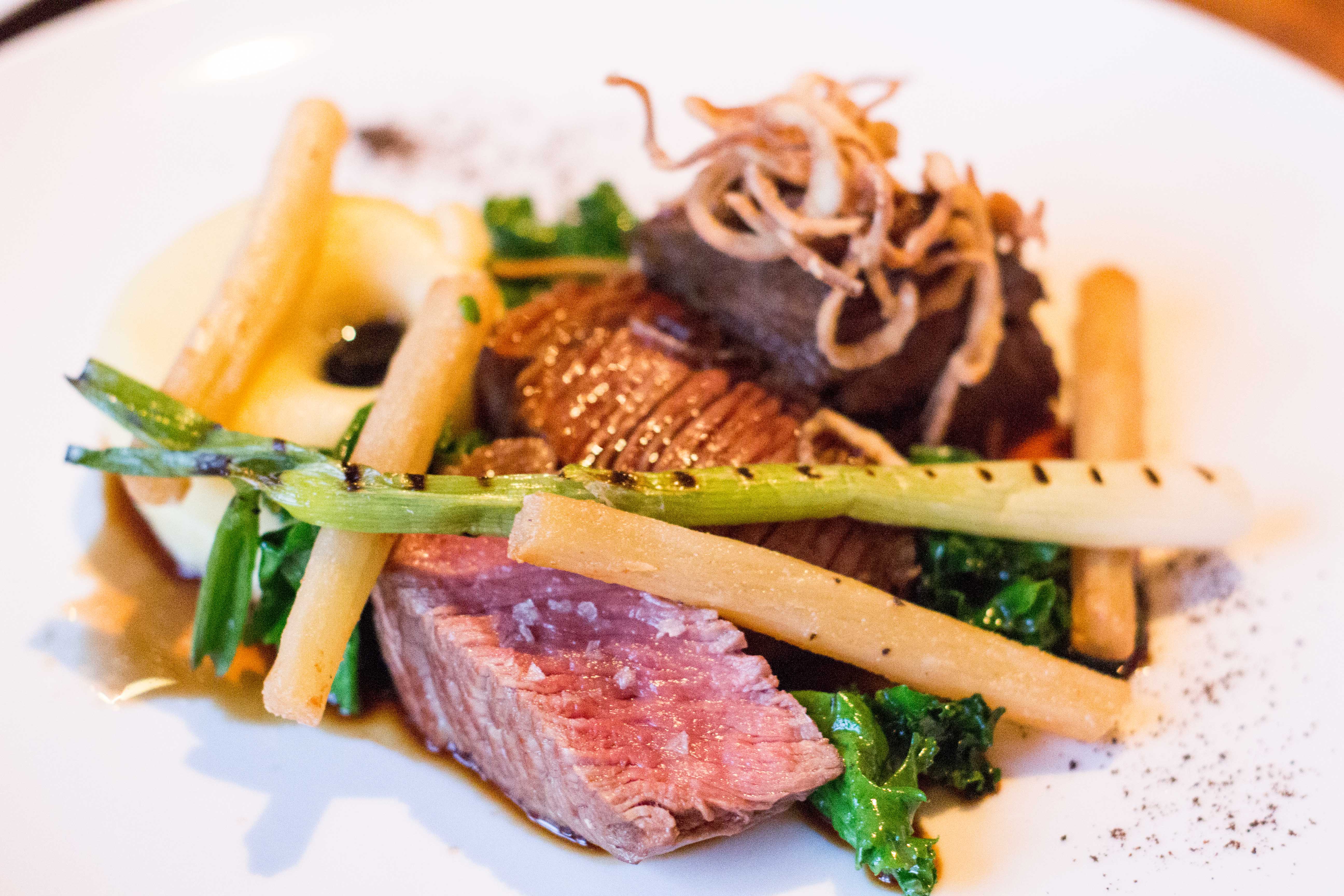 Poultry fans will opt for the Goosnargh chicken breast, two pieces of white meat with a fine crispy skin. This comes with two thick long asparagus stalks and a large spinach-packed ravioli with the surprise addition of gooey egg yolk which oozes out when cut into.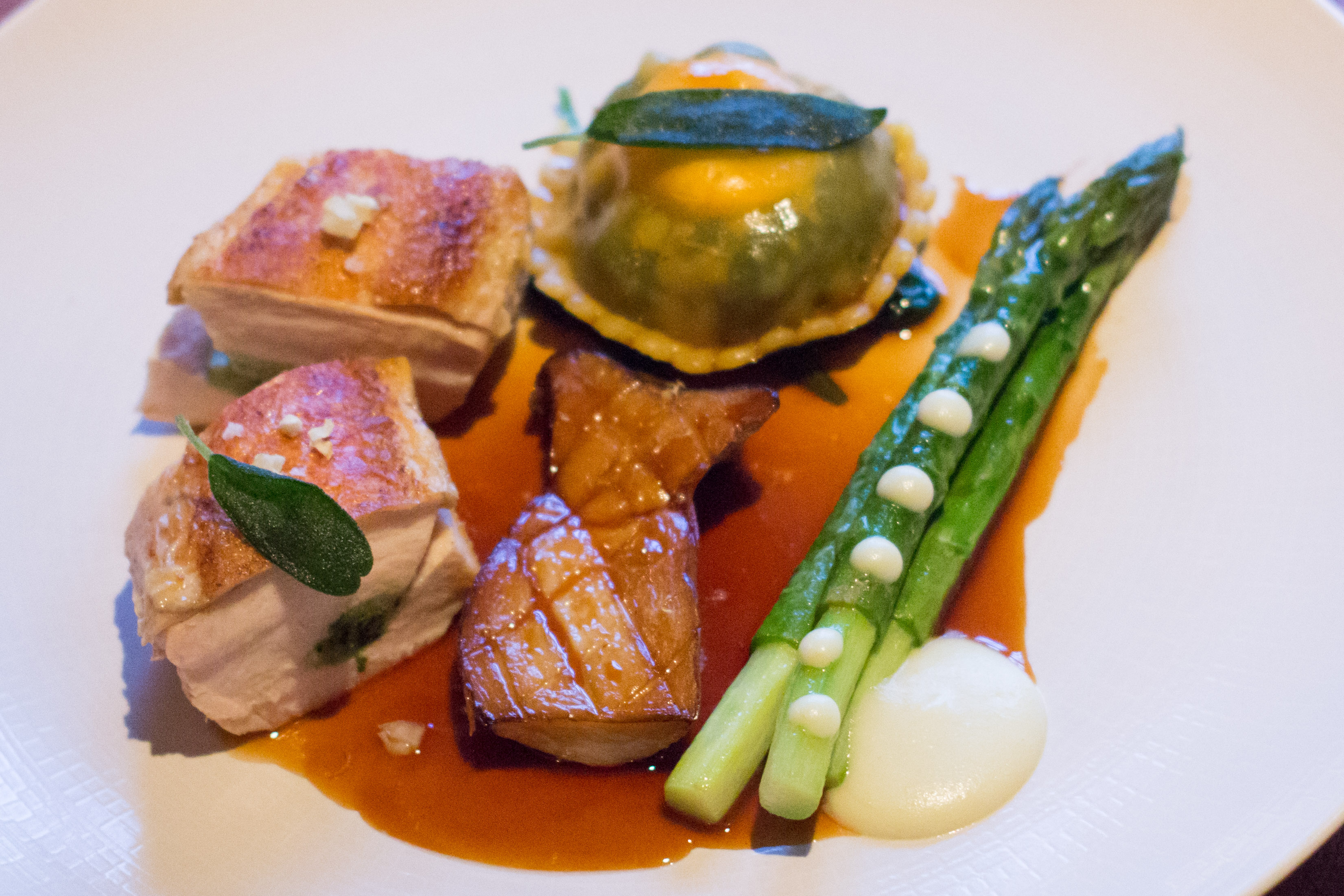 A fine traditional selection of desserts is on offer, with the créme Catalan proving the most popular. A squat mound of vanilla-specked cream, topped with a wafer-thin gingerbread circle and chunks of fresh rhubarb. Similar, but slightly more complex is the fromage fraise and vanilla mousse, which comes with poached rhubarb, slices of caramelised puff pastry and a cute little citrus doughnut.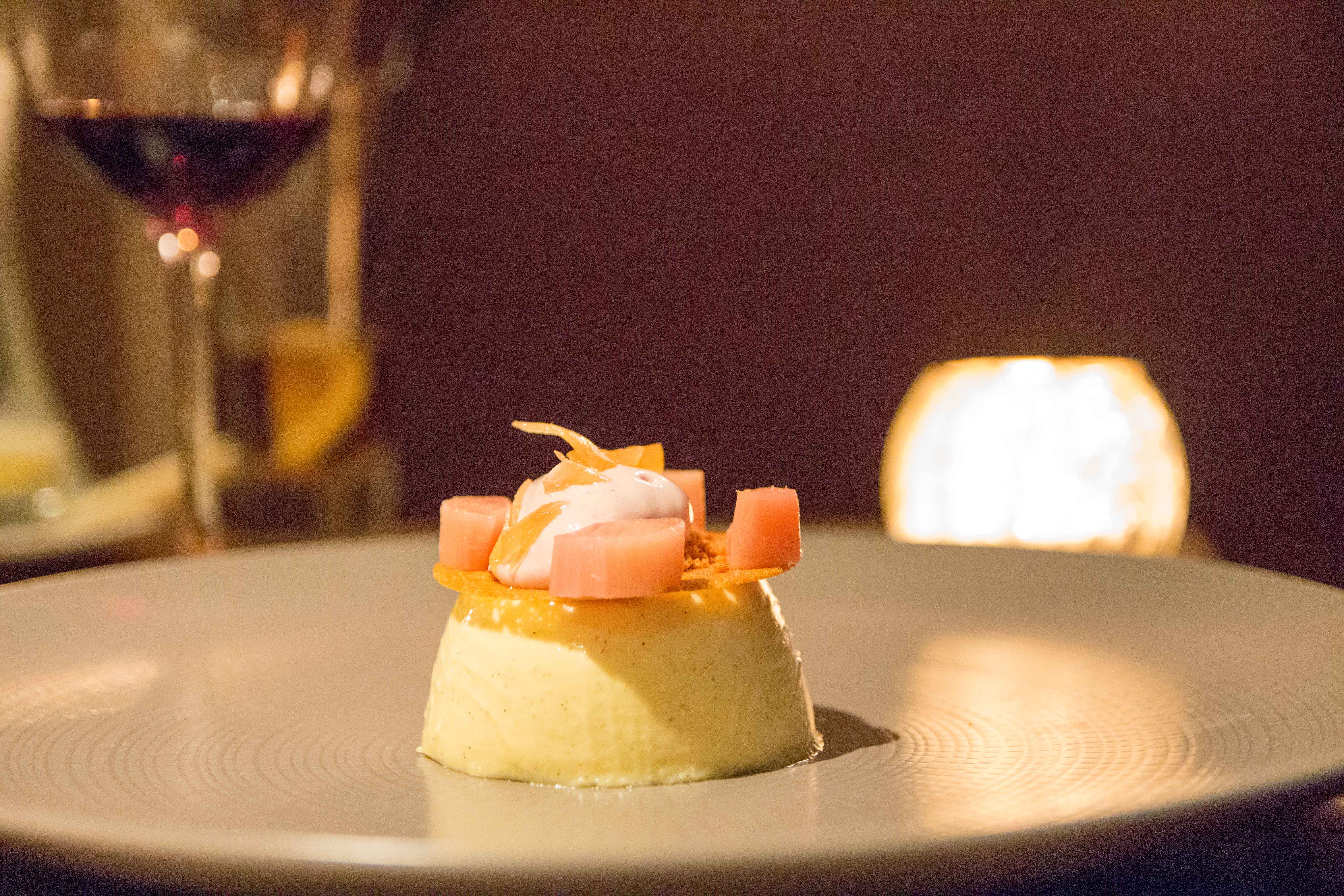 The Peacock isn't like most restaurants in the Peak District. The rich history and architecture makes for a fascinating experience, perfect for those who like their food with a locally-sourced, rustic bent, but with some deft modernistic touches for the more adventurous diner. Unlike its namesake, the Peacock isn't a gaudy show-off, but rather a gentle pastoral restaurant, specialising in interesting rural fare.