Chatsworth House in Derbyshire
Creative Tourist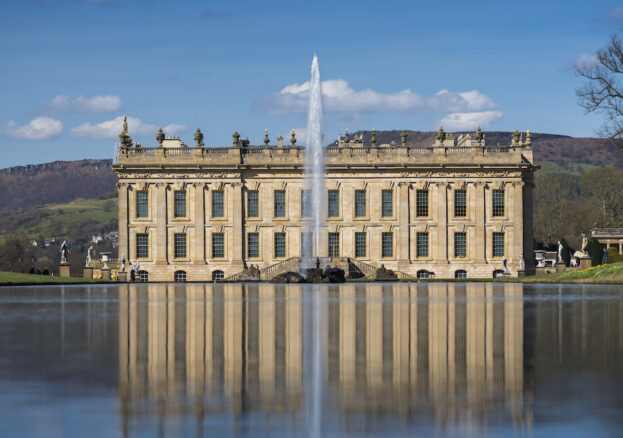 The inspiration for Pemberley in Jane Austen's Pride and Prejudice (and the location for many of the scenes in Joe Wright's much-loved screen adaptation of the novel, starring Kierra Knightley), Chatsworth and its surrounding 35,000 acres of rolling parkland and landscaped gardens is the quintessential English stately house. In fact, it has been voted Britain's favourite on numerous occasions, and it's easy to see why – offering a perfect day out for kids and adults alike, and world-renowned for the quality of its art collections.
Chatsworth has been the historic seat of the Cavendish family since they took up residence there in 1549, and remains the home of the 12th Duke and Duchess of Devonshire to this day. Happily, the couple share their sizeable pad with visitors, who are invited to wander many of its most impressive rooms, including the magnificent Painted Hall, regal State Rooms, restored Sketch Galleries and classical Sculpture Gallery. The countless works of art on display span over 4,000 years, from ancient Roman and Egyptian artefacts and paintings by Rembrandt, Reynolds and Veronese, to pieces by modern and contemporary artists, such as Lucian Freud, Edmund de Waal and David Nash.
Before leaving the house, be sure to exit through the gift shop (located in the original Orangery) where a bust of Mr Darcy as played by Matthew Macfadyen in the 2005 Pride and Prejudice film can be found. Knightley fans will also be familiar with Chatsworth from The Duchess (2008), which recounts the story of the former Duchess of Devonshire, Georgiana Spencer Cavendish's fascinating life as a political activist and style icon, and features many scenes shot in the home.
Arguably Chatsworth's star attraction, however, is its Garden. Created by Joseph Paxton, one of the most innovative garden designers of the Victorian era, this inspired pleasure ground includes an epic Cascade (influenced by the decorative waterworks at Versailles and great for paddling on hot days), impressive Emperor Fountain, and genuinely confounding Maze among its many highlights. The gardens are also a place to discover outdoor modern and contemporary sculpture, with works by Antony Gormley, Elisabeth Frink, Allen Jones, Angela Conner, and Michael Craig-Martin. The surrounding woodlands and rolling fields intersected by the River Derwent are prime picnic and swimming(!) territory. And the farmyard and adventure playground (complete with a rope park, trampolines, slides, and water and sand play area) are a must for those with children.
As well as a place to visit in its own right, Chatsworth runs a packed programme of annual events, including live outdoor music and theatre productions, 'forest experiences', gin and jazz evenings, the RHS Chatsworth Flower Show, Chatsworth Country Fair and its legendary Christmas transformation. The farm shop sells a wide range of artisanal goods produced or prepared on the estate, and local produce is used at Chatsworth's Carriage House Café, Cavendish restaurant, and The Flying Childers (which serves a truly stand-out afternoon tea).
Among the Peak District's primary visitor destinations, this historic estate is not to be missed.