Ginger's Comfort Emporium
Kate Feld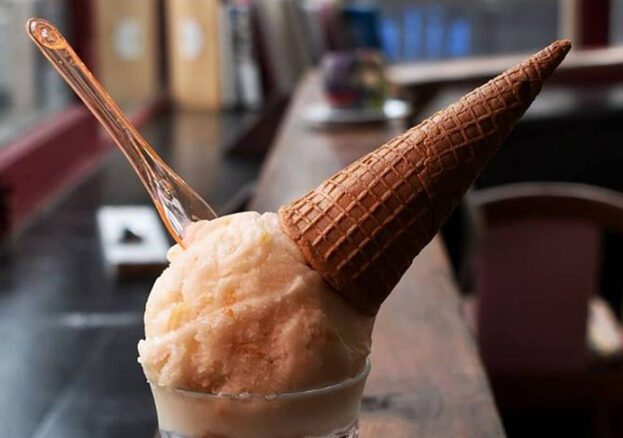 Ginger's Comfort Emporium brings its wild flavours and naturally produced ice cream to Manchester's Afflecks.
There are people who like their pudding. And then there are people who live and die for it. You can put Claire Kelsey firmly in the second category. She's the creator of Ginger's Comfort Emporium, a retro-styled ice cream van hawking her artisan flavours that has achieved cult status across the North. Anyone who has ever been served a scoop of her salted caramel and peanut butter "Chorlton Crack" ice cream melting into the warm bosom of a toasted brioche will never forget the experience.
I met Kelsey on a sunny November day when she was frantically trying to get her new space at Afflecks ready for opening, in between scraping gunk off the floor-to-ceiling windows and meeting with restaurant supply reps. A dark-haired whirlwind of talk, quicksilver ideas and enthusiasm, Kelsey knows that Afflecks is a place that her core customer base – foodies who track her van obsessively via Twitter – may not have set a Doc Marten-clad foot inside since their teenage years. But she's hoping they'll make the trip through the rackety emporium to her café space on the first floor, which she'd dubbed the Afflecks winter ice cream den.
Absinthe, white truffles, her breakfast toast and marmalade – as taste inspirations, anything goes
Opening a premises in the Northern Quarter (however bijoux) is a big gamble – but a necessary one. Though the Ginger's van will still be roaming the country come spring, "it felt like we'd gone as far as we could with street food," Kelsey said. "We need to keep moving forward, or we could be yesterday's news."
Drawn to a career in food, Kelsey initially worked as a chef and then put in seven years as a food stylist before launching Ginger's in 2010. "I thought about having a restaurant but it just felt crazy looking at leases, business rates and knowing all the work that goes into it. Around then, I was looking at Olive or Delicious magazines and I read a piece about street food trucks in London. That was really inspiring." Kelsey thought of doing a roaming patisserie, "but then I started making ice cream and I got hooked, because you can't get bored of it. It's a blank canvas; you can put all your ideas into it."
Those ideas of hers are pretty wild. Absinthe, white truffles, her breakfast toast and marmalade – as taste inspirations, anything goes. The resulting flavours are unlike anything else. She took the dessert prize at the British Street Food Awards (where Ginger's was also crowned 2012's Best of the Best) with a dish of extra virgin olive oil ice cream topped with smoked salt, strawberry sauce and a black olive chocolate "flake." Mr. Whippy, eat your heart out.
Last year saw the publication of her original recipes in a beautiful cookbook, Melt (Simon and Schuster). Since then, things have happened fast. Dan Manicolo, who previously drove the Ginger's van, left his day job and came on as partner full time in May. After landing the first stint in a rotating street food space at Manchester Airport, they quickly graduated from making ice cream in Kelsey's Chorlton home to a rented industrial kitchen on Corporation Street. The step up to larger batches has forced them to make some tough decisions about the product. Even with less cream than they used before, the more powerful kit occasionally means a little frozen butter gets churned up in the mix. This would be the point where some producers would start using emulsifiers and other additives for a more consistent texture that can stay in storage longer. But this just didn't feel right for Ginger's. Kelsey says she hopes her customers won't be fazed by the odd bit of frozen butter.
It's a big commitment opening up a permanent space, but if it's successful it will allow Ginger's to make the transition into a year-round business. They were all set to move into a smaller unit at Afflecks when the management offered them the first floor cafe space (formerly Pinky's), overlooking the corner of Oldham and Church streets. They took a deep breath and said yes, even though they'd have just two weeks to get it ready and had no fitting out budget. With the help of a small army of friends and well-wishers, Ginger's Comfort Emporium opened on 22 November. It's doing a brisk trade in malted milkshakes, take-home tubs, affogatos and stratospheric dessert concoctions such as the French Elvis, a French toast, peanut butter, banana and ice cream sandwich that we've heard has already changed a few lives.
Kelsey's the first to admit that they're in uncharted territory, which is both exciting and a little bit terrifying. "We've not done this before," Kelsey says. "We want to find our feet. But if this works, it'll be for good."