Forest Side Restaurant
Ian Jones, Food and Drink Editor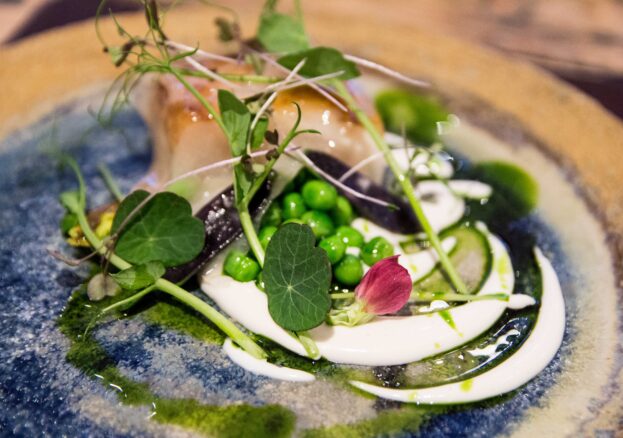 Forest Side's restaurant is ran by head chef Kevin Tickle, an alumnus of Simon Rogan's L'Enclume. Kevin grew up in the Lake District, and his menu is a love letter to the Cumbrian landscape. It's attached to the fantastic Forest Side hotel, the latest in hotelier Andrew Wildsmith's trio of high-end Lake District lodgings (full review here).
First impressions matter, and this is one of the most beautiful dining rooms in the region. It has a laid back, luxurious feel that's more Monaco than Manchester, with floor-to-ceiling windows giving breathtaking views of the grounds. Tables are carefully dotted around the room, circling a central glass-topped wine table, glistening and gleaming away.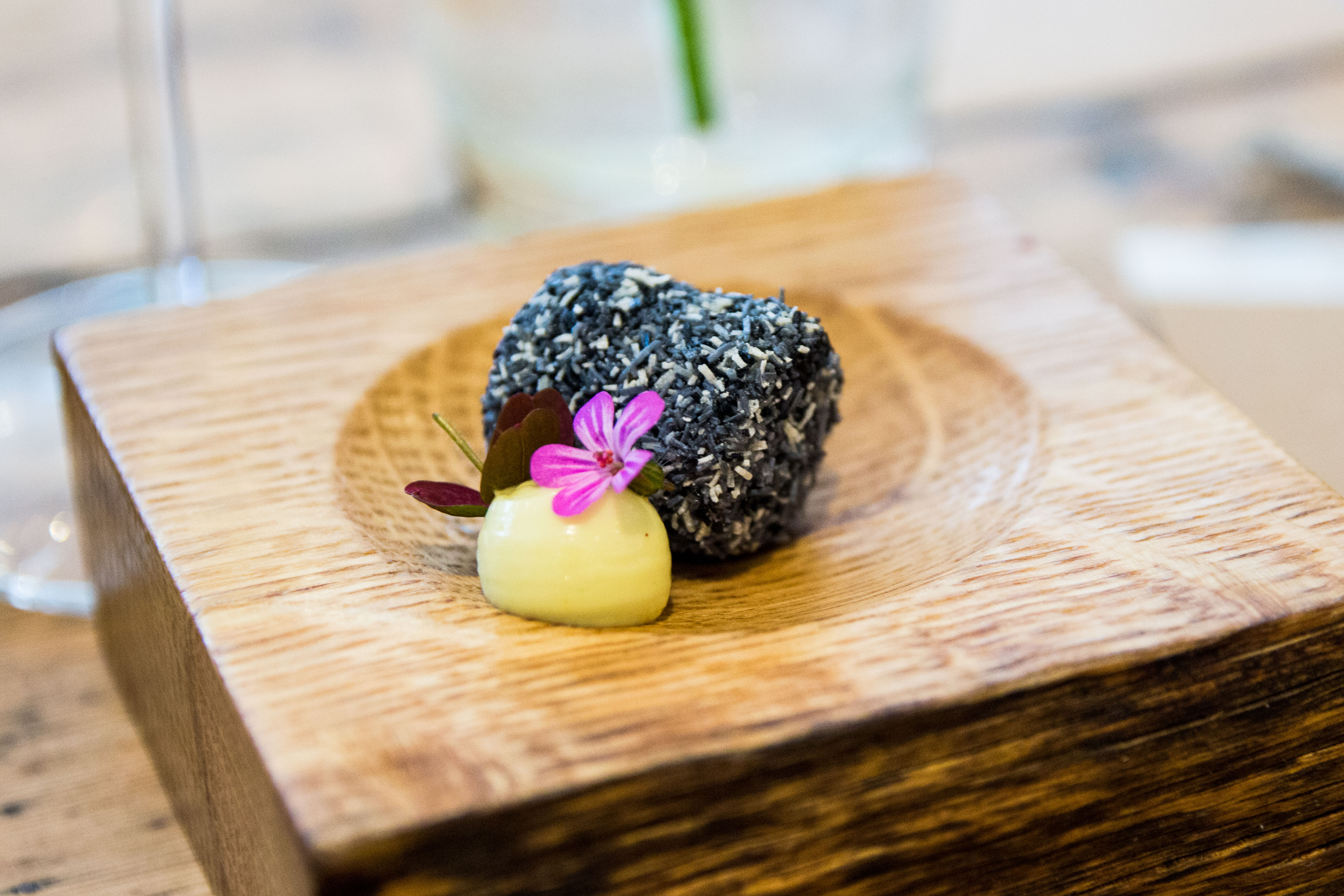 The staff are wonderfully charming, full of cheerful, lighthearted conversation but never outstaying their welcome. It's a joy to see a group of people so relaxed and at ease in their surroundings – it instantly extinguishes any potential stuffiness or unnecessary formalities.
It brings a sense of pride for a Wigan-born boy to see the word 'reet' in print
The menu comes in three forms, the colloquially-titled Grand 'Un, L'al 'Un and The Reet L'al 'Un. It brings a sense of pride for a Wigan-born boy to see the word 'reet' in print, but of course, the ten course Grand 'Un is a no-brainer. (In truth, there are numerous more courses, with various palate cleansers and amuse bouches popping up along the way.)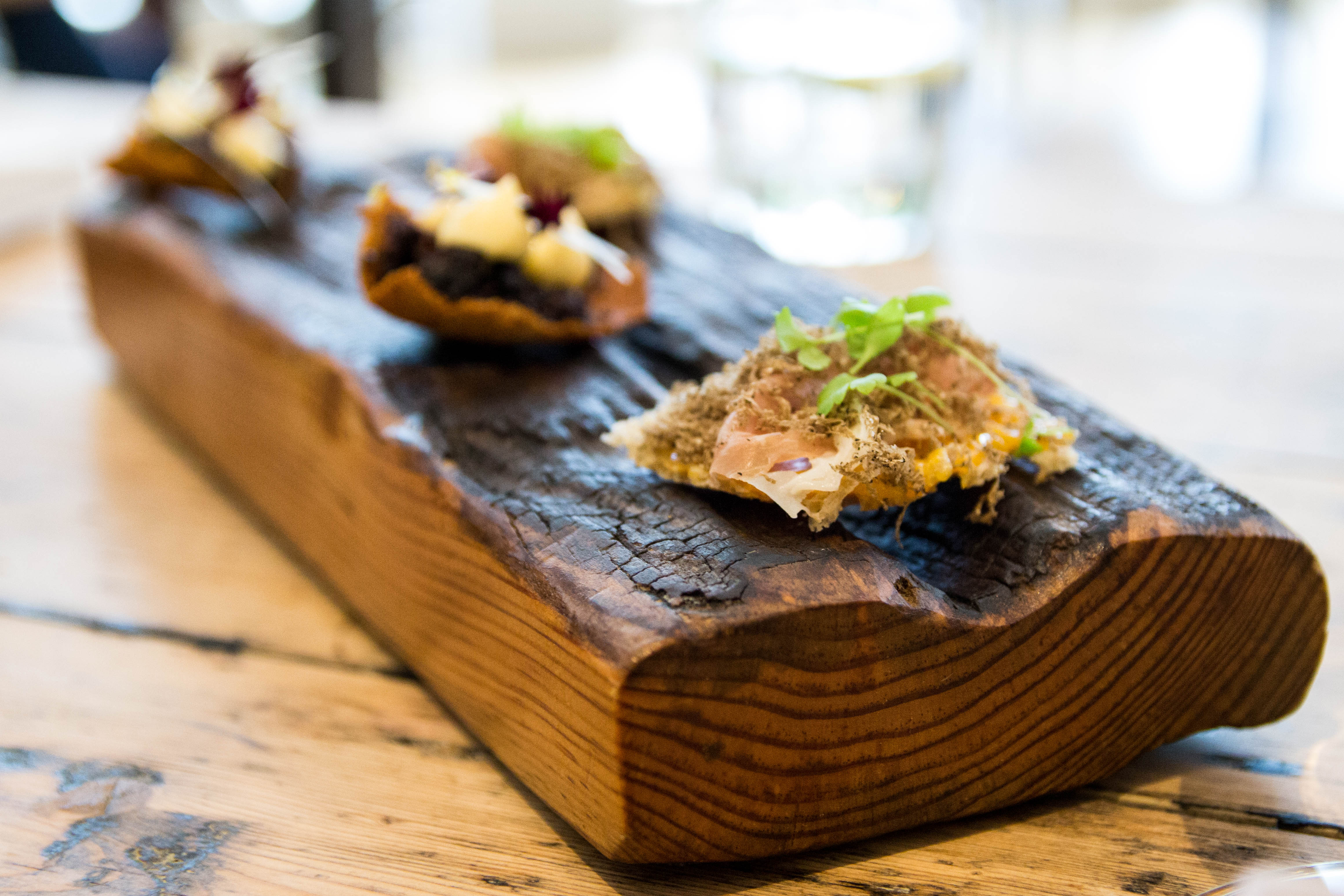 Three unlisted bitesize snacks kickstart the meal. First, a butternut squash cracker with damson jam and black pudding, packed with earthy countryside aromas. Then toasted sourdough served with a slow-cooked egg yolk and cured ham, topped off with summer truffle and celery cress – a peerless combination of intoxicating summer flavours.
The Little Critter Fritter brings to mind a kind of Beatrix Potter-themed turf war
And finally, the Little Critter Fritter, a black cube that resembles a Licorice Allsort, containing pork, rabbit and grey squirrel. The Forest Side grounds are home to some of the few remaining red squirrels in Britain so this last ingredient can't help but bring to mind a kind of Beatrix Potter-themed turf war.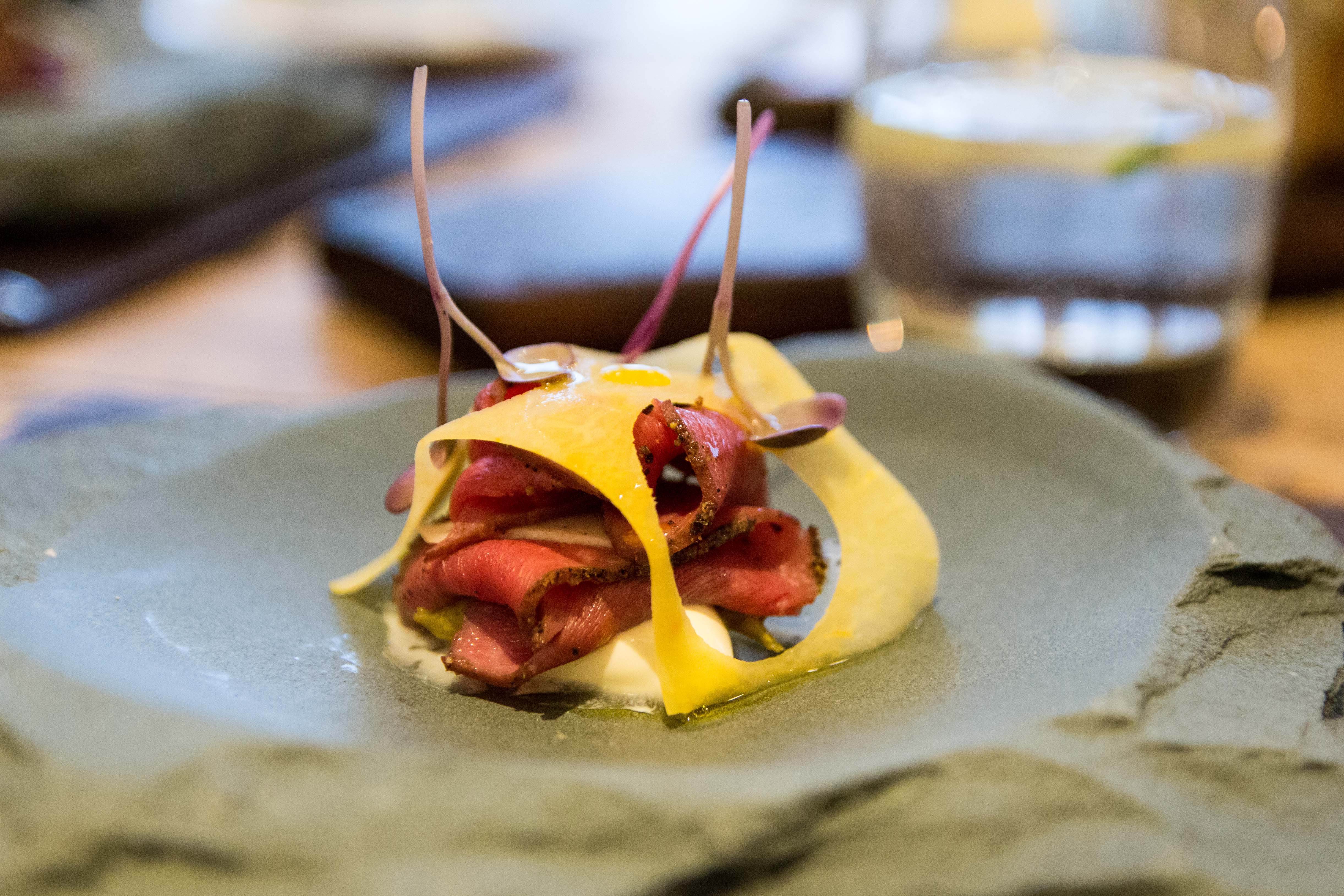 The first real starter is a ratté potato, as tender as gnocchi, cooked confit in a rapeseed oil, scattered with mint and lovage crumb, elderflower cress and finished off with some bright white blobs of charcoal emulsion. It's all bright greens and light garden flavours, pleasing to the eye and with a quiet confidence. It's clear this menu is set to provide dishes you won't find anywhere else.
This menu provides dishes you won't find anywhere else
This is confirmed by the follow-up plate, slow-cooked pig's tail served on sea lettuce, pickled Granny Smith apples and apple honey, topped off with a translucent slice of raw mooli (a type of radish), and with a little glass of seaweed broth to drink alongside the meal. If you're enjoying the wine flight this also comes with a shot of sake to slug at the end. It's a complex dish that takes in various bodies of water and provides the missing link between Cumbrian produce and Japanese cuisine.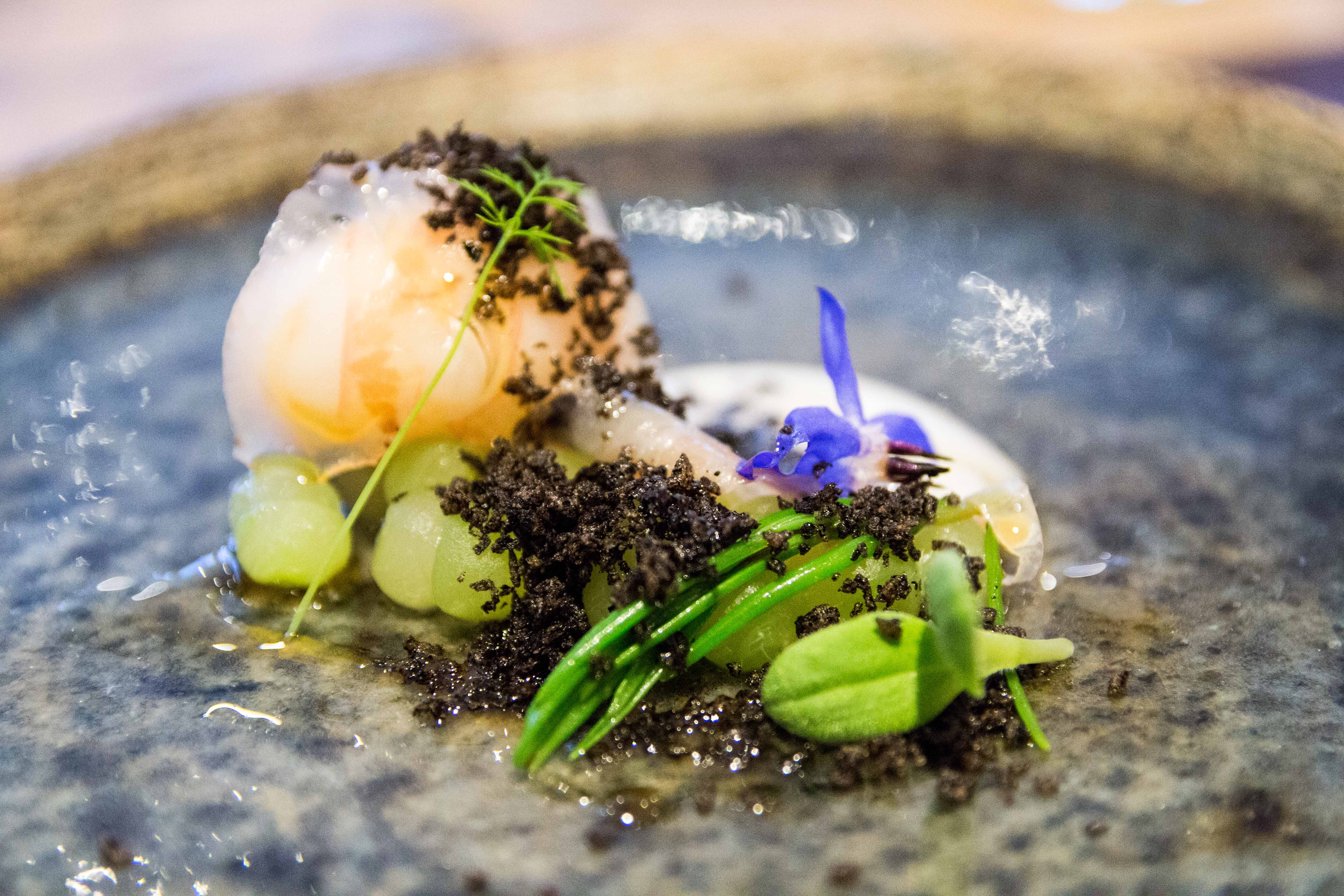 The venison pastrami dish has chef Tickle's former mentor, Simon Rogan's fingerprints all over it. A delicate and elaborate little morsel, all bold colours and a multitude of textures and deft salty flavours. It's the only dish to survive since the restaurant opened in early 2016, and it's easy to see why.
The langoustine is another lively dish, with ingredients positioned to resemble some kind of deep sea creature. Green cucumber balls and elderflower leaves serve as feet, and the whole thing is scattered with cucumber ash, like sand from the seabed. It's light and fresh, and an ideal preface to the follow-up dish, a Jackson Pollock-style splash of beetroot, Ragstone goat's cheese pureé and sourdough crumpet, all jagged edges and sharp, tart flavours.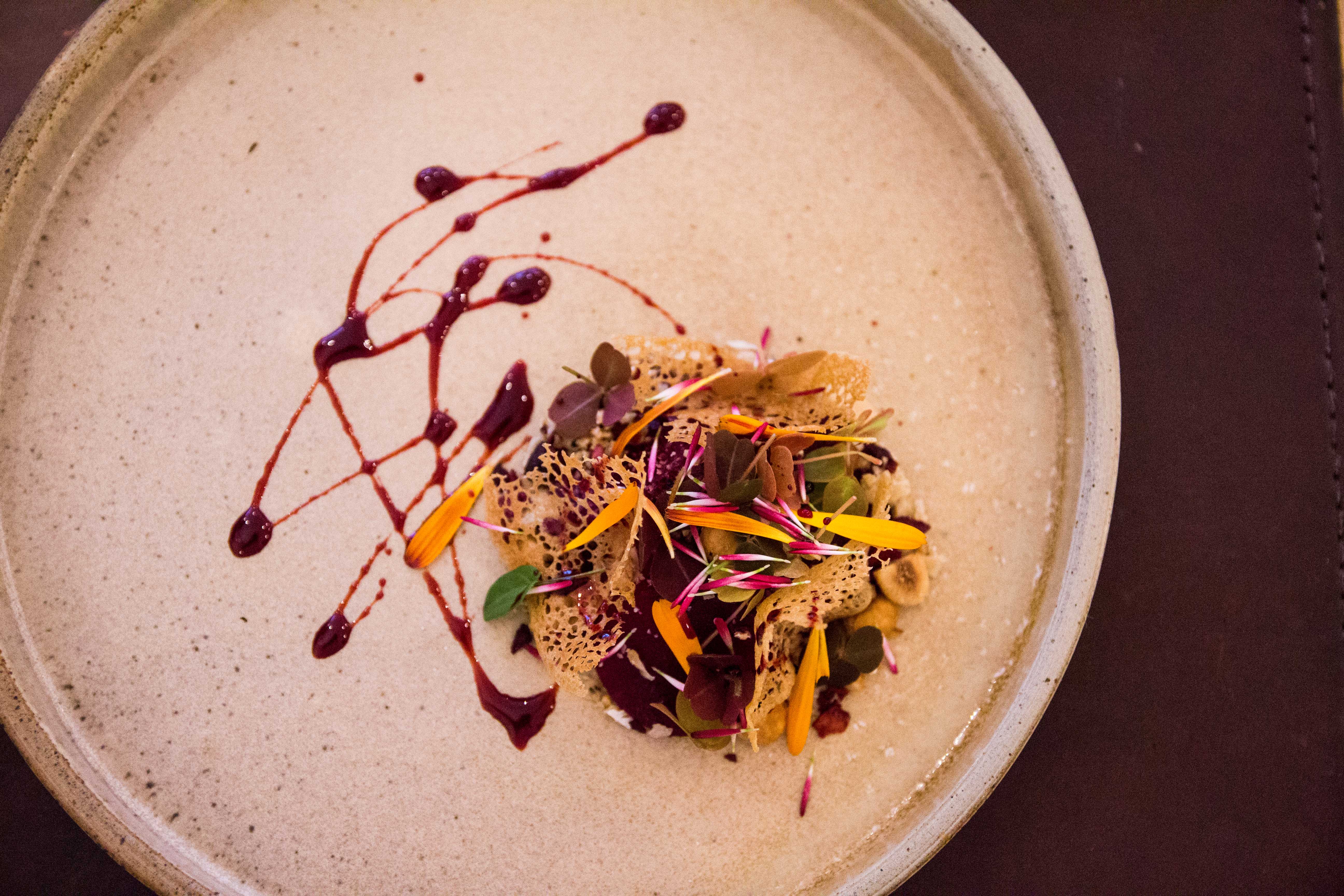 The North Atlantic cod is a plate of green and white dashes, bursting with summer. The fish tumbles apart beautifully, and pairs wonderfully to mesh with the tiny fresh peas, dill oil and oyster emulsion. There's a thin layer of cured pork fat on top of the fish, providing an extra hit of earthiness and salt.
Herdwick Hogget lamb provides the finale to the savoury side of the menu. Three cuts of lamb, including sweetbreads, matched with a waistline-expanding baked hay custard and a colourful tangle of herbs and leaves, delightfully referred to as 'garden shenanigans'.
A trio of desserts see out the meal, each with different degrees of sweetness. The gooseberry dish is a particular favourite, a mound of ice cream and green berries, sharp and sour with subtle aniseed notes. Best of all, it's shaped like a Super Mario mushroom.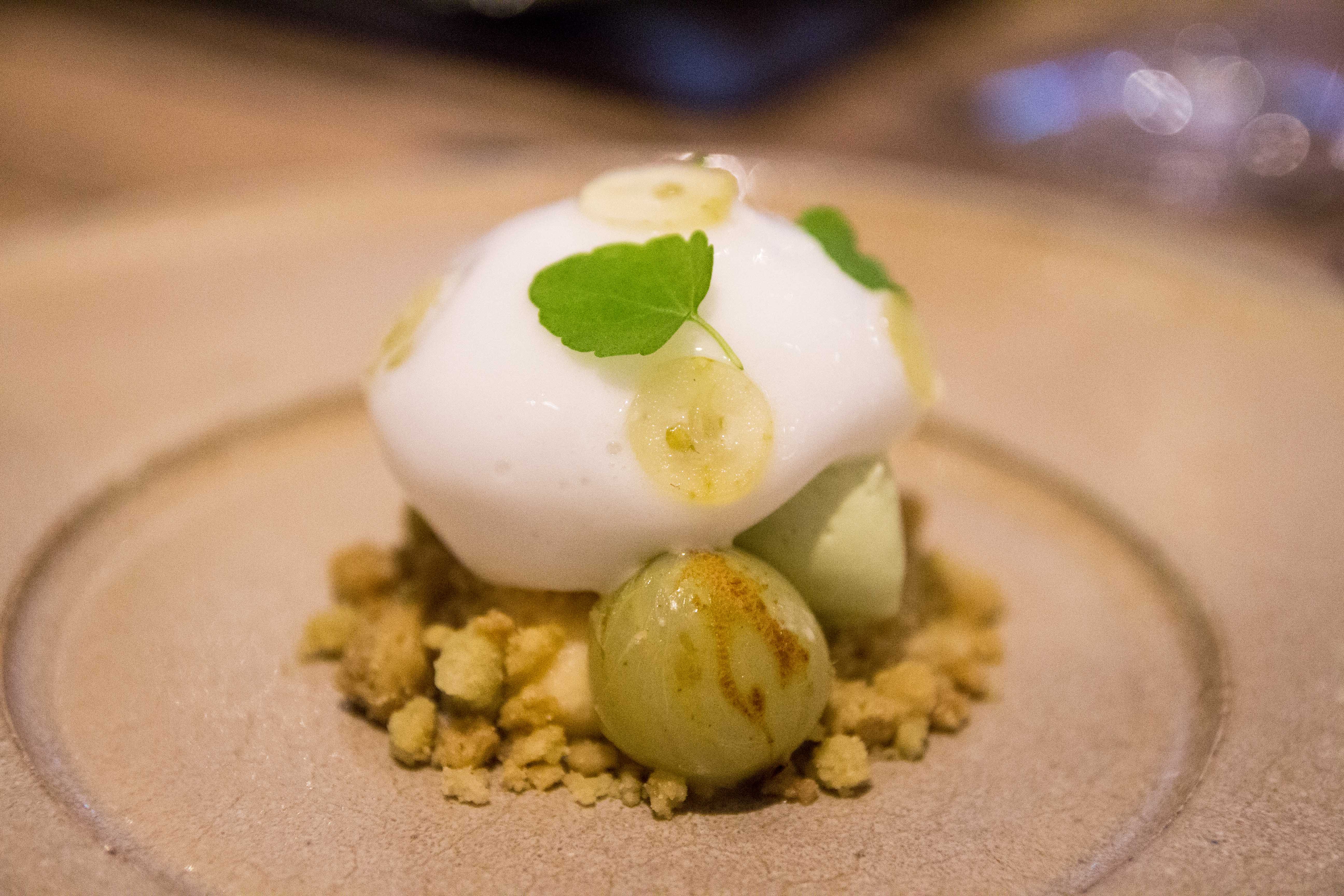 In just under eighteen months, Forest Side has become one of Cumbria's most outstanding restaurants. Suitably, considering his surname, Kevin Tickle's tasting menu brims over with sheer fun – full of lively colours and playful imagery that enhance the brilliance of each dish. This is more than matched by the front-of-house, who are some of the most engaging and entertaining waiting staff in the North of England.
Food lovers should bump Forest Side to the top of their bucket-list immediately
Any flaws? Well, practically all the ingredients are sourced locally, either from nearby farms or their in-house gardens, meaning the menu changes dramatically with the seasons, which in turn invariably means you'll want to make a visit at least every four months. And that won't come cheap. Regardless, food lovers should bump Forest Side to the top of their bucket-list immediately.