Fish Tram Chips
Susie Stubbs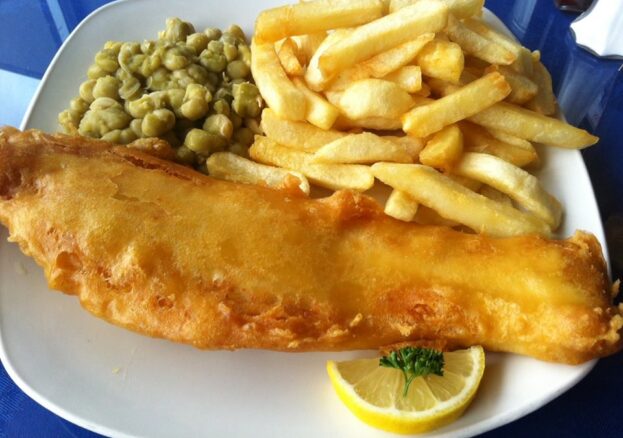 Good places to eat in Llandudno are not plentiful, so this is our top tip if you find yourself at its seaside.
We do like to be beside the seaside. Well, I do, at any rate, and challenge anyone not to fall for the faded charms of the North Wales coast. Sure, they might lack the gentrification of Cath-Kidston-on-Sea but the towns of Colwyn Bay, Rhos and Llandudno are quietly sweet – with the added benefit of being only an hour's drive from Manchester.
Llandudno is king of the coast, though, with the grand sweep of the West Shore eclipsing its pier, and the views from the top of the Great Orme – you can see as far as the Isle of Man on a clear day – giving any British seaside resort a run for its money. In fact, the only downside of Llandudno comes in the form of its food and drink. There's not much to be said for it, unless you love a greasy fry-up or are partial to fish and chips.
Which brings us to the best place to eat in Llandudno: Fish Tram Chips. Absolutely doing what it says on the tin, this award winning little chippy sits opposite the Great Orme Tramway (the only one of its kind in the UK; it hauls chip-battered tourists up the 650-foot hulk of the hill seven days a week). Alongside the fish bar is a small restaurant, with waitresses plying cans of coke and taking orders that, as you might expect, focus almost exclusively on fish, chips and all the relevant sides – including homemade mushy peas.
It hauls chip-battered tourists up the 650-foot hulk of the hill seven days a week
This is a busy place – there are always queues, though a sunny bench outside copes with both restaurant overflow and those waiting for sustainably caught fish that's always cooked to order. The batter is "secret recipe" (it's proper crispy) and the Maris pipers are blanched before fried to get the requisite external crunch and internal fluff. The restaurant is licensed, too.
Inside, service is brisk and friendly, though bear in mind that this is a chip shop. Décor is basic, toilets are adorned with signs reminding you that they are for the use of PATRONS ONLY, and the restaurant doesn't take cards (cash only, folks). But whatever you think of the interior, you'll eat well and happily. Which, when it comes to eating out in Llandudno, is about as much as you can hope for.
Love your chips? Find the top 10 chippies in the north with our guide.