Filter + Fox
Susie Stubbs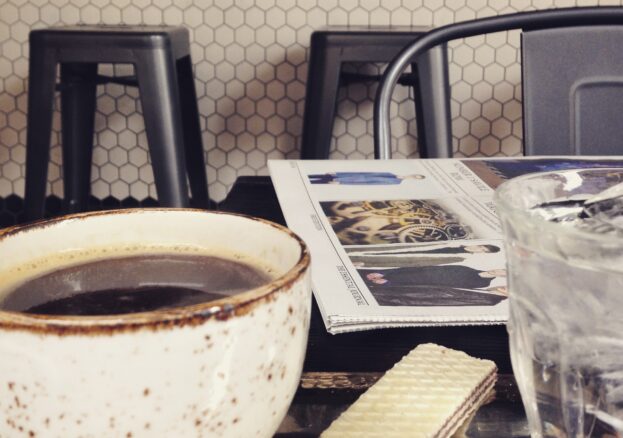 Surely there's a limit to how much coffee a city can drink? Apparently not, as Filter + Fox opens in Liverpool.
It's been a long time since you could describe Britain as a nation of tea drinkers. The black stuff is where it's at – as the ever-increasing number of coffee shops, bars, equipment, courses and accoutrements surely all attest. Joining their swelling ranks is Filter + Fox, a "café, bar, hideout" on Liverpool's Duke Street – but does the city really need another coffee shop?
To be fair, this one replaces another: Filter + Fox is on the site of a former espresso bar owned by coffee kings Bold Street Coffee. And to be fairer, this is not just a coffee shop. While it sells coffee by day, by night Filter and Fox turns into a mini-restaurant, one whose solid wine list and predilection for small plates turns it into something else altogether.
It's also the sort of outpost that's probably jumping at night
Set up by two friends who've spent years working in the Liverpool food and drink trade – in places such as the Hope Street Hotel and Salt Dog Slims – Filter + Fox is a design-heavy, cute little place with a utilitarian and DIY aesthetic (gun metal grey stools, folksy ceramics, a back wall made up of tarnished mirrors, bronze lampshades) that majors on excellent coffee.
Open from 8am, it serves up simple breakfasts – bagels, granola – sandwiches and charcuterie boards, as well as small plates like grilled pepper and sundried tomato couscous or black truffle salami (both £5). A menu that also describes thirteen wines, a "seasonal" cocktail line-up and a beer list put together by Liverpool Craft Beer Company, together with the speaker stack on the floor, indicates that it is also the sort of outpost that's probably jumping at night – and if I wasn't so old and lived so far away and, actually, had the sort of life where I could hang out in bars after work at will, then it is exactly the sort of place you'd find me, Sherry Cobbler in hand, being a bit too loud for the wincing bar staff.
As it is, I'll stick to the daytime eats and coffee, served up in a tiny bar that sits on a quiet corner of Duke Street – the sort of place that by day is definitely not jumping and, as such, is the perfect place to be if, like me, you need to escape the brash, bang, and commercial wallop of the city centre.